Bengal doctors' strike solidarity in Delhi and Maharashtra today
The strike call has rekindled the debate on the ethics of doctors' strikes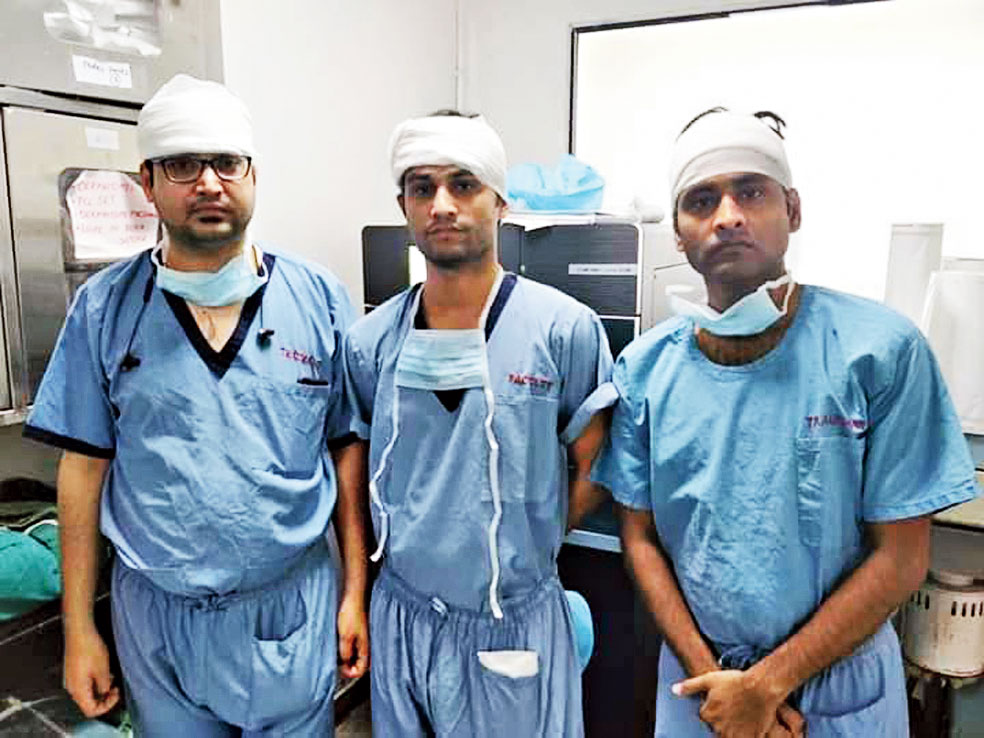 AIIMS doctors pose wearing bandages before an operation.
Telegraph picture
---
New Delhi
|
Published 14.06.19, 01:22 AM
|
---
Over 6,000 government doctors in Delhi and Maharashtra will stay away from non-emergency services on Friday in support of doctors on strike at Calcutta's NRS Medical College and Hospital.
Representatives of resident doctors at the AIIMS, New Delhi, and 16 medical colleges in Maharashtra on Thursday said that they would go on a nine-hour strike starting 8am on Friday to express solidarity with their NRS counterparts, who are on strike after a junior doctors was critically assaulted by outsiders following the death of an elderly patient on Monday night.
"Any patient who requires emergency medical services or comes to the institute in a life-threatening situation will receive all treatment and services," said Abhishek Singh, the vice-president of the Resident Doctors' Association, AIIMS.
"But the strike will affect outpatient department services and routine and elective surgeries," he said.
"We want the West Bengal government to provide adequate protection to doctors," Singh said. He said about 2,200 junior and senior residents would join the strike.
The strike call has rekindled the debate on the ethics of doctors' strikes.
Union health minister Harsh Vardhan issued a statement calling on the need for restraint by doctors and patients' relatives.
"I urge patients and their caregivers to observe restraint," Vardhan said. In Maharashtra, about 6,000 resident doctors are expected to join the strike, Kalyani Dhongre, president of the state's Resident Doctors' Association told The Telegraph.
But while Friday's strike is linked to the NRS incident, resident doctors at AIIMS said their demand for government actions to curb violence against doctors were long-standing and shared across the healthcare sector.
In Jharkhand, junior doctors at Ranchi's Rajendra Institute of Medical Sciences (RIMS) have decided not to attend to patients, except for emergency cases, on Friday in solidarity with their Bengal counterparts.
"We on the call of the Indian Medical Association have taken the decision to keep the OPD service, in-patient service and elective operations suspended," said Ajit Kumar, president of the Junior Doctors' Association at RIMS.
Over 2,000 patients are treated every day at the OPD of RIMS, which is Jharkhand's only government-run super-speciality hospital.
The Indian Medical Association, the country's largest body of doctors, has in the past expressed concern about attacks on doctors and urged the government and healthcare institutions to help improve security for doctors in public and private hospitals.
"This is a very contentious and controversial issue – violence against doctors is unfortunate but not unique to India," said Sanjay Nagral, a senior Mumbai-based surgeon and the chairperson of the Forum for Medical Ethics Society.
A study that tracked workplace violence experienced by doctors at Safdarjung Hospital, New Delhi, three years ago had found that half of a sample of 151 doctors had experienced some form of violence over a 12-month period. Nine per cent of the violence involved physical assaults.
The NRS incident found echo at the Health Professionals Meeting (H20) 2019 in Tokyo on Thursday.
On the sidelines of the summit, Miguel R. Jorge, president-elect, World Medical Association and Otmar Kloiber, secretary-general, World Medical Association, separately condemned the recent attack on doctors in Calcutta.