Bengal badminton champ killed in railway job
Trinankur Nag, Bengal's reigning badminton doubles champ, went up to work on line where electricity was supposed to be switched off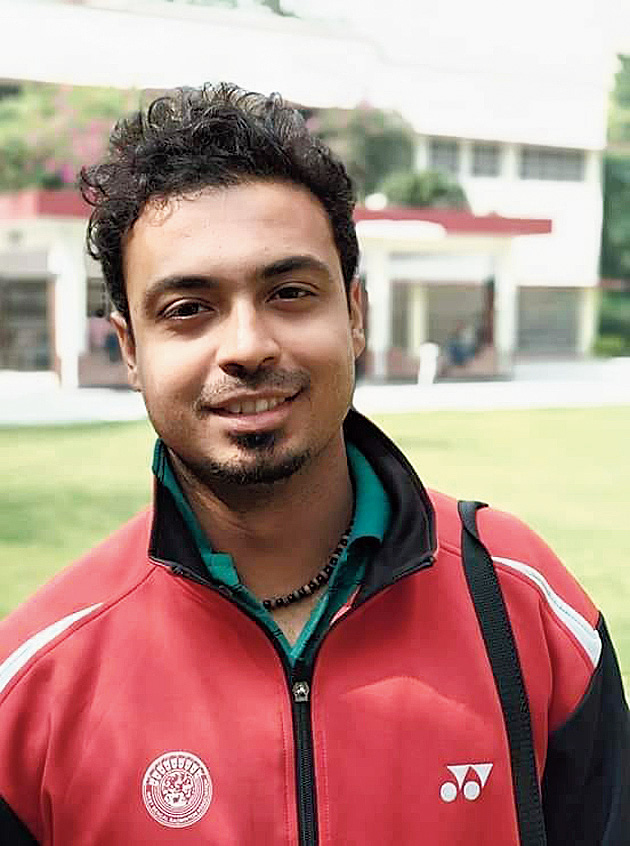 Trinankur Nag
Sanjoy Chattopadhyaya
---
Calcutta
|
Published 26.11.18, 08:52 PM
|
---
Trinankur Nag, the reigning state badminton doubles champion and a railway employee, died on Monday of injuries suffered two days ago when he came in contact with an overhead electricity cable while working on the roof of a train at the Narkeldanga car shed.
Family members and friends of the 25-year-old player, who had won the state men's doubles championship with Arup Baidya in August, blamed the railway authorities for his death by citing his lack of expertise to handle the highly technical job he had been given.
"He had been hired by the railways five years ago and assigned to the electrical department, although he did not have any knowledge of equipment installed on trains and tracks. He approached whoever he could for a transfer to another department but nothing happened," Trinankur's father Tapan Nag, an employee of South Dum Dum Municipality, said.
The Nag family lives in Nagerbazar.
On Saturday afternoon, Trinankur fell 20 feet to the ground from the roof of a train after getting an electrical shock from a 24kV overhead cable. He was checking the train's pantograph — a jointed framework that carries electricity from the cable to the engine — when the tragedy occurred.
The badminton champion was admitted to BR Singh Hospital with 80 per cent burns and head injuries.
A crowd of players and officials of the West Bengal Badminton Association milled at the hospital on Monday alongside family members and friends after getting the news of his death. "He would lament that despite not having the requisite training, he had to do the job he had been given," said Soumen Bhattacharjee, Trinankur's first coach and a former player. "The railway authorities do organise technical training for staff but he couldn't attend many of these workshops because of his tournaments."
Trinankur's friends alleged that he never got enough time for practice. "He was entitled to half days at work but Trinankur would tell us that he seldom got that leeway," said Kaushik Pal, a childhood friend of his and a badminton player employed by the Food Corporation of India.
When Metro visited the Narkeldanga car shed on Monday afternoon, it was desolate. Asked about Trinankur's accident, a Railway Protection Force sentry pointed to a person who he said was in charge of the shed. The official declined to comment.
According to railway safety norms, power supply to an overhead wire must be cut off during routine maintenance.
A senior official of the Sealdah division said that, prima facie, there was negligence. "There are six lines in the shed. The sixth lane is usually for trains undergoing electrical checks and power supply to the overhead cable above is meant to be cut off. On Saturday, the fifth line had been allotted to the train requiring maintenance. It seems Trinankur was unaware about the change and got on top of the train parked in the sixth lane."
He contested the allegation that Trinankur was not adequately trained for the job he was doing. "He wasn't new to the system. He had been recruited as a trainee technician (Group D) in 2013. He underwent three years of on-the-job training. In 2016, he became a Grade III technician after clearing a suitability test. Earlier this year, he cleared another test to become a Grade II technician."
Trinankur had picked up the racket when he was in Class III, his uncle Tushar Nag said. "Representing India in an under-19 tournament in Mauritius was his proudest moment.
Sekhar Chandra Biswas, the general secretary of the badminton association, termed Trinankur's death a "tragic loss". Harindra Rao, the general manager of Eastern Railway, promised to stand by the youth's family. "He was a part of our family. A probe has been ordered. Anyone at fault will be penalised. We will provide all help to his family," he said.
A case of unnatural death has been registered at Narkeldanga police station.