Chief minister Mamata Banerjee was banned from campaigning in Bengal for 24 hours on Monday evening over speeches that the Election Commission (EC) said had religious overtones and violated rules.
Sources said the ban till 8 pm on Tuesday - outgoing Election Commissioner Sunil Arora's final order -- was for Mamata's comments on Muslim votes and for allegedly urging voters to revolt against central security forces, reported PTI.
"Commission hereby condemns such statements potent with serious law and order problems across the state (s) and sternly warns Mamata Banerjee and advises her to desist from using such statements while making public utterances during the period when Model Code of Conduct is in force," the order said, PTI reported.
It said that the "commission also imposes a ban of 24 hours on Ms Mamata Banerjee from campaigning in any manner from 8.00 pm of April 12 till 8.00 pm of April 13".
Mamata has tweeted that she will sit on dharna tomorrow at Gandhi Murti from 12, noon as a symbol of protest against the "unconstitutional order of the EC" that came half-way through the Bengal elections with four more rounds of voting left.
Campaigning has been intense, pitting Mamata against a galaxy of BJP leaders including Prime Minister Narendra Modi and Union home minister Amit Shah.
The Trinamool Congress blasted the Election Commission, dubbing it "Extremely Compromised" - not for the first time.
Through Monday, the poll juggernaut in Bengal kept rolling under the shadow of five deaths in a tiny Cooch Behar village. The fifth phase of polling is to be held on April 17 in as many as 45 seats.
A multi-phase polling allows campaigning even while polling is on in another part, and that has kept the blame-game alive on both sides. The threat of a repeat of Sitalkuchi has already been announced.
Earlier on Monday, Prime Minister Narendra Modi and chief minister Mamata Banerjee stepped up the ante in an effort to milk the issue for votes in the remaining 159 seats.
Addressing his first election campaign meeting in Burdwan's Talit, Modi claimed the BJP had already won 100 seats in the first four phases of polling. "The BJP has scored a century in the first four phases. Didi has lost. That is why she is angry and frustrated. Didi talked about playing games. Her game is over. Didi was clean bowled in Nandigram," Modi said.
About two hours later at Nadia's Kalyani, Modi told an assembly of BJP supporters that the Cooch Behar incident was a part of Mamata's masterplan to rig the polls.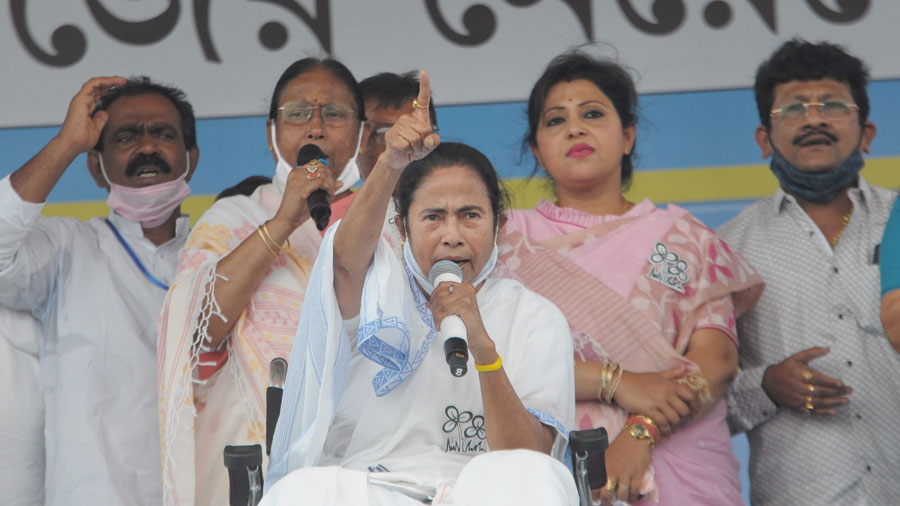 TMC supremo Mamata Banerjee during campaign for the State Assembly polls in Ranaghat on Monday. PTI
"Didi has sensed defeat and is hatching new conspiracies. A part of her plan is not to allow scheduled caste voters to cast their votes. Instead, her party workers will cast false votes. Trinamul workers will gherao central force personnel on the streets, while inside her goons carry out the dirty work. What happened in Cooch Behar was a part of this masterplan.
"In the first four-phases of polling, Trinamul's defeat has been ensured. Two days later is Poila Boisakh (Bengali New Year), the countdown of Didi's government will start from that day," Modi said.
During the day, Mamata also campaigned in Nadia where she continued with her attacks on Modi and Union Home minister Amit Shah.
"BJP planned the whole thing (Sitalkuchi killings) with the district superintendent of police. I will probe this. I will find out the truth. Who attended the meeting, how they planned, how a woman was sent first. She was instructed to say her child had been stolen and then they opened fire, killed… BJP killed its own worker, the Rajbonshi brother (Anand Burman), who had died earlier in the day. They are shameless. I will help his family as well," she said in Ranaghat.
"I have got the names of those who fired from the CISF. I won't spare anyone over this incident. There is no reason to think I am a fool. I have found out everything, I will dig more," Mamata added.
On Sunday night, the former BJP state president Rahul Sinha had commented that the central forces should have killed more in Sitalkuchi. "They should have killed eight. They must be served showcause notice to find out why only four were killed," Sinha said in Habra in North 24-Parganas.
Mamata latched on to Sinha's statement to bolster her claim. "After the deaths, the BJP president (Dilip Ghosh of the Bengal unit) is saying, open fire. Someone says kill four, someone says kill 12. Aren't they ashamed of instigating central forces? Amit Shah has made the entire plan," she claimed.