Trinamul flays BJP for Birsa faux pas
BJP's 'ignorance and disregard' about tribal culture and icons on show, say leaders of Mamata Banerjee-led party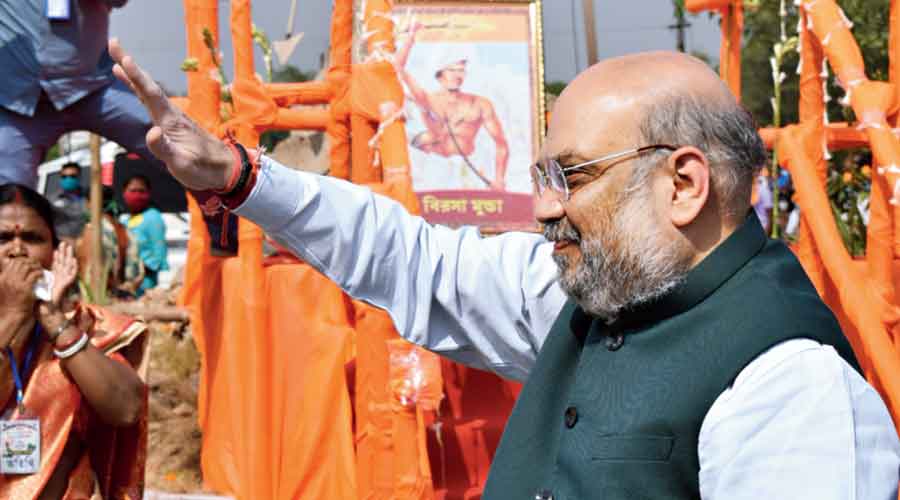 ---
|
Bankura
|
Published 07.11.20, 12:56 AM
---
Trinamul on Friday launched a campaign against the BJP for its Birsa Munda faux pas in Bankura on Thursday, claiming that the saffron party had no regard for tribal sentiments.
On Thursday, Union home minister Amit Shah offered floral tributes to the statue of a tribal hunter in Bankura, which his party leaders had mistaken for that of freedom fighter Bhagwan Birsa Munda, who is considered to be one of the foremost tribal icons of the country.
Multiple Trinamul leaders this correspondent spoke to said Thursday's faux pas gave them a chance to reach out to the tribal community ahead of next year's polls on the BJP's "ignorance and disregard" about tribal culture and icons.
"We are taking up the issue among tribal communities, especially in Jungle Mahal districts of Bankura, Purulia, Jhargram and West Midnapore. Our leaders have been asked to campaign on the issue immediately. Mixing up tribal hero Birsa Munda with a hunter proves right chief minister Mamata Banerjee's allegation that the BJP is unfamiliar with the culture and history of the state," said a Trinamul leader.
Shah started his tour of Bengal from Bankura with floral tributes to the statue.
Controversy erupted when hours before the programme a tribal body objected to identifying the statue of a hunter as that of Birsa Munda.
To salvage the situation, BJP leaders hurriedly arranged a picture of Birsa Munda and placed it at the feet of the tribal hunter's statue for Shah to pay floral tributes.
Some BJP sources said that the incident had come as an embarrassment for the party as it involved someone of the stature of Shah.
"The local unit of the party should have been more careful," said a source, adding that Thursday's mistake was discussed in detail in Delhi and Calcutta.
Trinamul leaders in Bankura, Jhargram and Purulia said they had already informed their tribal leaders to start a campaign against the BJP over the "humiliation of our hero".
In Bankura on Friday, Trinamul staged a protest at the site of the statue accusing the BJP of distorting the identity of the tribal hero.
Around 200 Trinamul activists, including party leaders from the tribal community, gathered near the statue at Powabagan, around 7km from Bankura town, and they demonstrated for 30 minutes to "expose the BJP's unfamiliarity with tribal culture".
"It was shocking to see Union home minister offering tribute to the statue of an anonymous tribal hunter...the BJP did not cross-check before deciding on the statue," said Mrityunjay Murmu, a tribal leader of Trinamul and sabhadhipati of Bankura Zilla Parishad.
"Even after they came to know about the blunder, they placed Birsa Munda's portrait at the feet of the statue. This is nothing but an insult to the tribal icon. The tribal community will raise their voice (against the incident)," Murmu added.