Beleghata youth sets up animal shelter behind Sector V
Sanjoy Mondal is a trained para-vet who has worked for 4 or 5 other animal-related NGOs before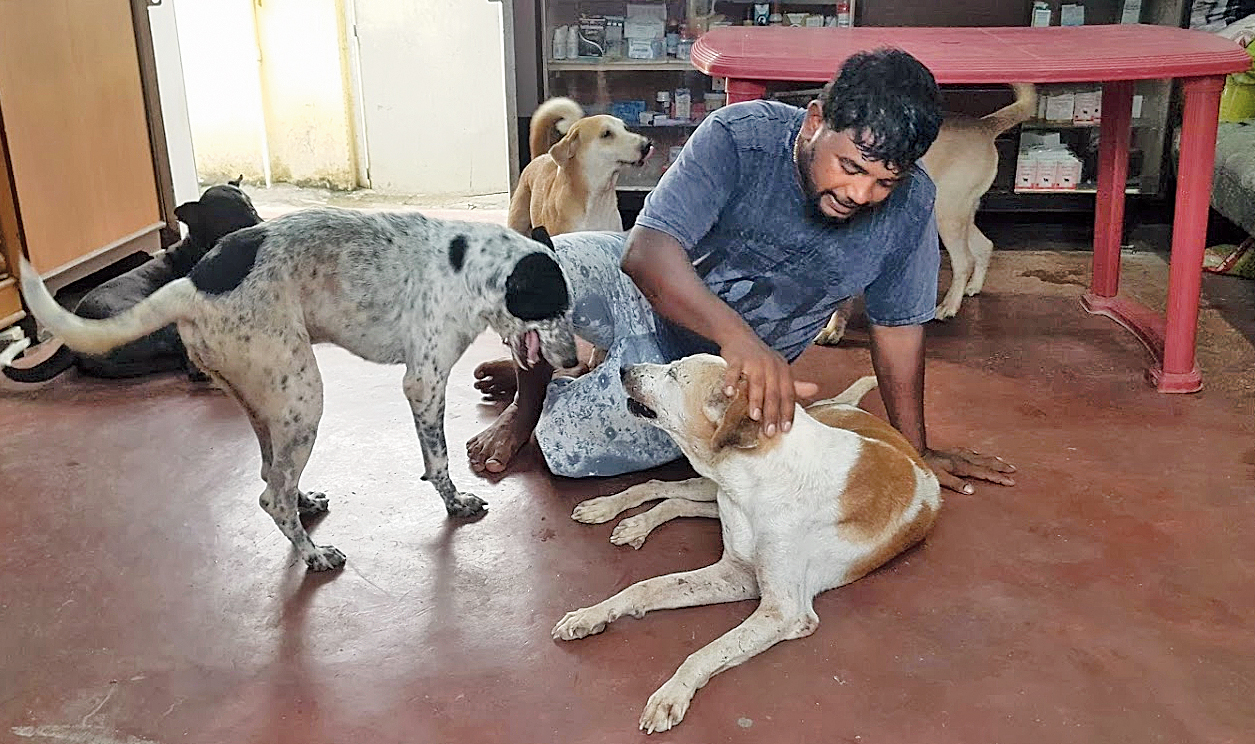 Sanjoy Mondal plays with the rescued dogs at his shelter.
Picture by Brinda Sarkar
---
Calcutta
|
Published 25.07.19, 10:51 PM
|
---
Next time you see a street dog in distress, you can call for an ambulance that will take him to a shelter behind Sector V and drop him back when he's better.
Happy Hearts of Kolkata is a new seven-cottah animal shelter in Chhoynabhi, between the water bodies behind Sector V. Here they have rooms and cages there for 50 to 70 animals and the ambulance is available in and around Salt Lake from 8am to 6pm if you dial 6289770078 and 9836162918.
Check out the shelter during visiting hours and you'll be greeted by Kesto, a dog rescued from Kestopur Canal who is missing an eye. Taking over from Kesto will be Mishti and Sandesh, who are missing a leg each.
Inside are at least 30 "accident case" dogs in various stages of recovery. Some were rescued after being beaten by residents, one has recently come from near City Centre with a tumour and there is a Labrador, a German Shepherd Dog, a Spitz and a Dalmatian that were abandoned by their owners.
"Before the U-17 Fifa World Cup, the authorities had whisked away strays from around the stadium. Later they lost track and brought back the wrong dogs who got attacked by the local canines. These dogs were so famished that I saw them eating grass," says Sanjoy Mondal, founder of the shelter who brought seven such dogs back with him.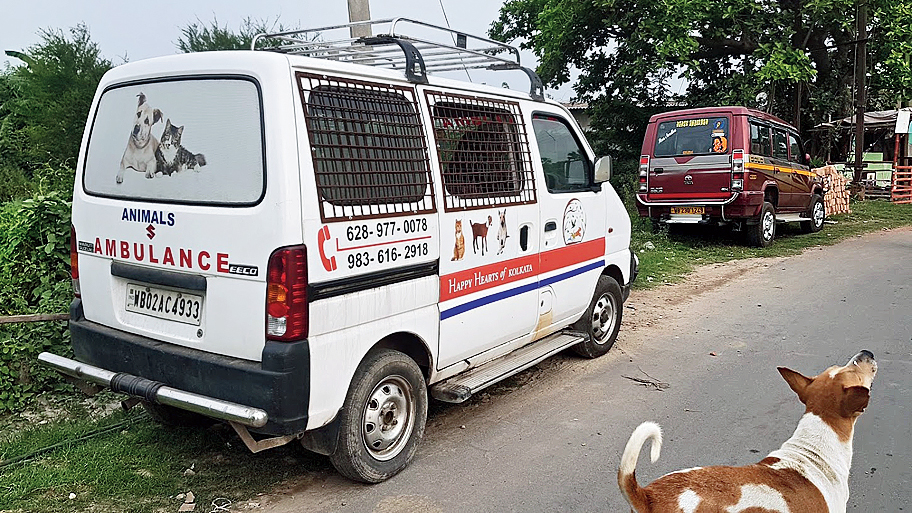 Animal lovers of Salt Lake will be familiar with Sanjoy. For years, he has been riding a bike with two buckets of chicken-rice on either side to feed strays. He is also a trained para-vet who has worked for four or five other animal-related NGOs before.
"There's a separate section for cats and another for goats," he shows. "We have about five goats who were bought and brought here by animal lovers when they saw the goats being taken for sacrifice."
The setting of the shelter in the midst of the water bodies is beautiful and the home itself is clean, hygienic and manned by four members of staff besides Sanjoy. Vet Paresh Biswas comes to treat the patients.
While the ambulance is free, the NGO requests callers to pay for the medicines required by the patients. In case the animal has to live at the shelter permanently they request the callers to pick up the tab for the patient and one more animal. The charges are about Rs 50 a day.
The NGO runs on donations and Sanjoy mentions animal lovers like Shyama Charan Malik of FC Block, Abhijit Chakrabarti of CE Block and the Salt Lake-based social group Asha as being the wind beneath his wings. "We are open to donations in cash or even in the form of rice or biscuits. Or people can simply come and play with the animals once in a while. That would make the animals very happy," says the 27-year-old who chips in the money he earns by dog-catching for other NGOs working with animals.
If Sanjoy is able to expand the shelter, he wants a wing exclusively for aged dogs. "We already have about 30 elderly dogs who cannot walk, have lost their eyesight and sense of hearing. Without help they cannot even find food."