Buzz that helps a village sleep
Bee-keeping keeps away elephants from Nurpur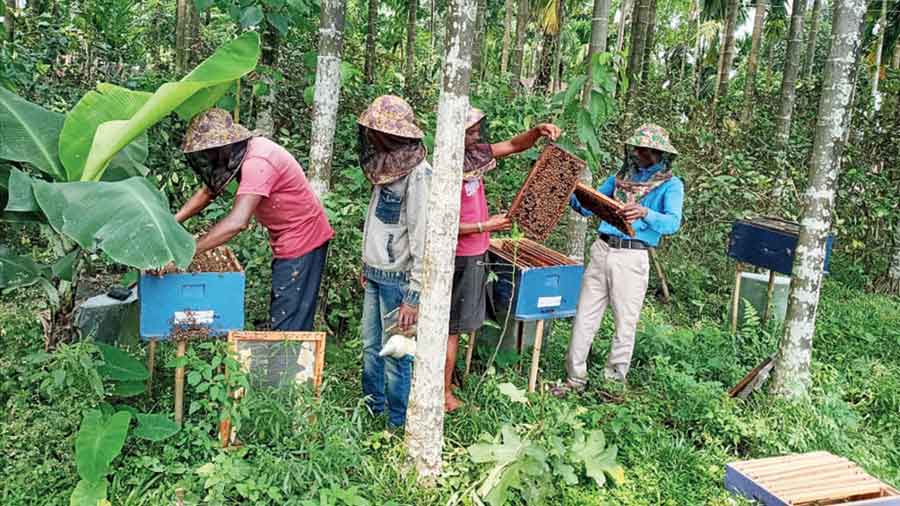 Workers with bee boxes at Nurpur village in Alipurduar district.
Picture by Anirban Choudhury
---
Alipurduar
|
Published 15.05.22, 01:24 AM
|
---
A buzzing initiative by villagers on the fringes of Buxa Tiger Reserve in Alipurduar district has helped them prevent elephants from entering their locality and increased their earnings.
Villagers of Nurpur, in Alipurduar-II block, have started bee-keeping, which has ended their sleepless nights.
At Nurpur, mostly inhabitated by tribal communities, residents would hardly come out of home after sundown. Those who did would roam around with torches and firecrackers to keep elephants away from homes and crops.
"As our village is close to the BTR, elephants would often enter Nurpur for food. They would damage our crops and houses. In some cases, elephant attacks ended in death and injury," said Ramesh Xalxo, a villager.
Bee-keeping is changing all that.
In 2018, Santhalpur Nagarik Adhikar Suraksha Welfare Society, an NGO, asked villagers to try out honey production. "We came to know from the NGO that elephants are afraid of the buzz and sting," said Sujana Bara, a villager.
Villagers first grew mustard in around 33 acres. Mustard is essential before bee-keeping because its flowers yield concentrated nectar. Also, elephants don't consume mustard.
The Uttar Banga Krishi Viswavidyalaya is in Pundibari, Cooch Behar, came forward to help the villagers learn bee-keeping. Initially, villagers got 15 bee boxes. "We placed the boxes near fields and in areas through which elephants enter our village. Their entry stopped. We also produced 20 litres of honey from each box," said villager Paramita Kujur.
That was just the start. This year, they grew mustard on 75 acres. Nearly every home keeps bees and sells honey to buyers sourced by the NGO.
Earlier, each family earned Rs 5,000 to Rs 6,000 a month from farming. Now, it is between Rs 8,000 and Rs 10,000 from the sale of honey and crops, said residents. Not counting the sleep, which is priceless.
"We expect around six to seven tonnes of honey to be produced at the village in another year," said an official of the district administration.
Surendra Kumar Meena, the district magistrate, said he visited Nurpur and sanctioned Rs 28 lakh for the village. Half of this would go to improve water sources and rest for bee-keeping.
The administration has planned to open cooperatives across the district to sell the honey, he added.