Basirhat auto driver spends savings for his idol Netaji
Artisan's fee and expenses of beautification of a 13-ft high statue paid by 39-year-old Ajay Kundu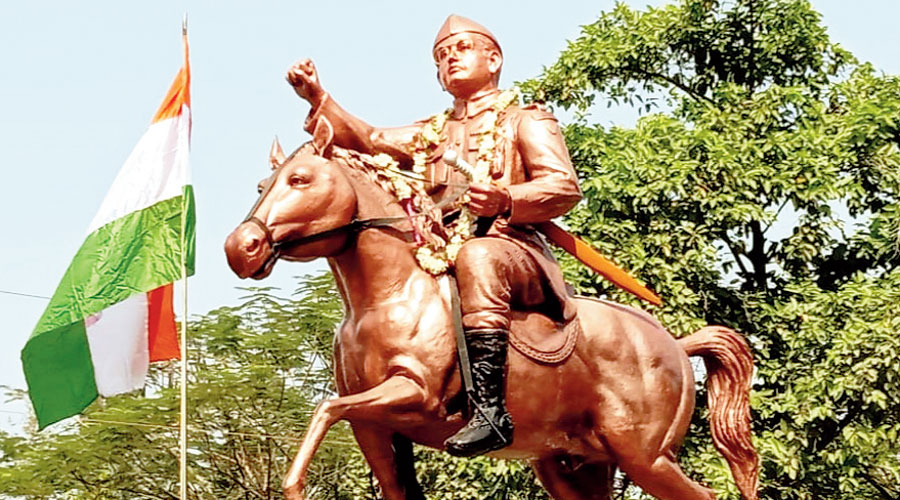 The statue of Netaji unveiled in Basirhat on Sunday
---
Basirhat
|
Published 17.11.20, 06:06 AM
|
---
The dream of a 39-year-old autorickshaw driver was fulfilled when Trinamul MLA Dipendu Biswas unveiled a horse-riding fiberglass statue of Netaji Subhas Chandra Bose here on Sunday.
Driver Ajay Kundu had long nursed a desire to install a statue of his idol Netaji in his hometown, Basirhat. Kundu spent his savings of Rs 1.10 lakh to pay the artisan's fee for the statue and to meet the expenses of beautification, he borrowed money from his friends and relatives. Kundu's wife Pampa and his two sons Biswajit and Shanu — both college students — supported Kundu.
Kundu, who operates on the Basirhat-Talpukur route and is the secretary of the local auto operators' union, is a Class IV dropout. However, in the few years he had spent in school, Bose became Netaji's hero. "I spent only a few years in school. But by then, I had realised that Netaji was the real icon of our country. I later heard about him from many learned persons and concluded that without his initiative, Independence would have come late," Kundu told The Telegraph. "I always felt that Basirhat should have a life-size statue of Netaji. The town has several half-bust models of the icon but Netaji's statue at the five-point crossing at Shyambazar in Calcutta always fascinated me. I dreamt of installing a replica of that statue in Basirhat. Eventually, I expressed my desire to Dipendu da last year and he extended support," Kundu added.
MLA Biswas wrote to the PWD authorities to allot a plot for Kundu to install the statue. He also granted Rs 30,000 from his development fund to help Kundu realise his dream.
Sculpture artist Khokon Pal finished the 13-ft high statue. "It is a dream come true even though a lot of work, including beautification of the site, remains incomplete. I am grateful to Dipendu da and many of my friends who came forward to support me," said Kundu.
"It is a tribute to the real hero of the nation. We didn't bother to spend from our savings for a noble cause," Kundu said while Pampa nodded in agreement.
MLA Dipendu Biswas, said: "It is indeed a great initiative to pay tribute to Netaji. I am really moved by his gesture and tried my best to extend all possible support to him".