Barrackpore boils as TMC and BJP clash
The constituency turned volatile since May 23 last year after BJP's Arjun Singh won in the Lok Sabha polls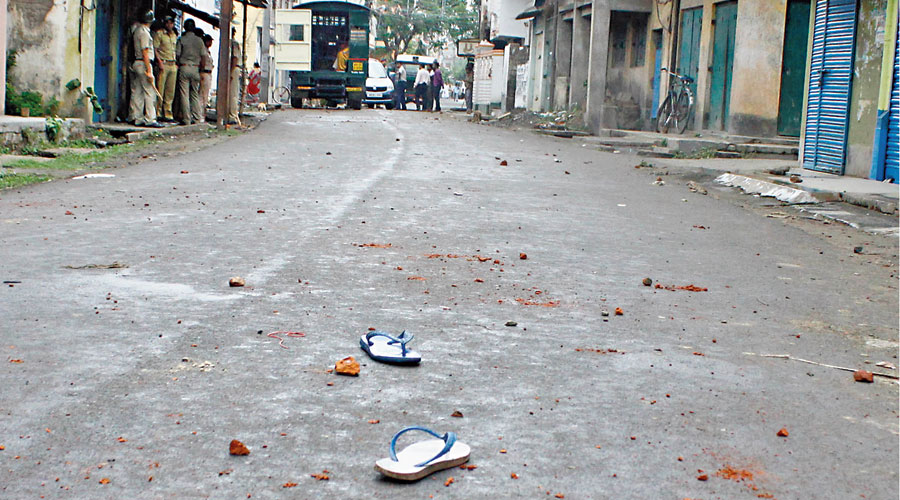 ---
---
Recent political violence between Trinamul and BJP in several pockets of Barrackpore parliamentary constituency has unleashed panic among residents.
Since July first week, at least 14 incidents of political violence occurred in pockets such as Kankinara, Bhatpara, Naihati, Halisahar and Bijpur.
In most cases, goons enjoying political patronage of both parties attack rivals and their leaders with bombs and rods, and open fire indiscriminately to terrorise common people, reviving memories of violence that erupted in the belt after the 2019 Lok Sabha polls where BJP' Arjun Singh won.
A Naihati resident called 'living here" a nightmare. "Bombs are hurled frequently and we can barely catch our sleep," he said.
While both the Trinamul and the BJP blame each other for the violence, police find themselves helpless because of the Covid situation.
Acknowledging the recent spate of violence, Ajay Kumar Thakur, DC (zone 1) of Barrackpore commissionerate said: "The bail provision because of the Covid situation is seriously hampering our work.
If goons get bail for reasons not related to law, the police become helpless. Many of the goons out on bail are now involved in crime. It has become difficult for the police to control political violence."
Trinamul's bête noire, the BJP MP Arjun Singh, however, blamed the "partisan" police for violence. "Peace will stay elusive if police and goons are synonymous. In Barrackpore, the police have turned into Trinamul stooges," Singh said.
The Barrackpore Lok Sabha constituency turned volatile since May 23 last year. At least seven lives were lost in the violent turf war between the Trinamul and the BJP, which was rejuvenated by Singh joining the BJP and his poll victory. The region has a strong presence of Hindi-speaking people who mostly work in the jute mills.
Singh said: "The Trinamul chief (Mamata Banerjee)'s retaliatory mood has led to violence in the area. She is angry with the people of Barrackpore for voting for the BJP. People have understood her true colours and are organising themselves to retaliate."
Trinamul's Bhatpara Assembly committee convenor Somnath Shyam acknowledged the incidents of political violence but said his party had little role in it.
"Arjun Singh has managed to establish a reign of terror in the belt. It is his men who are involved in 99 per cent of the cases whereas our people might have one per cent involvement," Shyam said.
Skirting the issue of political rivalry, DC (zone 1) of Barrackpore commissionerate Thakur said it had become tough to "identify the goons who often come on motorcycles and escape after hurling bombs". "We are trying our best to nab the goons by installing CCTV cameras in the vulnerable areas. The process will take some time," he said.