Agricultural bank staff on strike after Trinamul row in Nadia
Decision to stop working by the employees has put 12,000 farmers, who are members of the bank, in trouble in the middle of the cultivation season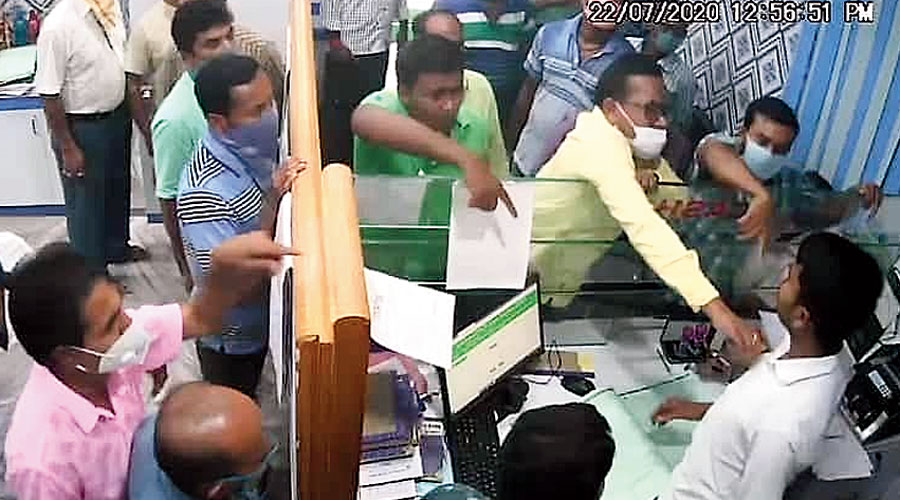 ---
Ranaghat
|
Published 29.07.20, 04:31 AM
|
---
Officials of an agricultural cooperative bank in Nadia's Dhantala stopped working "indefinitely" after some Trinamul workers led by party's Ranaghat-I panchayat samiti member Jagannath Roy allegedly heckled the cash officer and branch manager and demanded instant bank membership for a close aide.
While all the 10 employees of the bank stopped work since July 23, a day after the incident, to demand "justice and security", their strike has put 12,000 farmers, who are members of the bank, in trouble in the middle of the cultivation season.
Dhantala police have started a case based on a complaint filed by branch manager Madan Kumar Biswas. A police officer said probe was on though no arrests had been made yet.
Biswas and cash officer-in-charge Dwipnarayan Roy alleged that a group of about 15 persons led by Trinamul leader Jagannath Roy entered the Chapra Dhantala Samabay Krishi Unnayan Samiti Limited and abused Biswas when he refused to agree to their request to enroll a new member due as the bank's annual general meeting is scheduled for August 5. When Dwipnarayan began videographing the incident, Jagannath and his men beat him up.
A local source said the incident was a result of infighting between Trinamul factions. "One has control of the bank, the other wants control," the source said. 
"But farmers are suffering in the impasse, he added."
Jagannath denied that he went to ask for any membership. "I went to discuss certain allegations of corruption. But the manager misbehaved with me," he alleged.