Science college united in protest
The group walked silently with posters and congregated to sing, 'We shall overcome'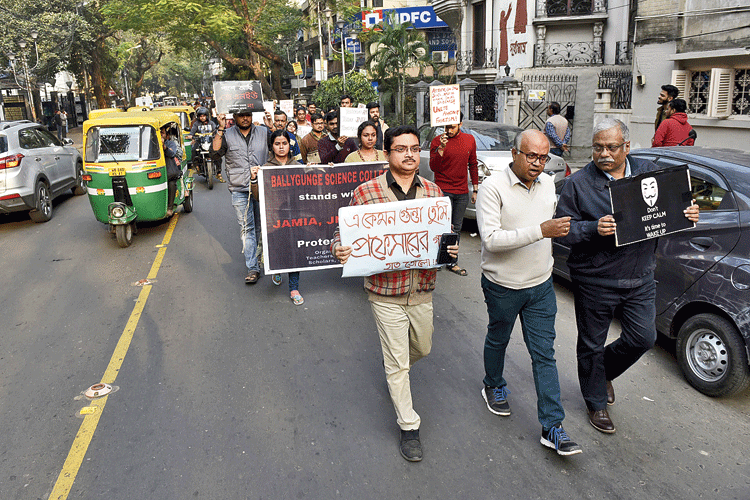 Sujoy Ghosh, secretary of West Bengal College and University Professors' Association; Sajal Roy, a member of Calcutta University Teachers' Association; Parthiba Basu, general secretary of CUTA
Pictures by Sanat Kr Sinha
---
Calcutta
|
Published 13.01.20, 08:27 PM
|
---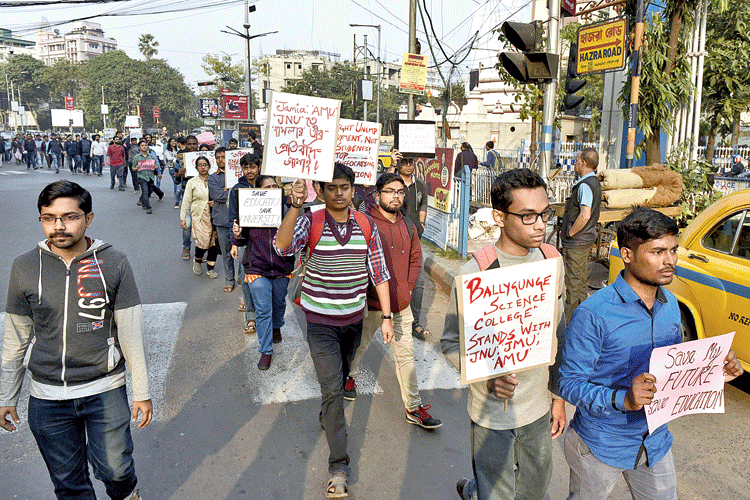 Teachers buried their political differences to walk together in a protest march called by students of Ballygunge Science College.
As the marchers moved through Hazra Road and Ballygunge Circular Road to show solidarity with those beaten up at JNU, AMU and Jamia Millia Islamia, the general secretary of the Left-backed Calcutta University Teachers' Association and the secretary of the Trinamul-backed West Bengal College and University Professors' Association matched steps.
The group of teachers, students and research scholars walked silently with posters and congregated on the campus to sing "We shall overcome."
"We had approached all teachers irrespective of their ideological differences to join the protest. Many of them responded," said Sourav Dutta, a research scholar.
A student organiser at the rally said those present could be from the "SFI or the TMC" but none of it mattered. What mattered was their "anti-BJP outlook" at the moment.
"Responding to a call by students, we teachers have come together cutting across party lines," said Sujoy Ghosh, the secretary of West Bengal College and University Professors' Association.
The teachers on Monday made it clear that "this politics" was not restricted to "only political parties".
"This politics is beyond the boundary of parties. Together with students we teachers have matched steps and matched our voices to fight for democracy against fascism," said Parthiba Basu, the general secretary of Calcutta University Teachers' Association.
"The CAA-NRC and the attack on students on campuses cannot be seen in isolation, but all of it follows the rule book of fascism," said Basu, a zoology professor.
"They (the BJP) are calling others tukde tukde but they are the tukde gang because they want to tear the country into pieces," Basu told students.
From the same podium on Monday, a call was made to the students to join "at least once" the women-led sit-in at Park Circus Maidan.
"You should visit the Park Circus Maidan once to show your solidarity," said Suman Sengupta, a university employee.
"Students are not led by religion but when they have seen their folks being beaten up they have taken to the streets," said Sengupta.
A PhD student, Avanti Acharya, with a placard — "Stop Fascism Learn Humanity."
"I am carrying this placard because I believe in it. All the policies of this government has been a failure. I am contributing to my country through my research and now why do I have to produce documents to prove that I am an Indian," said Avanti.
Many of the students said that the attack on their peers on campuses in the country could very well happen to them.
"There is no security on campuses. There is an attack on students and nobody is taking responsibility. If we don't wake up now it will be taken for granted that students' protests can be stifled by using force," said research scholar Snigdha Bhowmik.
"What is happening now is an infringement on the freedom of speech of students. Whatever the issue, we have the right to speak out," said Debrita Majumdar, an MSc student.