Bake your cake, sell it too
The internet is their classroom, the oven their experiment space. Sudeshna Banerjee meets self-taught home bakers of the twin townships who have gone pro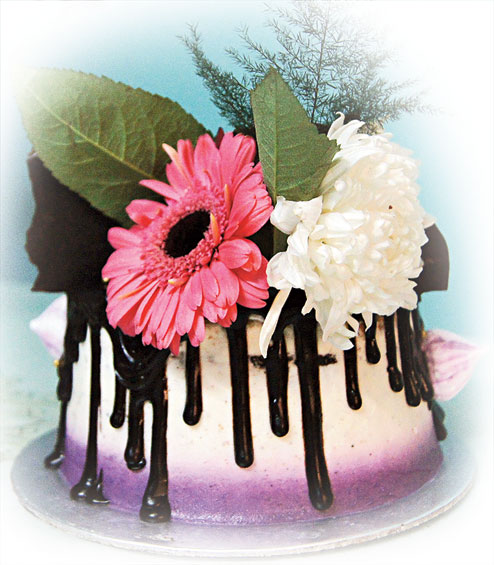 ---
Published 23.12.16, 12:00 AM
|
---
This Christmas-eve, the aroma of fresh bakes is wafting out of the kitchens of many a home in Salt Lake and New Town. Just as you are starting to wonder if the family next door is having a party in the evening, out prances the neighbour's daughter with a huge box, hands it over to a stranger at the door and goes back in, counting cash. The stranger leaves with the box, taking the aroma with him.

The past couple of years has minted many a baker around us, who took to the oven as a passion and gradually gained the confidence and the clientele to go the professional way. The home-made entrepreneurs take The Telegraph Salt Lake through the making of their cake story, from the kneading of the dough to the piping of the icing.
Kirti Bhoutika
Brand name: Sugarplum Cakery

Age: 21 years

Lives & bakes at: DB 86

How she started out: Kirti started baking in Class XII and admits to have wasted a lot of her parents' money in her initial attempts. "I got it right after 10-12 attempts. Once I got the hang of the basic cake, I started watching YouTube and TV shows. Whatever I saw I tried replicating." Sugarplum cakery was born in her first year of college (She was a student of food science and nutrition management at JD Birla Institute).

Icing on the cake: The self-taught baker is riding a high by making it to the finals of the current season of Masterchef India. She auditioned for the show as soon as college got over. "I wasn't sure about participating as only baking is my forte. But my parents asked me to stand in front of the other home cooks of India and find out how I do."

For the first round held at Swabhumi, she had to take home-coked dish. "The recipe for the mocha brownie tart I made in that round is now available on Hotstar. Those guys made me cook it again for the shoot." More than the recipe, she feels she got selected for the main round on the basis of the interview. "They wanted to find out how much I know about food." Her biggest challenge was convincing her father to let her cook non-veg food on the show. "The moment he heard that he wanted me to come back. There was no way he would have me seen tasting non-veg on national television. Only I know how I convinced him to let me stay on. I had to cook lamb, chicken and fish on the show. Now that I am in the finals he is the proudest of me."

The shoot for the final episode is over but Kirti is mum on the results. "Watch the show on Sunday," is all she would say.
Signature items: Red velvet truffle cake, brownies and Monte Carlo.

Dessert dream: She wants to take professional training now. But once that is done, she is determined to come back to Calcutta. "I want to open a food studio here so that no one faces the problems I did."

Anurupa Sen
Brand name: Dessert Planet

Age: 19 years

Lives & bakes at: AE 617
How she started out: Anurupa started baking at the age of seven or eight. But she has been pottering about in the kitchen since the age of four with her grandmother. "When the oven came it was my new toy." She bought her own oven when she was in Class IX with fees earned from tuitions supplemented by money from parents. She launched her bakery this April, starting out with events and then stalls. The individual orders started coming from July. "I prefer bulk orders. That way I can cook at one go and be free for studies the rest of the time," says the third year economics student at Jadavpur University who was off baking for the last two months to appear for her semester examinations. "From January, I will be free to take orders again."
Signature items: A platter of 14 cup cakes, 13 of which carry the letters of the words "happy birthday". The 14th is a customised one, according to the customer's choice of look or flavour. She also does gajar ka halwa and a motichur mousse, which is a fusion of motichur laddoo and white chocolate. Another item is firni in a tart shell. At events, she also cooks sandwiches and pasta.

Favourite taster: "My brother Abhirup ate all my burnt cakes and bitter sandwiches when I started baking. Even now he is the first to taste and tell me what to do."

Dessert dreams: Right now, baking is secondary to studies for Anurupa. "I want to be a school teacher. May be 30-40 years later, I will take up baking full time."
Aditi Ghosh
Brand name: In Good Taste

Age: 39 years

Lives & bakes at: AE 230

How she started out: Aditi has been baking for 12-15 years and selling since 2012. "When I was about 10, my mother used to bake cakes and I loved helping her with measuring out stuff, mixing the batter and beating the eggs." Her name spread by word of mouth. "I became professional when family and friends refused to take my products free."

Signature items: Designer cakes (see picture right) and cup cakes. "I customise flavours. I like mixing and matching elements from a customer's preferences — for instance, coffee cream with blueberry or strawberry compote with butter scotch."

Thoughts on trends: The most experienced baker of the lot featured, Aditi is amazed at the occasions for which she is being asked to customise cakes. "Earlier it used to be birthdays or get-togethers. Now I get orders for bachelorette parties, engagements, weddings and even on one instance, the first night after the wedding. It featured a couple under the sheet on a bed!

Urvashi Shivnani
Brand name: Sweet Surrrender

Age: 26 years

Lives & bakes at: SA 10, Sanjeeva Town The Bungalow Estate, Action Area 1, New Town (opposite Aquatica)

How she started out: In 2011, Urvashi finished a course in media studies but did not like the sales jobs she was getting. "All this while I was baking as a hobby. It was my friends who pushed me into it. I still remember the date when I got my first order: March 8, 2011. Cupcakes were not that popular yet in town and a friend wanted some. I have never stopped since," beams Urvashi.

Icing on the cake: In April 2015, KitchenAid India ran a contest for home bakers. Urvashi sent a recipe which took her to the top 50. "I was one of the two participants selected from the east." Next she had to bake in front of judges within two and half hours. She came first in the round, reaching the top eight. "The eight of us were sent to the Academy of Pastry House in Gurgaon and trained by a chef from the Philippines. We were taught to make wedding cakes," says the self-taught baker. In the final round, they were given six hours to bake one themselves. "We had to choose a designer as inspiration. I picked Manish Arora." She came third. "I was pretty happy with the result. The winner had five years' experience. I was a rookie."

Signature item: Farm animal cake. "This is the most popular with kids. One figure takes 30 to 40 minutes to make. So I can take limited orders for this."

Favourite taster: Her Lhasa Apso Milo. The three-and-a-half year old loves to polish off Urvashi's vanilla cake. "But since it has sugar, he can't have much. So I bake him peanut butter, carrot and apple cake, using honey instead of sugar. But he prefers the vanilla cake. Even when I am making chocolate cake, he sits at my feet, with a longing look in his eyes. But then, he begs whenever we eat, even when we are having roti!"

Dessert dream: "I want to own a boutique to increase my output. I need my own space as I cannot employ helpers and crowd my home, especially since I work during odd hours. For a morning order, for instance, I might be up till 2am."
Dishari Dutt
Brand name: Hungry & Skiny ("I eat a lot but am still skinny! I named my brand after myself," she laughs, explaining the unusual name.)

Age: 22 years

Lives & bakes at: CE 217 (Currently she shuttles between Mumbai and Calcutta, having taken up a job with a TV channel)

How she started out: Dishari started as a professional in January 2015 but was "unofficially baking" since she was out of college in 2013. "I used to bake for my friends and my mother's friends. They made me create a Facebook page. I got an order the first night itself. The next day I got 11 orders! I had no clue about pricing or packaging. And in the first couple of months, time management was an issue as I was still in college (international relations, Jadavpur University) and was interning with an event management company. I had to find time to shop for ingredients before I could bake the order." She started getting invited to several bake sales. "When a stranger tastes your cup cake and goes wow that really boosts your confidence."

Signature item: Brownies and red velvet cup cakes. Also bacon jam. "People order 11-12 jars at a go as they run out quickly."

Favourite taster/ client: "My mom tastes everything I make and points out the flaws. Among clients, there is a gentleman from Delhi who picks up my stuff every time he comes to Calcutta. He even got his company to place an order with me."
Dessert dream: "My baking philosophy is to make things that are simple, homely and tasty. I want to reach a point when the entire country knows me."

Debadrita Das
Brand name: Han-D-Made

Age: 20 years

Lives & bakes at: CJ 49

How she started out: From the time she was in Class VIII, Debadrita would take the cakes she baked to school. "I didn't like studying. So I baked. More than that, I liked to decorate cakes. I learnt the methods on YouTube but the ingredients were not available here or even if they were, they were too expensive for my pocket money." She would post her cakes on Facebook and friends would be amazed at their look. A friend's mother saw a picture and wanted to buy one. "I refused to take money but she recommended me to many others."

Signature items: Cakes with a surprise element hidden inside. "It could be a normal cake outside but inside there would be Gems or a heart or a chess board design in chocolate and vanilla checks." She likes to pack a surprise even inside her cup cakes.

Dessert dreams: A gifted card-maker, Debadrita can't choose between the two. Her paper creations are getting sold out at Oxford Bookstore and she does not have time to take bulk orders. She plans to attend bakery workshops to hone her skills. A third year engineering student at BP Poddar Institute of Management and Technology, she wants to take up a job to build capital to invest in her hobbies later.

Atrei Chatterjee
Brand name: Local Gourmet

Age: 23 years

Lives & bakes at: BL 48

How she started out: On a whim. "One day at 3pm, I decided to sell my food items." By 5pm, she had shopped for ingredients and started cooking. The next day, she took a table to her (Jadavpur) university. In two hours, her pork curry and quail roast got sold out. "I must have got it from Dida who loved to cook and feed people." Atrei has a fetish for healthy food. She used to cook for dogs. "Then it struck me, if I am so careful about feeding the right food to the dogs, why not cook healthy for humans too?" The final year postgraduate English student has been at it since then.

Signature items: Her focus is meat and she loves doing roasts and grills. Her savoury muffins, with a stuffing of carrot, zucchini, bell pepper, mushroom and spinach, are filling breakfast options. She also makes lasagna, souffle and cake on order. She also does vegan and gluten-free food. "My aim is to make international dishes at affordable prices." But what she likes to do best is feed dogs. "I do birthday cakes and muffins using dog-friendly ingredients."

Favourite taster: Her sister Joie — "She is the one for whom I made my first dish of Pepper Prawn" — and her five-year-old nephew who demands a constant supply of candies.

Dessert dreams: Right now, she is focused on her Christmas promotion — a three course meal of roasted chicken, turkey and quail with mashed potatoes and vegetable, home-delivered in Salt Lake and New Town for Rs 600. "It will be on till January 15," she says. She wants her own gastropub at some point. "I make good cocktails too," adds the self-taught cook.