Bailey bridge can bear army tank load
Last-minute work on to ensure road opens on October 12, says PWD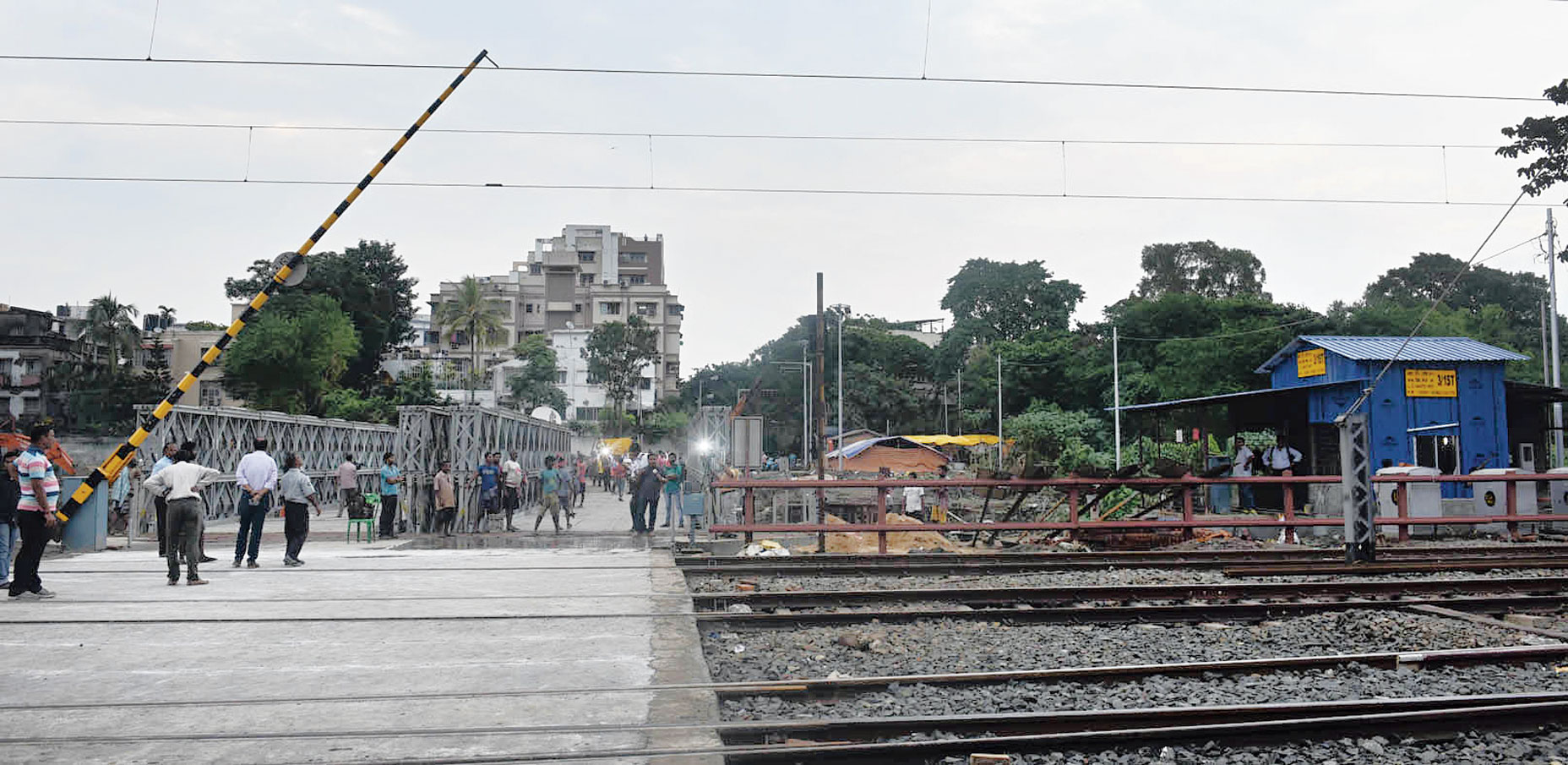 The Bailey bridges over Chetla canal, along with a gateman's cabin and the level crossings on either side of the road on Thursday.
Picture by Sanjoy Chattopadhyaya
---
Calcutta
|
Published 11.10.18, 09:09 PM
|
---
The Bailey bridges in Majerhat can withstand the weight of an army tank, the Garden Reach Shipbuilders & Engineers has said.
Each of the two bridges on the Chetla canal, which stand nearly a metre apart, weighs around 64 tonnes and will be the first of its kind in Calcutta, a GRSE engineer said.
"Among the various categories of Bailey bridges that we build, the ones at Majerhat are of the highest load-class, 70-R," the engineer said.
"Each of the bridges can bear 100 tonnes of vehicular load. Every part has undergone stringent checks to ensure there is no failure.
"Quality checks for every part have been made keeping in mind the international
standards."
Last-minute work was on to ensure the road could be thrown open on October 12, a PWD engineer said.
Traffic cops will set up signals and height bars on either side of the bridge at New Alipore and Alipore.
Each of the structures spanning over the Chetla canal rests on steel panels placed atop each other in two tiers. Each tier has three sets of steel panels. Each panel is around 10ft long and 5ft high. There are 96 such panels on each of the two bridges. The panels weigh 283kg each and form the main backbone of the bridges.
"These panels are the main component of this type of Bailey bridges. They hold the weight of the structure and transfer it down to the piers through pier-caps," another GRSE engineer said.
"So, we have subjected each of these panels to proof-load at our laboratory to ensure highest factor of safety."
Spanning over 80ft, each of the two bridges are 4.25m wide. This means only one vehicle can cross the bridge at a time from either side. The high-tensile steel used in the bridges is specially rolled by SAIL for GRSE.
The structures can withstand extreme temperatures — from minus 30 degrees Celsius to 60 degrees Celsius.
The two Bailey bridges have collectively cost around Rs 2.1 crore.
"We have done radiography of the welding of various parts to see if things meet the highest standards. There can be no question on the safety and security of the structure," an engineer said.