Asansol: Kaala Patthar to khamosh Shatrughan Sinha outsider tag
The actor recalled the days of shooting of the Yash Chopra movie — that also starred Amitabh Bachchan and Shashi Kapoor — during his campaign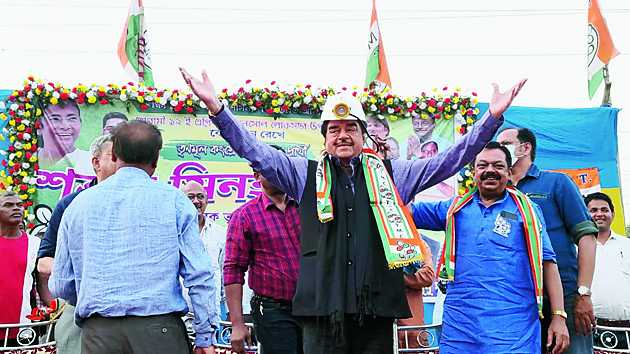 Shatrughan Sinha in Asansol.
Santosh Kr Mandal
---
Asansol
|
Published 03.04.22, 01:12 AM
|
---
Trinamul is planning to screen Kaala Patthar, a 1979 Bollywood blockbuster starring Shatrughan Sinha, in Asansol to counter the "outsider" tag on its Lok Sabha bypoll nominee.
Shatrughan played the role of coal miner Mangal Singh in the film that showcased their plight and was shot extensively in Asansol and Dhanbad.
The actor turned politician is contesting from Asansol as the Trinamul candidate in the April 12 bypoll as the seat fell vacant after Babul Supriyo left the BJP.
The BJP and its candidate Agnimitra Paul have been levelling the "outsider" tag on Shatrughan, originally from Patna.
Trinamul leaders here said Asansol is a colliery belt where coal miners are game changers in every election.
"We are trying to woo them (coal miners) by telling them how our candidate Shatrughan had portrayed the role of Mangal Singh, a coal miner who drowned while saving many trapped coal miners. It will help them relate with our candidate," said a Trinamul leader.
Sources said nearly 1 lakh miners work in around 107 mines of the Eastern Coalfields, a major public sector unit, in this region. There are many coal mines in Bengal and Jharkhand. Many of them fear privatisation of coal mines by the Narendra Modi government.
"We are telling people (miners) that if Shatrughan wins he will save you from privatisation of mines like he saved the lives of many miners in the movie," said a Trinamul leader.
Shatrughan recalled the days of shooting of the Yash Chopra movie — that also starred Amitabh Bachchan and Shashi Kapoor — during his campaign. "This region is not unknown to me. I am aware of the dangers of the coal miners. During the shooting of Kaala Patthar I used to visit Asansol frequently," he told a rally in Kulti a few days ago.
Some local coal miners owing allegiance to the Trinamul trade union have gifted him a mining cap as a symbol of warm welcome. Shatrughan is seen campaigning wearing the cap.
Former BJP leader and union minister Shatrughan has accused Modi of privatising public sector units in the name of disinvestment.
"The ruling BJP government is selling public sector units including banks, railways, Coal India and SAIL, forcing you into misery. I know you have faced a lot of injustice and exploitations," he said.
"In this crucial time of your trouble only Mamata Banerjee has come forward to help you. Voting me means you are strengthening her hands to combat the BJP in the Centre," he said at a rally in Asansol a few days ago.
The BJP is campaigning in Asansol describing its candidate, Agnimitra, as "ghorer meye" and "Asansol tar ghorer meye kei chay (Asansol wants its own girl)".
The catch line is a take on Trinamul's slogan for Mamata during the Assembly elections — "Bangla Nijer Meye kei Chay (Bengal wants its own girl)".
Agnimitra said she grew up watching Shatrughan's movies and she wished him good health. "But he has put his feet in the wrong shoes and the people of Asansol will not support him as an outsider in real life," she said.