Art gallery opens with Bengal masters
The inauguration was marked by the opening of an exhibition of the works of Bengal masters, from the archives of Charukala Parshad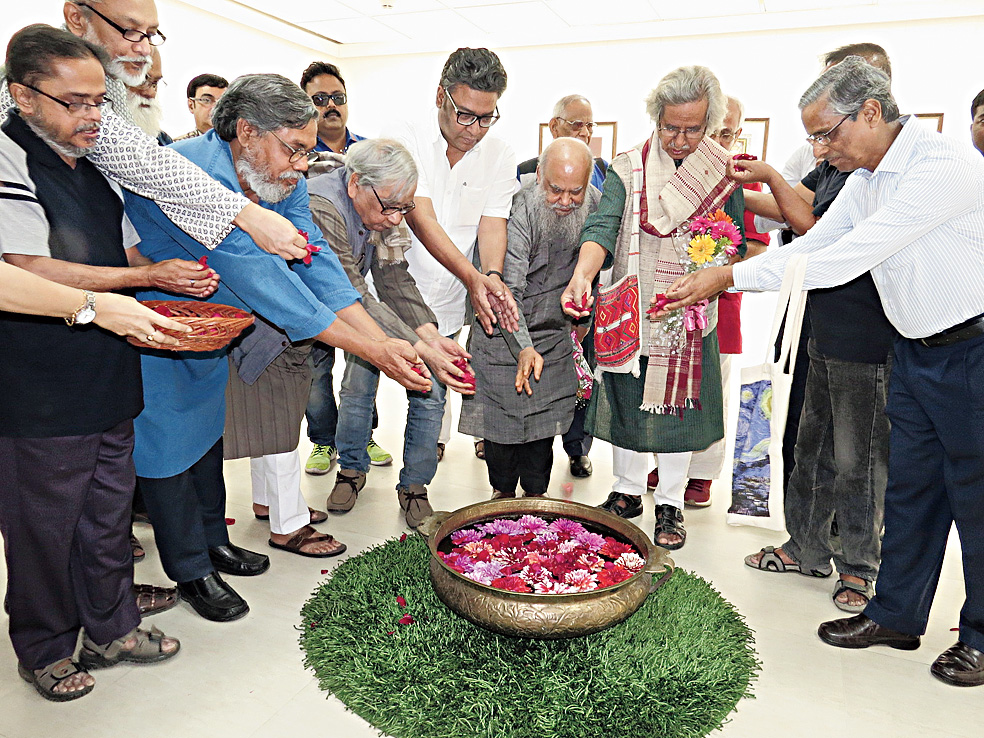 ---
|
Calcutta
|
Published 04.03.19, 12:09 PM
---
A government art gallery was recently inaugurated on the second floor of Rabindra Okakura Bhavan. Named Priyamvada Shilpa Pradarshashala, the gallery comprises three rooms, 576 sq ft, 504 sq ft and 342 sq ft in area.
The opening by minister of state for information and cultural affairs Indranil Sen, was attended by several artistes. "Salt Lake has a lot of things. Now it also has a space to hold exhibitions. This will be a boon for local art lovers who are unable to travel to the city centre to watch exhibitions," said Jogen Chowdhury, Rajya Sabha member and president of Paschimbanga Charukala Parshad. "The space will be let out for private exhibitions."
Ganesh Haloi, a resident of AE Block, recalled asking the administrative officer of Bidhannagar Notified Area Authority about plans for an art gallery and being told there were none. "I had been offered land to set up one but I did not dare take the initiative on my own. My wish has finally been fulfilled. A race expresses itself through its music, its art, its sculpture. When this goes it has nothing to fall back upon," the veteran artist said.
Parshad vice-president and BH Block resident Suvaprasanna pointed out that it was apt that the gallery had been named after Priyamvada Banerjee, the Santiniketan poet who was close to Okakura Tenshin.
The inauguration was marked by the opening of an exhibition of the works of Bengal masters, from the archives of Charukala Parshad.
As many as 26 of the 46 paintings exhibited are by Jamini Roy. The rest are by other doyens like Nandalal Bose, Abanindranath Tagore, Ramkinkar Baij, Rathin Mitra and Chittaprosad. Hashirashi Debi is the only female artist on view. "Jamini Roy used to paint multiple copies of a painting as he wanted his paintings to reach more people. In his lifetime, his pictures used to sell for as much as Rs 750," said Suvaprasanna, pointing to his paintings on bamboo mats (madur).
He also pointed to a rare portrait drawn by him, citing it as an example of his early days when he was influenced by the Impressionists. "He would later find a different language of his own, imbibing traditional Bengal art forms like terracotta of Bankura, patachitra of Kalighat etc."
While the artists were happy with the facility, sculptor Bimal Kundu, a resident of FC Block, felt the illumination could be improved for sculpture shows which also requires the centre of a hall, and not just the walls, to be lit up.
The exhibition is open for public viewing till March 11, from 2pm to 8pm.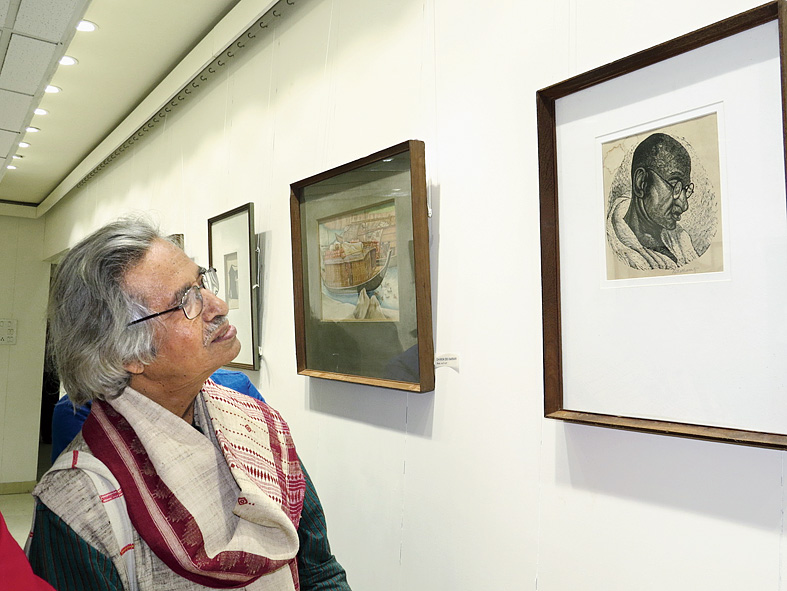 Spot the difference: Works from two phases of Jamini Roy's life