Arjun Singh's 'reunion' meet with old colleagues in Titagarh
Meeting brought together leaders who were not comfortable with his sudden induction into Trinamul Congress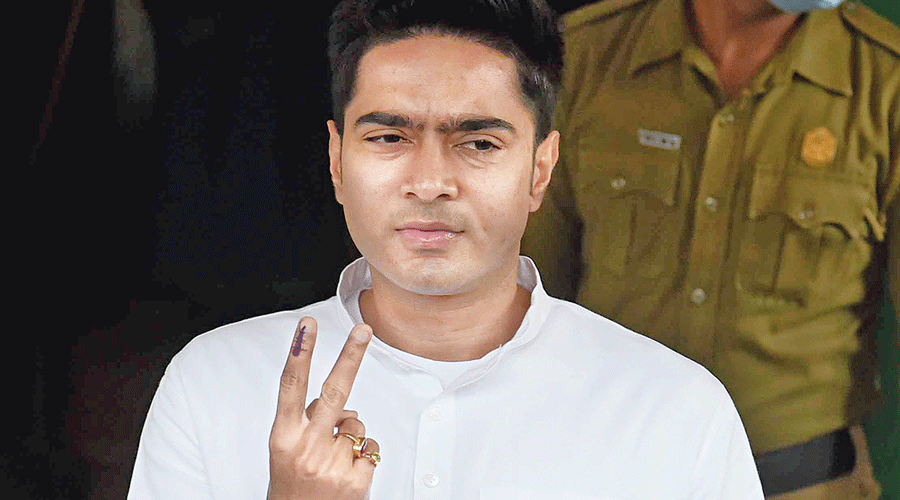 Abhishek Banerjee.
File photo
---
Calcutta
|
Published 24.05.22, 02:29 AM
|
---
Barrackpore MP Arjun Singh had on Monday a "reunion" with his old colleagues at Titagarh in North 24-Parganas, a day after his return to the Trinamul Congress.
The  meeting also brought together leaders who were not comfortable with Singh's sudden induction into Trinamul.
Senior leaders said the presence of Singh at Monday's meeting was basically a litmus test for the party to test the MP's acceptance among all sections of Trinamul. This was the district leadership's last meeting before the party's May 30 rally where Trinamul national general secretary Abhishek Banerjee will be the chief guest.
"We had invited all senior party leaders, MLAs, MPs and ministers from Dum Dum and Barrackpore organisational districts to the meeting to send a message to our workers that no one has any problem accepting Arjun Singh as one of us," said a senior Trinamul leader, who was present at the meeting.
"The district leadership was wary whether Arjun's induction would be opposed by a few local leaders. However, no one opposed his induction and the meeting ended on a good note," he quipped.
"Whoever tried to ask questions regarding their past experience with Arjun, we told him that it was the decision of Mamata Banerjee and Abhishek Banerjee. We showed that all leaders and ministers sitting on the dais had no problem with Arjun," he added.
At the meeting, ministers, including Bratya Basu, Chandrima Bhattacharya, Rathin Ghosh, Jyotipriyo Mullick and veteran MP Sougata Roy, along with all MLAs of Barrackpore and Dum Dum, were present to send the message of unity following Singh's induction.
Apart from heavyweight leaders, all chiefs and deputy chiefs of municipalities, rural bodies, members of zilla parishad were invited to the meeting where Singh was welcomed.
"Madan Mitra stood up, hugged Arjun and invited him to lunch. Mitra was one of those who had to fight against Arjun in the Bhatpara bypolls in 2019 and was defeated by his son Pawan Singh," said a leader.
Senior leaders like Mullick tried to make clear that Arjun's return to the Trinamul would benefit the party. Dum Dum-Barrackpore district unit president of Trinamul, Partha Bhowmik, went a step ahead and requested chairperson of various civic bodies to felicitate Arjun.
Bhowmik when contacted said: "The meeting was pre-scheduled and Arjun was invited as he was now part of Trinamul."
"The meeting was pre-scheduled, but Arjun was invited after he joined the party. If anyone has any problem with his induction, we are ready to talk to them. We are sending a clear message to our party workers that our target is to defeat the BJP in 2024," said Bhowmik.
However, Arjun is yet to be given any post in the party, but sources said it would be decided and announced by Abhishek.
"He may be sent to look after organisations in the Bongaon Lok Sabha area where the party's organisation is weak," said a Trinamul leader.
Responding to the welcome, Arjun said: "I congratulate everyone present in the meeting. Abhishek (Banerjee) will come here and I have joined the party under the direction of chief minister Mamata Banerjee. I will do what my party assigns."
Additional reporting by Subhasish Chaudhuri