Arjun Singh faces one of 'most difficult days'
The BJP candidate suffered a bruise on his upper lip after a clash and was later allegedly chased away by TMC workers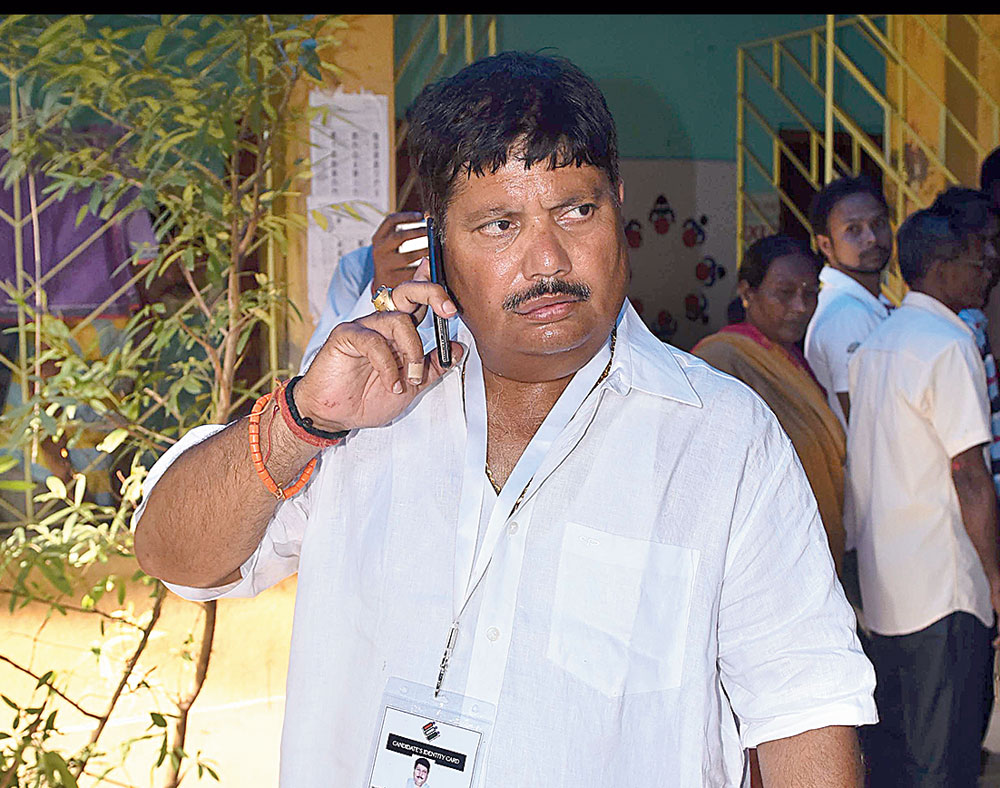 Arjun Singh talks over the phone during the voting;
(Gautam Bose)
---
Barrackpore
|
Published 06.05.19, 07:55 PM
|
---
"Singh has threatened to bomb our house," Laltu told The Telegraph. "We don't know what's in store."
Around 11am, when Singh reached a booth at Monshatala Primary School in Kankinara, a section of Trinamul workers started shouting "go back" slogans. On his way out of a booth, Singh chased away some of the Trinamul supporters even as his security guards tried to resist him.
On the way, he tripped and fell.
As soon as he reached Aamdanga, alleged Trinamul supporters armed with bamboo sticks gheraoed Singh and chased him away. Some of them allegedly attacked the vehicle that was carrying his security guards.
On the other hand, rival Trinamul nominee Dinesh Trivedi went about visiting booths, mostly at the backyard of Singh's fiefdom in Bhatpara. He even took a break to visit a Kali temple in Bhatpara.
"In the fight between guns and pens, the latter will win. The writing is on the wall and the Bahubali should be able to read it," said Trivedi.
 The BJP's Barrackpore candidate, Arjun Singh, suffered a bruise on the upper lip in a clash and was chased away by alleged workers of the Trinamul Congress on Monday as he fought the organisational might of the ruling party of which he was part till a few weeks ago.
In his political career spanning over three decades, Singh admitted that it was one of the most difficult days as he covered around 230km on the voting day.
"Era CPM er thekeyo bhoyankar (they are deadlier than CPM)," Singh said looking at his white Rado watch as the polling time was coming to an end. By "era", he meant Trinamul.
The day started around 7.10am when Singh left his Jagaddal home. Singh cast his vote and then headed for Mohanpur near Barrackpore speeding down Kalyani Expressway after calls started pouring alleging that Trinamul supporters were "jamming" booths.
Around 8.45am, Singh reached Vidyasagar Vidyapith at Surya Sen Pally in Chak Kanthalia where long queues filled up the sprawling field of the school.
Krishna Das, mother of a BJP polling agent Tapas Das, came running to Singh to complain how Laltu Das, a local Trinamul panchayat member, had driven his son out of the booth. A furious Singh reportedly chased Das walking down to his house before allegedly hitting his two brothers, Raju and Ajit.
Usha Dutta, Laltu's sister, too was at the receiving end as the BJP candidate allegedly lost his cool. When police reached the spot, a scuffle broke out and Singh suffered a cut on the upper lip.