Arguments flow freely, audience learns a lesson
Economists debate pros and cons of universal basic income scheme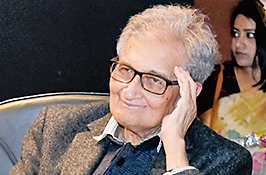 ---
---
The great Indian argumentative tradition was in full bloom in Rabindranath Tagore's seat on Sunday evening, with two acclaimed economists arguing their cases with precise logic in front of a packed audience.
The topic: universal basic income as part of the right to minimum economic security. The debaters: Nobel laureate Amartya Sen and Pranab Bardhan, professor of economics at the University of California, Berkeley.
Bardhan got the proceedings under way, arguing in favour of a universal basic income scheme, under which every citizen would be entitled to a periodic payment regardless of social or economic standing.
Over an hour, he carefully built his case and offered five reasons why a regular payment to all citizens should be more effective than anti-poverty programmes that hinge on identifying the poor and targeting them with welfare schemes.
"Anti-poverty programmes suffer from the problem of exclusion and inclusion errors," he said. He cited a 2011-12 survey that found half the poor had no BPL (below poverty line) cards while a third of the "non-poor" did.
He went on to question a few other policy initiatives, such as reservation. "A client-patron relationship tends to develop between the politicians and a section of beneficiaries when measures like reservation for a section is announced," Bardhan argued.
"We have to move away from this prasad (dole) distribution to ensuring entitlement for every citizen."
He referred to speculation in New Delhi's policy circles about the Narendra Modi government planning a universal basic income scheme for the poor, but said such a scheme would not yield the desired results as identification of the poor was a problem in India.
Sen listened with rapt attention. After a few questions from the audience to Bardhan, it was Sen's turn to argue. He contended that a universal basic income scheme was not the best way to address poverty in India, where funding for health care, education and other public services is deficient.
Sen has been sceptical of the effectiveness of universal basic income schemes since October 2016, when then chief economic adviser Arvind Subramanian said the Modi government was keen on the idea of offering a regular payment to all citizens. He reaffirmed his views — with a broad grin — on Sunday evening.
"Europe or America urgently need such schemes and I have written about that…. But in the Indian context, we need to consider the impact (of universal basic income) on public health care, public education and public distribution of food," he said.
The crux of his argument was the question that if resources were doled out as cash to people, where would the funds come from for some of the universal basic needs like public distribution of food, education and health care.
The occasion for the debate was the first Ashok Rudra Memorial Lecture, instituted by the department of economics and politics at Visva-Bharati university. Bardhan delivered the lecture in memory of the economist, known for his sharp intellect and keenness to engage in debate.
As Sen and Bardhan expressed their divergent views on universal basic income, a Santiniketan old-timer called it a "befitting tribute" to Rudra.
Responding to Sen's critique, Bardhan argued that a universal basic income should be thought of as something over and above the other measures the government would be adopting to address the citizens' basic needs.
He went on to the arithmetic of funding a universal basic income scheme. "Estimates suggest that the government spends around 6 per cent of the GDP on subsidies to rich people. The quantum of the revenues foregone is around 6.2 per cent," he said.
"Then, there aren't taxes on agriculture, wealth and gains in the equities market, if held for more than a year. If, from all these, around 10 per cent of the GDP is garnered, and one-fourth of that is spent on UBI (universal basic income), funds will not be a problem."
Sen had highlighted another possible fallout of a universal basic income scheme.
"If people have money in hand, they will use it for private education, private health care and private supply of food…. Then what will happen to the most neglected areas like public health, public education and public supply of necessary items?" he asked.
Bardhan listened carefully and repeated that a universal basic income and the effort to address the basic needs should be pursued simultaneously.
Although the discourse did not produce a clear answer, the audience left happy.
"It was an example of 360-degree learning on a topic, and that happened only because two great minds argued freely," said Biswajit Halder, economics teacher at Visva-Bharati.