Anubrata warms up to shawlwallahs
Birbhum Trinamul Congress chief tells leaders to buy items from Kashmiris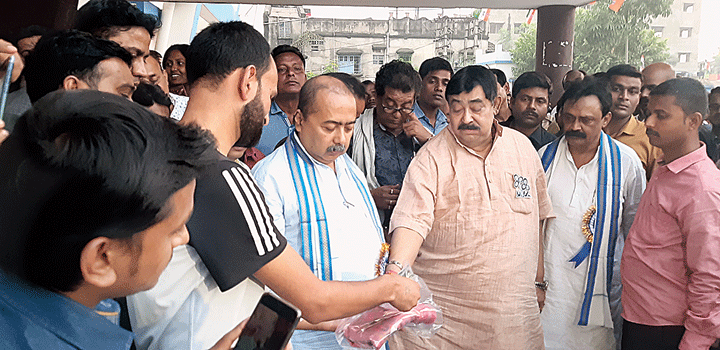 ---
|
Suri
|
Published 18.11.19, 08:29 PM
---
Birbhum district Trinamul Congress chief Anubrata Mondal on Monday instructed party leaders to help out shawlwallahs from Jammu and Kashmir before buying a shawl for Rs 6,000 from three youths from the Valley.
Mondal asked the three youths from Kashmir's Pahelgam to put up stalls near the venues of Trinamul's meetings in the district and promised to help them by ensuring that enough people bought shawls. He told his associates in the party that the people from the Valley had been leading very difficult lives this year, especially because there had been no business from tourists.
"The three Kashmiri youths contacted my party colleague Rana (Trinamul's district vice-president Abhijit Sinha) and said they couldn't sustain their families back home, as tourists have completely stopped going to Kashmir since August," Mondal told this newspaper later.
On Monday evening, after Mondal led by example, the three youths sold over 60 shawls and got around Rs 60,000.
"I felt horrible when I heard that they said 'khana tak nahi mil raha hay (we cannot even afford food)'. They spoke to Rana over the phone — they knew him from his visits to Pahelgam and Amarnath in the past — from the Valley and I told him to immediately bring them to Birbhum. We will take care of them and their business…. Rana has arranged for their accommodation in Bolpur," he added. "The plight of these three youths — Nasir Ahmed, Tariq Ahmed and Ramiz Ahmed — represents the plight of the entire Valley. It is our privilege if we are able to help them sustain their families."
The three youths reached Bolpur on November 15 after Sinha asked them to come. They brought around 700 shawls and still have over 600 left in stock.
Nasir said there were hundreds of shawlwallahs in Kashmir, facing severe losses this time because of the absence of tourists.
"The senior members of our families make shawls throughout the year and it is our main source of income as we sell our produce to the tourists. Although many come to Bengal, we had not done so before this. But we were forced to leave the state this time, because of the situation," said Nasir, 24.
The youths said in their desperation, while trying to find a way out of the Valley to earn some money, they remembered "Ranada" and called him up.
"We don't understand politics. We did not know much about Bengal. But after what these political leaders from Bengal have done for us, we have nothing but praise for them," said Nasir.
Trinamul sources said Mondal would hold at least 30 meetings in the district before this year ends. "Keshtoda (Mondal) has directed the party's leaders and workers to buy from them. It should help them," said Sinha, Ranada to the three youths.