Anubrata free of greed, says Mamata Banerjee
Trinamul Congress chief stands by arrested leader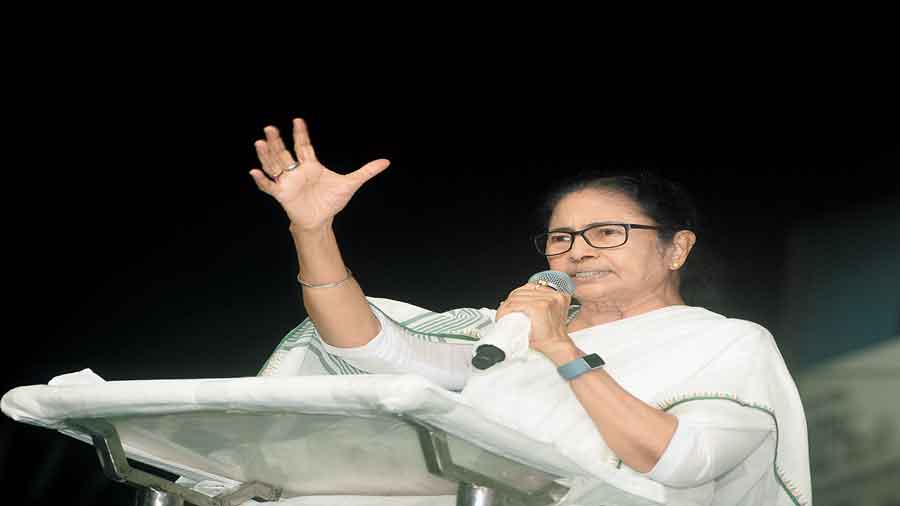 Mamata Banerjee.
File photo
---
Calcutta
|
Published 15.08.22, 01:07 AM
|
---
Mamata Banerjee has said jailed Trinamul Congress leader Anubrata Mondal is a selfless worker free of greed and one lakh versions of every leader arrested by central agencies will emerge on the streets. 
The state government and the ruling Trinamul Congress did not waste any time in sacking from the ministry and suspending from the party the heavyweight Partha Chatterjee after his arrest by the Enforcement Directorate last month. 
But the Bengal chief minister made it clear on Sunday that she was unwilling to a similar hot-potato treatment meted out to her enfant terrible from Birbhum — now arrested in connection with a cattle smuggling probe, and named in several others — who played a pivotal role for her party for years from the ground.
"They arrested Keshto (Mondal's nickname). Why, what has he done? I hope this will not intimidate Keshto. For every Keshto you arrest, one lakh more Keshtos will emerge on the streets," she said, in one of her most aggressive political speeches in recent times, at a pre-Independence Day event in Behala — in Chatterjee's backyard.Extolling Mondal, Mamata lauded him as a selfless worker, free of greed."Keshto never wanted anything, from me or anybody else. He did not even wish to become an MLA or an MP. I requested him to go to the Rajya Sabha, but he politely refused," she said, going on to mount a scathing offensive on the BJP, its government at the Centre, and the central probe agencies that the party allegedly misuses to hound and intimidate the Opposition.
Trinamul insiders said there were basic differences between the arrests of Chatterjee and Mondal. In case of Chatterjee, there was a major visual impact on the popular imagination of the recovery of huge piles of cash and gold, besides real estate, from the custody of his close aide Arpita Mukherjee.
In case of Mondal, there is no such bad optics yet."More importantly, Anubrata is crucial to the party's organisation in western and central districts. Parthada was never a mass leader, or an organiser. The stand could change if the central agencies are able to show visuals suggestive of corruption in Anubrata's case as well," said a senior in Trinamul.
According to him, there is also the concern over the party washing its hands off every leader that gets arrested, as it could trigger significant backlash from thousands of leaders and lakhs of party workers on the ground. As a result, Trinamul had already called for a two-day protest against the alleged bias of the central agencies, right after Mondal's arrest.