Anti-NRC procession prevented at Canning
The march was to culminate at the Jana Ganana Bhavan, office of the director of Census operation in Bengal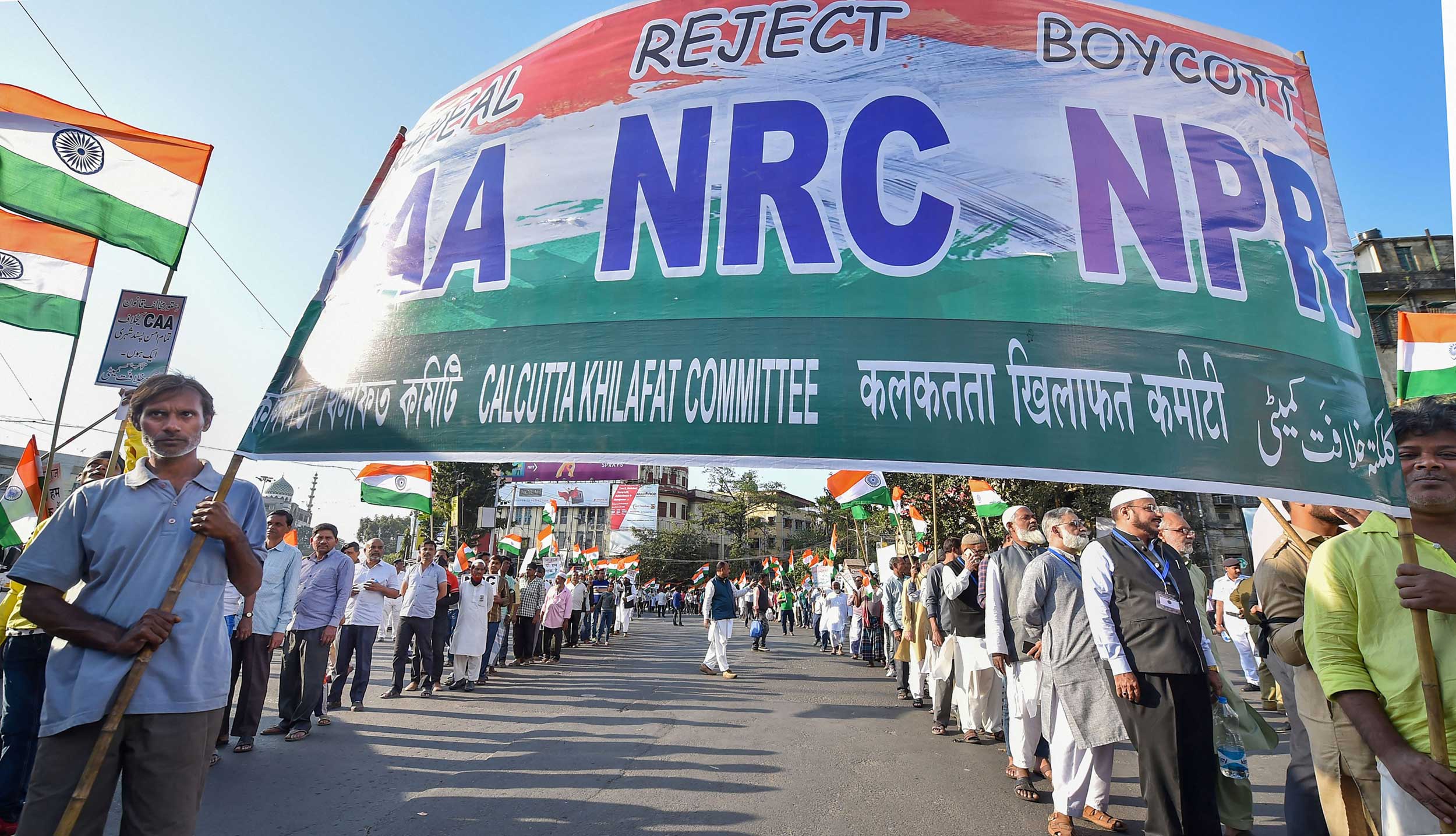 Protesters during a rally against CAA, NPR and NRC
(PTI)
---
Calcutta
|
Published 29.02.20, 09:22 AM
|
---
Members of a fledg¬ling rights group on Friday accused Bengal police of colluding with the ruling Trinamul and preventing them from bringing out a proposed seven day long march from Canning in South 24 Parganas against the new citizenship matrix.

The march was to culminate at the Jana Ganana Bhavan, office of the director of Census operation in Bengal, in Salt Lake.
The Joint Forum against NRC, which has been holding programmes against the CAA and the NRC in the last couple of months, was to start the procession from Deuli Bazar on Friday. The organisers said the police withheld permission for the rally at the last minute citing adverse intelligence inputs.
"They cited adverse intelligence reports and asked us to call off the programme…It seems the ruling establishment does not want us to organise any programme to oppose the NRC and the CAA," said Prasenjit Bose, convenor of the organisation.
The members of the rights group said they had sought permission from the director general of police and police districts concerned by submit¬ting a detailed route chart at least two weeks back.
As part of the plan, the members of the organisation reached the spot from where the rally was scheduled to st¬art on Friday afternoon but a large police contingent stopped them from organising the rally. Local Trinamul leaders and their supporters had also gathered in the area, the organisers alleged.
"Some local Trinamul leaders had been threatening our local organisers in Canning since last evening asking them not to hold the rally. It was clear they did not want us to take out the rally and the police acted at their behest," said Bose.
He said the Bidhannagar police commissionerate, where the rally was scheduled to end after seven days, had already granted permission, but sanction was denied from the police stations through which the rally was scheduled to pass through. "We would lodge a complaint against the police stations, which forced us to call off the programme for the time being. This is completely undemocratic," said Bose.
Subhash Ghosh, OC of Jibantala police station which prevented the organisation from holding the rally, said: "They did not apply for per¬mission. So, the rally was not allowed."