Bewildered by women power
In the propaganda against Muslims everything had to do with stigmatising the Muslim man: Arundhati Roy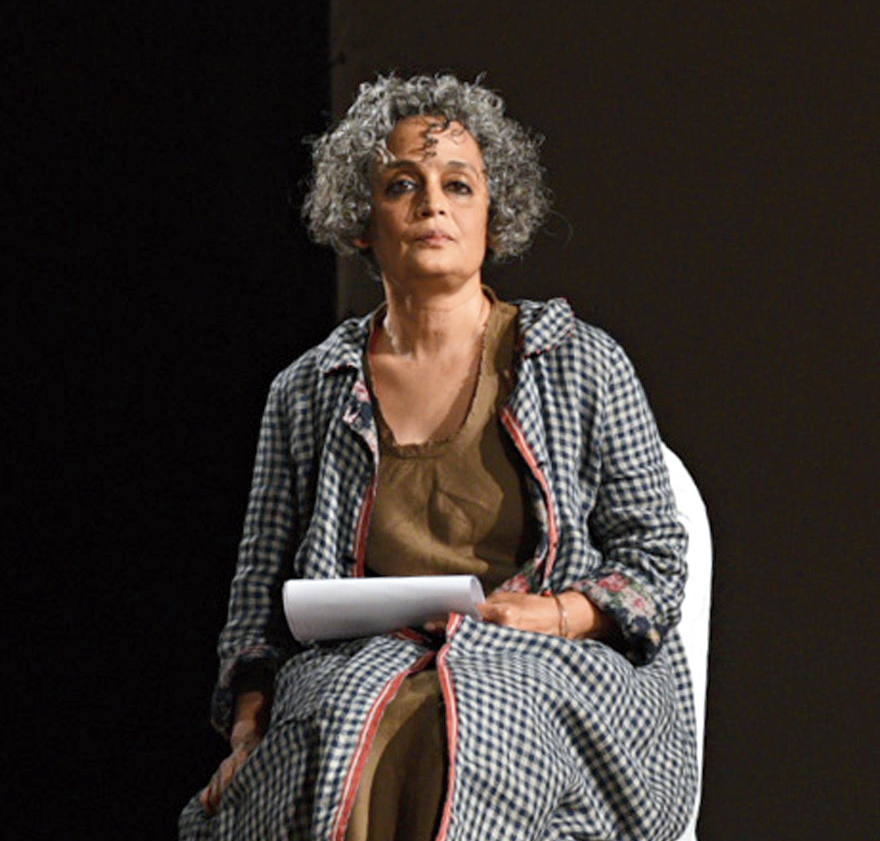 Arundhati Roy in Calcutta.
Picture by Gautam Bose
---
Calcutta
|
Published 23.01.20, 10:03 PM
|
---
Obsessed with stigmatising the Muslim man, the propaganda machine does not know how to handle thousands of women from the community who are protesting against the new citizenship matrix, author Arundhati Roy said in the city on Thursday.
"One of the most extraordinary things about these protests is that in the propaganda against Muslims, always portraying them as jihadi, terrorists and internal enemy, everything had to do with stigmatising the Muslim man. Suddenly, the women have come out and they still don't know what to do," Roy said.
Roy was taking questions after delivering the keynote address at the seventh edition of the Kolkata People's Film Festival, organised by the People's Film Collective, an independent, people-funded, cultural-political organisation based in Bengal.
"The space that has been left for the 'Muslim voice' has always been a voice that suits this portrayal… always some extremist Islamist, somebody speaking things that just feed into the hatred. Suddenly, you have these amazing young women, articulate and brilliant, political, radical and they are not going to go back. When I say this, I don't mean that they are going to have to live on the streets always. But it's a moment of extreme empowerment and liberation… especially for young Muslim women and I think it's just beautiful," Roy said as the audience burst into applause.
According to Roy, the humiliation had already angered people and the document-based citizenship thrust accentuated it.
"When police smashed up Jamia and beat up students, it did not take any time for the students of JNU to appear outside the (old) police headquarters at ITO. So many others joined there. The Dalit students, (Bhim Army chief) Chandrashekhar Azad. So, this speed of arrival means that the anger is just building. The anger is not only about the NRC but there is a sense of humiliation of citizens…. That humiliation is epitomised by them just saying 'Kagaz dikhao'. That is just the ultimate humiliation. To tell you that you are nobody unless we say who you are."
Roy spoke of the "terrifying experiment" in Kashmir.
"There isn't a country in the world that has cut a population off from the Internet this way. It's not just that people are not being able to post on Facebook. Internet has become like breathing. Businesses are collapsing Surgeries and postal service are hit. Students can't apply to colleges…. It's a kind of humiliation of the whole population."
She warned that Kashmir was not an isolated case and the same model could be implemented wherever there is dissent. "That's what is going to be our future too. Whenever someone gets difficult just cut off the Net or just firewall it. You can only have access to stuff we want you to read. That's a terrifying experiment."