Anonymous official's Rs 50,000 donation for rank holder
Baijayanta Bhattacharyya, a student from Chapra, has ranked 6th in this year's higher secondary examination statewide with 98.8% marks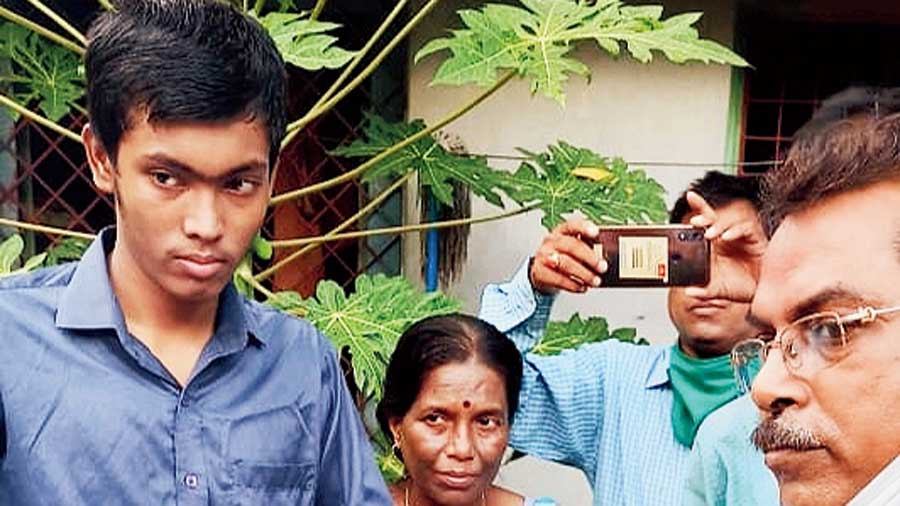 Baijayanta (left) with his mother
Telegraph picture
---
Krishnagar
|
Published 03.08.20, 01:14 AM
|
---
A senior official of the Nadia district administration has donated Rs 50,000 to Baijayanta Bhattacharyya, a student from Sri Rampally at Chapra who ranked 6th in this year's higher secondary examination statewide with 98.8 per cent marks.
The official's donation, made on condition of anonymity, was intimated over the phone to Baijayanta last week by Krishnagar (Sadar) sub-divisional officer Manish Verma, who also made a personal contribution of Rs 10,000. The help has come after an appeal by Baijayanta's mother, Apti, to local officials regarding her loss of income since April owing to the lockdown and the untimely death of her husband in December.
"We were in a serious financial crisis to the extent that when the SDO called my son to congratulate him more than a week ago, Baijayanta was hesitant to comment on his plans because he knew we have no money," said Apti Bhattacharyya.
Apti, a teacher at a local private school, earned Rs 5,000 a month until April, after which she says she has not been paid.
"Baijayanta's father, who sold metallic grills, passed away in December," Apti added.
Last week, Baijayanta was "surprised" when Verma contacted him over the phone and after congratulating him, asked for his bank details.
"The next day, I was stunned to see he sent me a total of Rs 60,000," said Baijayanta, adding that the SDO later told him Rs 50,000 had been pitched in by a "special friend".
"SDO sir asked me to follow my dreams," added an elated Baijayanta.
The boy said his dream was to pursue a career in physics and throughout high school wanted to pursue research at Jadavpur University in Calcutta.
"I was forced to gradually let go of the ambition over the past year, but now it is a possibility again. I am too moved for words at the incredible gesture by SDO sir and his friend," he said.
Baijayanta and Apti added that they had inquired "in vain" about the secret identity of the donor but ultimately "respected" his wish to remain unidentified.
Sources said SDO Verma also sent Apti a formal letter regarding the donation made in her son's name.
Asked, Verma termed the official's gesture "symbolic".
"Doing good to others brings hope in the world and it is also very self-gratifying. I hope those who are receiving support today, will become providers in the future," Verma said.