Anit Thapa's party forms panel on political solution
The development comes following the recent announcements by chief minister Mamata Banerjee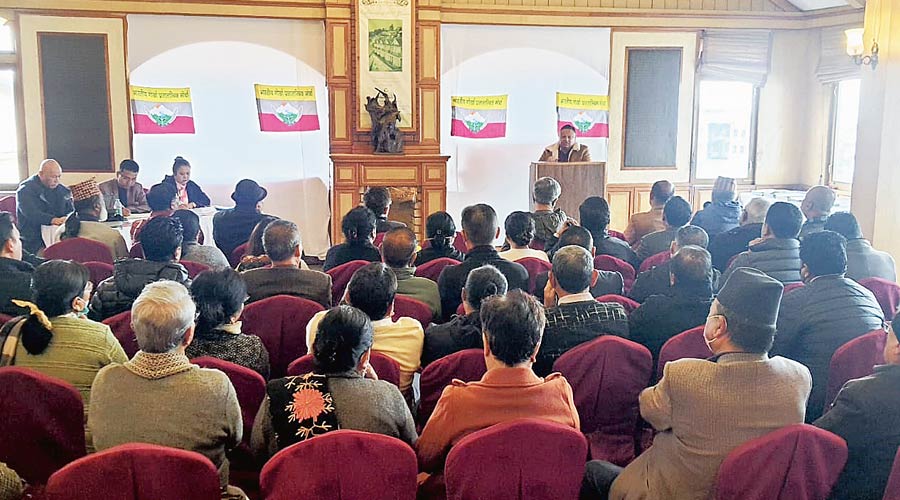 ---
Darjeeling
|
Published 02.11.21, 02:24 AM
|
---
The Anit Thapa led Bharatiya Gorkha Prajatantrik Morcha (BGPM) started their exercise to contest the Gorkhaland Territorial Administration (GTA) election and announced the formation of seven-member committee to look into "permanent political solution (PPS)", following recent announcements by chief minister Mamata Banerjee on these two issues.
During an official review meeting held in Kurseong on October 26, Mamata said that elections to the GTA would be held after the revision of electoral polls is over.
She also announced the formation of a steering committee consisting of Anit Thapa and Amar Singh Rai from BGPM, Roshan Giri from the Gorkha Janmukti Morcha and Gautam Deb from Trinamul Congress to on a permanent political solution for the region.
"Following the chief minister's recent announcements, we decided to hold this emergency meeting to discuss GTA elections and seek feedback and suggestions from our central committee leaders," said Amar Lama, general secretary, BGPM.
Since the revision of electoral roll will be completed on January 5, elections to GTA – which are due since 2017, could be held as early as by January-end, many BGPM party leaders felt.
A seven-member committee comprising Lama and other party leaders, Amar Singh Rai, D.K. Pradhan, Jyoti Kumar Rai, Ruden Sada Lepcha, Tshering Dahal and Trilok Roka was also formed to look into making concrete the party's version of the permanent political solition.
"After Diwali, the committee will reach out to a cross-section of the people to seek their opinions on the PPS (permanent political solution)," said Lama.
The party general secretary also said they were looking for more clarity on the steering committee.
"The chief minister made a sweeping remark about the formation of steering committee consisting of four leaders, we feel that some more clarity need to be sought," said Lama.
Mamata is scheduled to visit Darjeeling again next month.
The BGPM is looking at clarity on the possible "terms of reference" of the steering committee and whether a coordinator could be appointed for coordination among the hill parties. "Not just the three parties (BGPM, GJM and Trinamul), we are hoping that all other hill parties are also brought on board to discuss the PPS. This is just our thought as some parties are also engaging with Centre for their PPS," said Lama.
In September, the Centre held talks with BJP allies from hills to find a permanent political solution for the hills.
Mamata also said that her party would find a permanent political solution for the hills and hence, the formation of steering committee had been announced at the Kurseong meeting last week.