Anit Thapa floats Darjeeling's 12th party Bhartiya Gorkha Prajatantrik Morcha
The BGPM brought more than 40-odd apolitical people from different walks of life to showcase that 'the educated and intellectuals' were with the new party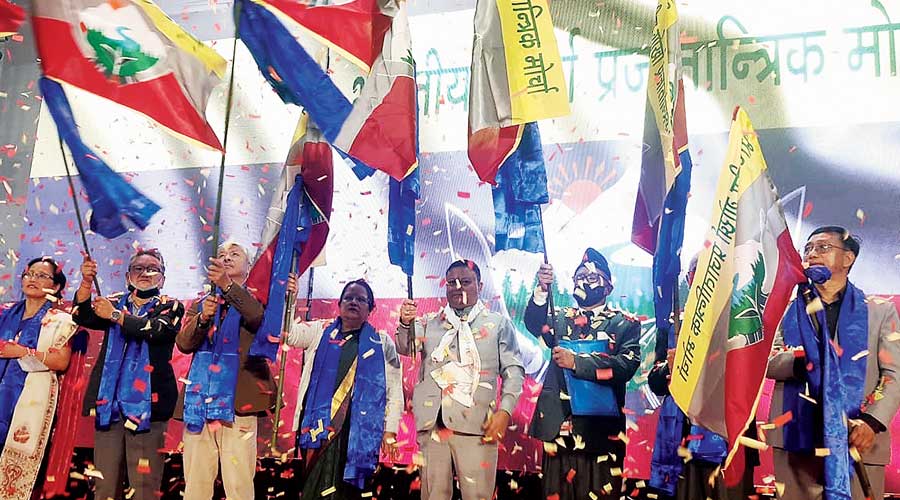 Leaders wave flags of the Bhartiya Gorkha Prajatantrik Morcha during its launch in Darjeeling on Thursday.
Telegraph Picture
---
Darjeeling
|
Published 10.09.21, 02:36 AM
|
---
Another party was launched in the Darjeeling hills on Thursday with Anit Thapa as the president and a declaration from a leader that the "politics of one-man-centric party" was coming to an end in the region for the first time since the 1960s.
The Bhartiya Gorkha Prajatantrik Morcha is the latest addition to a list which has already 11 parties for mere 8.75 lakh people in the hills.
D.K. Pradhan, former Darjeeling MLA and a veteran of hill politics, presided over the programme to launch the new Darjeeling party.
"For the first time since the 1960s, the politics of one-man-centric party in the hills is coming to an end. From D.P. Rai (the undisputed ABGL leader till his demise in the early 1980s) to Subash Ghisingh and Bimal Gurung, it had always been one man running the party and taking all decisions," said Pradhan who claimed that he was a "living witnesses" to the culture of individual-centric hill parties and its failure in hill politics.
Anit Thapa, who was appointed as the president of the BGPM, seconded Pradhan's opinion.
"We will work as a team and decisions on any issue will be taken collectively by our party," said Thapa.
The BGPM managed to bring in more than 40-odd apolitical people from different walks of life to showcase that the "the educated and intellectuals" were with the new party.
"After a long time in the hills, educated and intellectuals are joining politics. No leader would know everything and experts in different fields must be allowed to work on different issues," said Thapa.
Ajoy Edwards (formerly associated with the Gorkha National Liberation Front) and Binay Tamang (formerly with the Gorkha Janmukti Morcha) — have dropped broad hints that they will float their own parties.
According to the 2011 Census, the hills have a population of 8.75 lakh.