Thapa to hills: Stop blaming Bengal always
The politician pointed out that since he had taken charge of the GTA he had only come across problems because efforts have not been made to solve issues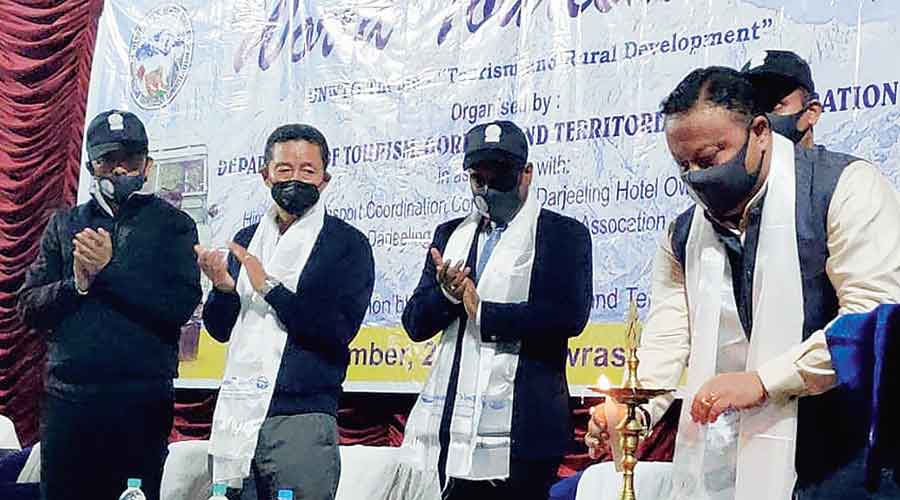 Anit Thapa lights up the lamp at the World Tourism Day programme in Darjeeling on Sunday
Telegraph picture
---
Darjeeling
|
Published 28.09.20, 12:54 AM
|
---
Anit Thapa, who chairs the board of administrators of Gorkhaland Territorial Administration (GTA), on Sunday said that the hills should stop always blaming Bengal or Centre and instead focus on administering the hills properly.
Thapa while addressing a function to mark World Tourism Day at Gorkha Rangamanch Bhawan said that since taking charge of the GTA he had only come across problems because efforts have not been made to solve issues since 1986.
The first Gorkhaland agitation was launched in 1986 by Gorkha National Liberation Front leader Subash Ghisingh.
"There are great problems like unemployment and looking back since 1986, we have only lost (on many fronts)…..Our problem is that we only blame. Sometimes we blame Bengal, sometimes we blame Centre but we have not been able to administer what we have with us and none is pondering on this issue," said Thapa.
After the 1986 agitation, Darjeeling Gorkha Hill Council (DGHC) was formed two years later. Another round of Gorkhaland agitation started in 2007, following which DGHC was repealed and the GTA formed in 2012.
Bimal Gurung resigned from the GTA in 2017, a little before its five-year tenure was to end, shortly after he launched another agitation.
Taking a potshot at this, Thapa said: "Our leaders blame at the end (of the tenure)."
Observers believe that Thapa, avowedly practising the "politics of reality", is perhaps trying to showcase that earlier leaders were poor administrators.
"Since 1986 our leaders have only believed in short-cuts and this is why we do not have a clear policy on many issues," Thapa said.
Thapa's Gorkha Janmukti Morcha has been trying hard for the past three years to consolidate his support base. The party, however, lost two previous elections.
The GTA said that it would form an apex body as requested by the stakeholders "to start solving issues one by one" and appointed S.N. Pradhan, Prashant Raj Pradhan and Sangay Tshering from the transport and hospitality industries as its conveners.
"Thapa is probably trying to divert the narrative from political issues to matters of governance before the state assembly election," said an observer.
"Covid has united us and we have fought this pandemic together," said Thapa who stressed that the hills should continue to remain together in days to come.
The GTA head also brought out the reference of Gorkha Rangamanch Bhawan and said that it felt good to organise a function at the place after years.
The language protest, which culminated into a statehood agitation, had started from the premises of this town hall.
Kalimpong-II Integrated Tourism Awareness Society decided to sponsor the fees of two private tutors for 50 underprivileged students residing in remote villages of Pitamchen and Mulkarga to mark the tourism day.
"These remote places lack good network for online classes," said Samdu Bhutia, president, KITAS.
Subarna Mazumdar, BDO Algarah, and Nurpundee Lepcha, WBCS (Exe) Joint BDO Algarah II, were also felicitated by KITAS for doing development work.