An online platform that puts farmer first
Amar Khamar works with co-operatives and not-for-profit organisations which in turn have farmers registered with them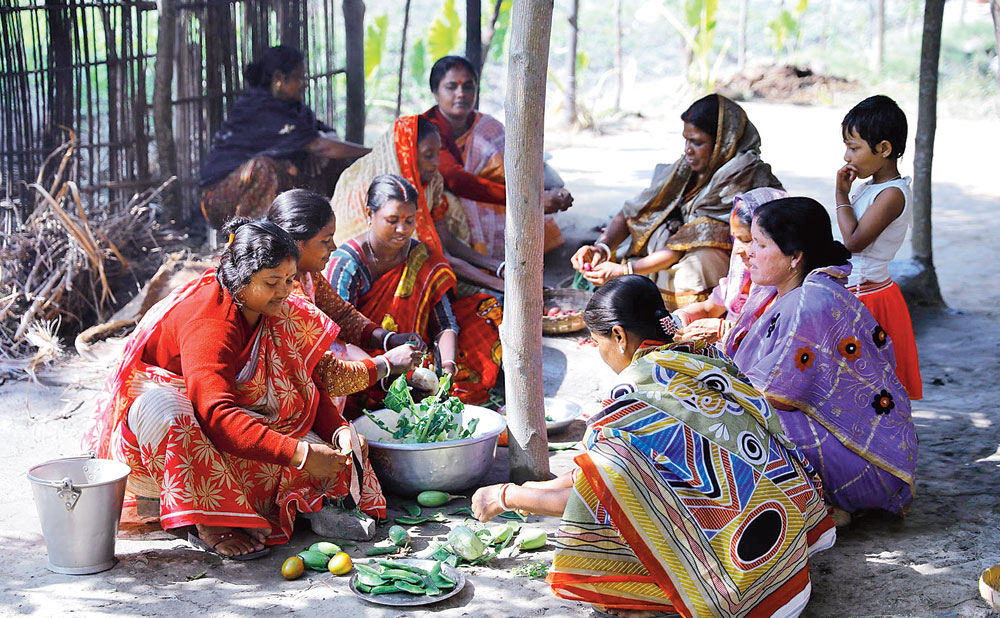 Amar Khamar has knitted together 300 farmers, most of them women
Source: Facebook page of Amar Khamar
---
Published 06.04.19, 06:47 PM
|
---
Amar Khamar means my farm. This farm works with real farmers but operates in virtual space. The idea of floating a platform such as this one came to Sujoy Chatterjee when he was with an organisation that worked with small-holding farmers in India and Africa. "I realised that as in India, so also abroad, the economically backward do not have access to the market. They cannot sell their products directly," says Chatterjee. This inspired him to start working with farmers in Bengal.
Amar Khamar works with co-operatives and not-for-profit organisations which in turn have farmers registered with them. Self-help groups assist the farmers in selling their produce — rice, cereals, pulses, indigenous spices, honey — online.
After every sale, the customer can see in his or her online account, the name of the farmer whose produce he or she has purchased. "To maintain transparency, we have made our website interactive. A customer can call up the helpline number and will eventually be redirected to the farmer if he or she has any questions about the produce and the method of farming," says Chatterjee.
But not every interaction has to do with a query. Sometimes people from Bangalore, Delhi, Calcutta want to have a discussion with a farmer about some heirloom crop or the other, some have requests for homemade products like lentil nuggets or bori that have gone missing from the urban menu.
Since its launch in 2017, the platform has knitted together 300 farmers, most of them based in south and north Bengal; most of them women. Says Chatterjee, "There is little surprise in that. In rural Bengal, the farmhands are mostly women. The male members usually migrate to far-flung places in search of livelihood. The women have to do everything on their own. They go to the jungles to fetch wood, make lentil nuggets for sale." But it seems none of these products fetch them much money, as they do not know how to reach out to the market. Chatterjee adds, "This is where we play a role. We try to better their remuneration by improving their market reach."
And that is how, almost by default, Amar Khamar has come to be interwoven with women's empowerment. According to Chatterjee, these women used to sell the products at their doorstep at abysmal rates. "Also, they sell paddy as paddy instead of paddy as rice — which means there is no value addition to the field produce," he says exasperatedly. In other words, if farmers de-husk grains and sell them, the price increases by 15 to 20 per cent. "The price for rice is generally standardised at Amar Khamar and sales fetch almost the same money throughout the year. But in case of paddy, the price is at times very low, and sometimes it does not even get sold. That is why it is better to sell rice instead of paddy," he explains.
But isn't the digital medium a challenge at the farmers' end? Apparently not. Chatterjee points out that even in remote geographies, every other person is today armed with a mobile phone powered by an Internet service provider. What Amar Khamar does is use the smart technology to make the farmers market smarter.
The self-help groups have training centres in villages, which are fitted out with computers. The farmers use these to look up market prices of other organisations and fix their prices accordingly. Chatterjee and team have trained them to do so, just as they have facilitated market-related learning and training sessions at these centres.
The other stakeholder organisations — like the women's cooperative in Bagdogra or the self-help groups in Sandeshkhali II and Hingalganj in the Sunderbans — help farmers register with the portal.
Says Chatterjee, "When a customer wants to buy a product, he will be able to select the nodal agency from which he wants to buy it. He will then get to choose the region. Thereafter, the computer will select a farmer seller, who is generally the one whose sale is the lowest for that particular month. The farmer gets a message on his mobile and he has to make sure that his product reaches the nodal agency, which then takes care of the future transit." And thus, at one fell sweep, there is transparent business happening and at the same time some sort of social balance is worked out.
Even logistics are taken care of. For the Sunderbans, there is a centre in South 24-Parganas, where farmers can store their products. "We send them to the customers whenever there is an order," says Chatterjee. "For products from north Bengal, we have a buffer storeroom in Calcutta to avoid unnecessary transportation costs for small orders," he adds.
The organisation charges 15 per cent of the market price as operational cost and the rest of the money goes to the farmer. Chatterjee says farmers are made aware of this business model. He adds, "We do not buy at the cheapest rates and sell at the highest rates."
Last month, Amar Khamar, with some help from food blogger Sayantani Mahapatra, came up with a pop-up lunch in Calcutta that put faces and flavour to a conversation about seeds and produce and commerce. Six varieties of rice from the Sunderbans — kanakchur, chine kamini, rani akanda, hogla, Hamilton and kalabhat — were served with machh mawla or mashed spiced fish, kankra die puishak or crab cooked with Malabar spinach and Sundorboner kalo khashi, a special mutton dish. According to Mahapatra, the best part of it all that day was this — the farmers cooked the food.
Organic to the end.