Amit Shah: Bid for stampede to stop Bengal rally
BJP chief asks ECI to take stern action against " the Trinamul goons", who have been creating trouble in the state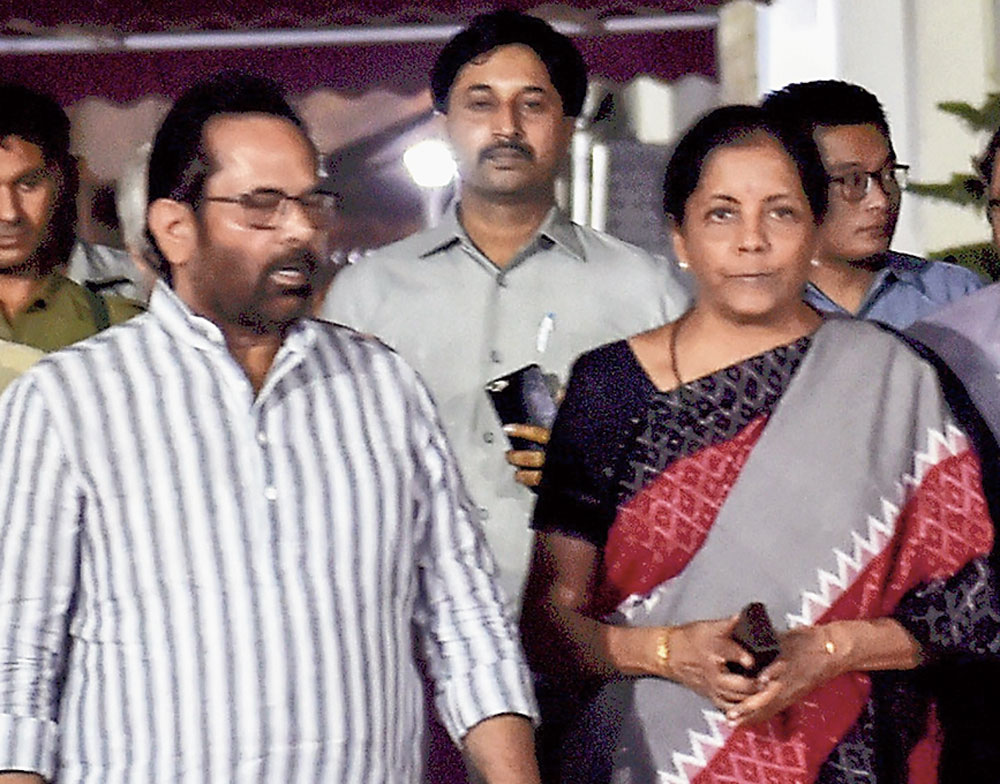 Naqvi and Nirmala leave after meeting the Election Commission officials in New Delhi on Tuesday.
(PTI)
---
Calcutta
|
Published 14.05.19, 08:41 PM
|
---
BJP national president Amit Shah alleged that "Trinamul goons" had attacked his road show in Calcutta on Tuesday to "create a stampede" and stop the programme, and congratulated supporters of the saffron brigade for behaving "in a restrained manner".
A BJP delegation met the officials of the Election Commission of India in New Delhi on Tuesday and demanded a ban on campaign by the Bengal chief minister till the final phase of the general election got over on May 19.
The BJP accused Mamata Banerjee of provoking Trinamul workers to unleash terror on BJP cadres.
"There was proper permission for the road show… But Trinamul goons attacked our supporters walking in the rally. The attack took place only to stop the rally, which was a great success," Shah told a television channel.
According to Shah, the road show was first attacked when some people came out of the Calcutta University campus and hurled stones at the rally.
"Our supporters confronted the Trinamul goons… But police remained mute spectators. The target of the Trinamul-backed criminals was to create a stampede. I would congratulate the BJP workers, who behaved in a restrained manner," he added.
The BJP chief said the poll panel should take stern action against "the Trinamul goons", who were creating troubles in Bengal.
"I appeal to the ECI to arrest all the criminals creating trouble in the state during the polls. This was being done across the country and the same step should be taken in Bengal, too, to ensure that the final phase of voting is free and fair," said Shah.
Defence minister Nirmala Sitharaman, who led the BJP delegation to meet Election Commission officials, said: "She (Mamata) is provoking her cadres to unleash terror ahead of the last phase of polls. She should be banned from campaigning till the final phase of voting."
Another BJP leader Mukhtar Abbas Naqvi, who was also in the delegation, said the poll panel should send a special representative to Bengal to preside over the last phase of the voting.
"There is a precedence of sending a special representative to Bihar in 2005 for holding peaceful polls. We demand that a similar step be taken for Bengal, too, as the law and order was destroyed completely in the state," he said.