Amit Malviya pulls up Bengal BJP leaders for poll 'blues'
Sources in the party said during the meeting, the leader asked his colleagues to get details of polling agents for all booths in Calcutta corporation area by December 10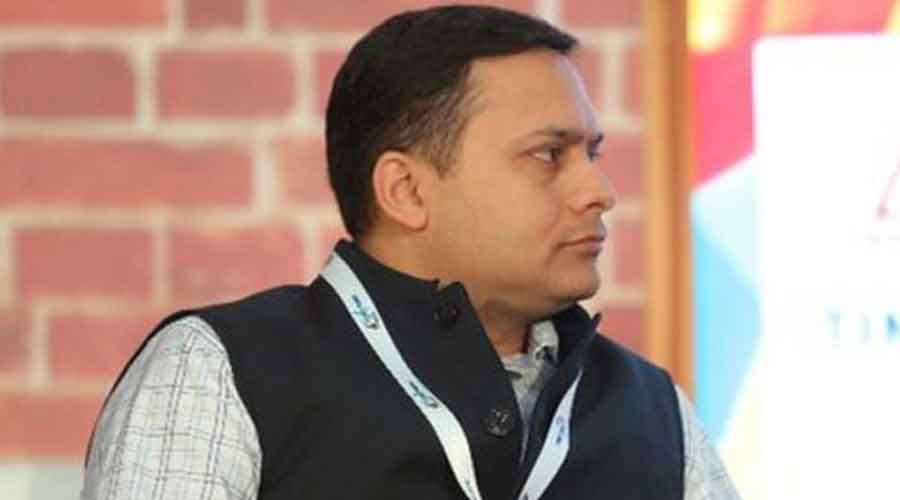 ---
Calcutta
|
Published 07.12.21, 01:02 AM
|
---
BJP's commander for Bengal Amit Malviya on Monday pulled up state party leaders for "conceding defeat" even before Calcutta Municipal Corporation polls began, said sources in the organisation.
Malviya reportedly told a group of leaders — whom he met at the BJP's state headquarters here — from the party's Calcutta organisational district that they weren't doing enough to help candidates put up a good fight.
Sources in the party said during the meeting, Malviya asked his colleagues to get details of polling agents for all booths in the Calcutta corporation area by December 10. He wants all the agents to fill up their forms by that date and share them with the party.
"However, one local leader stood up and said if that was done, Trinamul Congress would get an idea of who our agents were and might create trouble for them. This way on the polling day we would not have any agents," a source present at the meeting said.
"Amitji got angry at this and said we were not doing enough to put up a good fight and had conceded defeat even before the polls," the leader added.
Several leaders, while speaking to this correspondent later, said Malviya's comment showed how detached he was from the party's affairs in Bengal as well as in Calcutta. He reportedly said after the Assembly polls he had visited several districts but nobody came up with any complaints.
"Does he (Malviya) think we are making up stories of violence against our workers? He said no one complained to him.… My question, who does even know him? A grassroots worker will come up to us with his complaints and not Amit Malviya, who is far removed from the politics of Bengal," a state BJP functionary said.
At the meeting, CPM turncoat and BJP's Assembly poll candidate from Jadavpur Rinku Naskar said that it was unfair to expect workers at the grassroots to turn up to campaign for the candidates in the civic polls.
She said the party had promised financial support to the workers who had suffered in the postpoll results violence, but nobody has received any such help.
"How can we expect these workers to turn up and then be attacked for fighting for the party even though the party provides them with no help," Naskar said.
However, the party's general secretary (organisation) Amitava Chakraborty asked Naskar not to bring up such issues in the meeting.
In another development, Rajkamal Pathak, a state BJP vicepresident, issued a video on Monday where he accused the party of not consulting him while deciding the candidates of south Calcutta.
"I received a call from the party's call centre and was asked to take charge for ward 86. I've refused. Why would I when I wasn't consulted before deciding the candidates?" Pathak told The Telegraph.
BJP has fielded Rajashri Lahiri from ward 86. However, the husband of former BJP councillor of that ward, Gaurav Biswas, has filed a nomination as an independent candidate from there and party MP Roopa Ganguly has pledged her support to Biswas.
"What am I supposed to do? Fight against the Trinamul candidate or our own MP?" Pathak questioned.
Malviya chaired two meetings on Monday. The one at the BJP headquarters was attended by state leaders who have been allotted responsibilities to oversee the Calcutta civic polls.
The next one was at ICCR and was attended by 73 candidates of the party. Leader of Opposition Suvendu Adhikari was also present at this meeting.
Almost every candidate who attended this meeting has complained that campaigning has become an issue for them. Most workers are unwilling to come out of their houses for the campaign. While some candidates blamed the postpoll violence for the unavailability of workers, others said cited the discontent amongst a section of the grassroots workers with several candidates. Adhikari is said to have admitted the crisis in the meeting.
To address this issue party leaders will meet the 56 mandal presidents of the two organisational districts of Calcutta on Tuesday. A mandal is BJP's smallest organisational unit. The remaining 69 candidates have also been called for a meeting on Tuesday.
Significantly, state BJP chief Sukanta Majumdar wasn't present in either of the meetings. MP Arjun Singh and state vicepresident Raju Banerjee, the observer and coobserver of the Calcutta civic polls for the party, were also not present in the meeting.