Alipurduar tea garden brews solar power to slash power bill
Majherdabri is not just curbing pollution but is also saving around Rs 6 lakh a month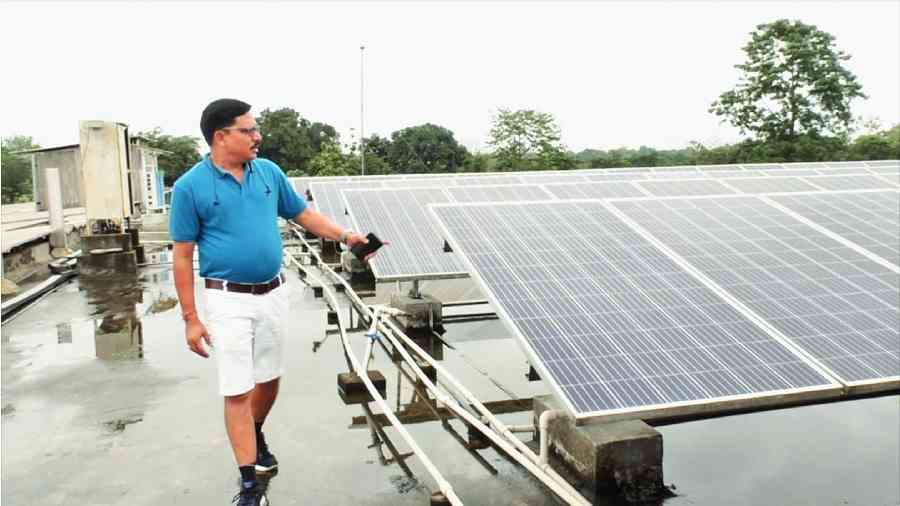 The solar panels at Majherdabri tea estate on the outskirts of Alipurduar town
Anirban Choudhury
---
Alipurduar
|
Published 10.07.22, 01:37 AM
|
---
A tea estate located on the outskirts of Alipurduar town is slashing its power bills, sunny side up.
Majherdabri, which is known for innovations like value-added teas, has introduced a solar power facility, a first of its kind move by a tea estate in the region.
The tea estate is saving around Rs 6 lakh a month.
According to garden sources, two years back, they took the task to install solar panels and ancillary machinery and invested around Rs 2 crore. The solar power facility is running at full capacity for the past four months now.
"We have set up the solar panels at the factory and  are using solar power to run the factory. Every month, we are saving around Rs 6 lakh in power bills and we are selling excess power to the West Bengal Electricity Distribution Company Private Limited," said Chinmoy Dhar, the garden manager.
That is not all. "Solar power is also helping us curb pollution in the production process," Dhar added.
In the tea industry, the principal source of fuel is coal. Out of the total power needed, electricity is used only around 23 per cent.  
"It is necessary to curtail costs, considering the rates which teas fetch these days. This shift to solar power has helped us to reduce costs. We are encouraging other tea estates to take up similar initiatives. The reduction in costs is helping us meet other expenses. We are one of the few gardens to start paying workers at the revised rates as per the recent notification of 15 per cent hike," the manager said.
The garden has plans to expand its solar power generation for other uses too.
They include illumination in different locations of the garden and supply of the power to some residential accommodations on the estate.