BDO works after hours to hand health insurance cards
Patients at a rural health centre in Alipurduar get Swasthya Sathi relief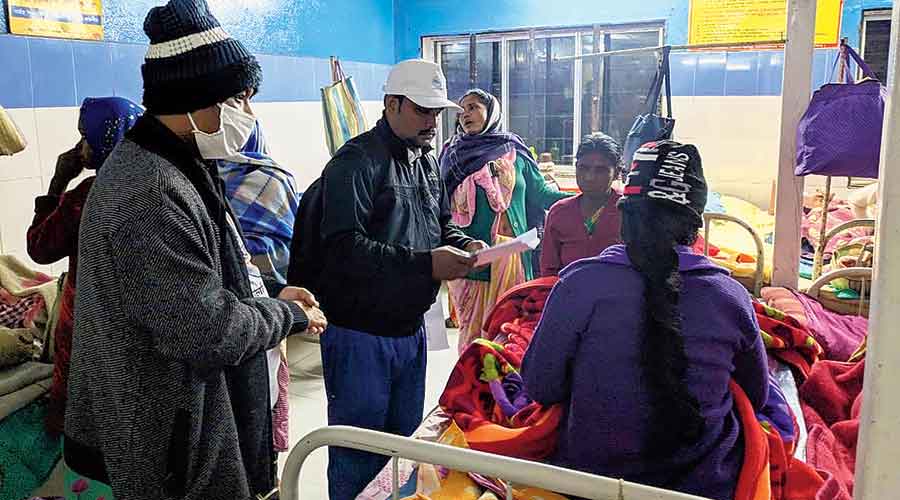 ---
---
A block development officer went beyond the call of duty to visit a primary health centre late on Wednesday to hand over Swasthya Sathi (free health insurance offered by the state government) cards to patients being treated at the centre.
Among those who received the cards include four pregnant women from remote villages nestling in the hilly tracts of Buxa.
Prasanta Burman, the block development officer of Kalchini, reached the Latabari health centre of his block around 9pm on Wednesday along with some employees of his office.
Burman's arrival to the centre so late on a chilly night left the doctors and the medical staff surprised.
Burman then told them that he was there to find out whether the patients being treated at the centre had the Swasthya Sathi card.
"I deemed it necessary to personally find out whether all the patients who are there at the health centre have the card. There is a clear instruction from the administration to reach out to as many people as possible so that they can avail benefits of the card. That is why I went to the centre," Burman explained to this newspaper on Thursday.
Accompanied by the doctors and nurses, he spoke to each patient. Eventually, he found out that 10 patients did not have the health insurance card and had not applied for it as well.
"We then distributed them the forms to get the card and helped them fill up the details. Then we distributed the cards among them. It took about an hour but I think it was effective as we could help these people get enrolled under the scheme," the BDO added.
Around 10pm, Burman left the health centre with the staff.
This month, the Mamata Banerjee government launched the "Duare Sarkar" campaign to reach welfare schemes to all, even those who have so far not applied for them.
Duare Sarkar camps are being opened in rural and urban areas to help people get them registered under welfare schemes provided by the government.
Under this outreach project, Swasthya Sathi has turned out to be the top draw with the highest number of applicants.
Burman's initiative to reach the health centre around 9pm can be an extension of this initiative. Patients, doctors and paramedics of the centre appreciated his initiative, more so because it was beyond working hours.
"It was nice to see that a BDO at work beyond official hours. He came to the centre and handed over the cards to us. Earlier, he had gone to Buxa hills by foot, visited some villages and enquired about the problems we face," said Nilmaya Chhetri, one of the pregnant ladies from Buxa who received the card from Burman.
The BDO downplayed the plaudits. "As a government official, one should not bother about working hours. I just did my job," he said.