Alapan Bandyopadhyay explains 'situation' in reply to showcause issued by ministry of home affairs
Sources said the former chief secretary was right in his stand as he had to obey the chief minister's order who was his immediate boss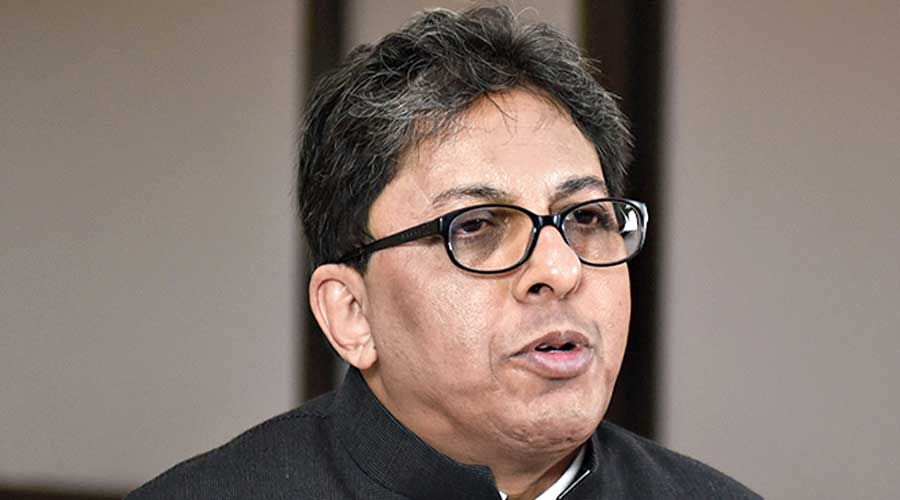 ---
Calcutta
|
Published 04.06.21, 01:11 AM
|
---
Former Bengal chief secretary Alapan Bandyopadhyay on Thursday sent his reply to a showcause issued by the ministry of home affairs, explaining why he had to leave a review meeting convened by Prime Minister Narendra Modi on Cyclone Yaas at Kalaikunda last week.
After his retirement on May 31, Bandyopadhyay was appointed as the chief advisor to chief minister Mamata Banerjee.
A section of officials said the former chief secretary had mentioned in the reply the chain of events on Friday when Modi had called the review meeting.
"He explained the situation in which he had to leave the meeting, along with the chief minister, after handing over a list of damage caused by Cyclone Yaas to the Prime Minister. Bandyopadhyay explained that he had not skipped the review meeting. He left the meeting after taking permission from the Prime Minister," said an officer aware of the development.
The Centre had given him three days' time to send his reply to the showcause. "He sent his reply within the time-frame given to him," said the officer.
Sources said Bandyopadhyay was right in his stand as he had to obey the chief minister's order as the chief minister was his immediate boss.
"It's the duty of a bureaucrat to obey orders of his or her immediate boss. In case a bureaucrat fails to obey orders from his or her immediate boss, he could face disciplinary action. Keeping this in view, Bandyopadhyay apparently did not do anything wrong," said a source.
But a section of the officials was sceptical whether the Centre would accept the reasons cited by the former chief secretary.
"The Centre made it clear that it was not happy and did not hesitate to initiate steps that could be termed as acts of revenge. Once the Centre came to know that he had retired on May 31 refusing extension of service for three months, it immediately showcaused him under the Disaster Management Act, 2005, which frames criminal charges against the offenders," said an official.
Another section of the officials said new chief secretary H. K. Dwivedi had also sent a letter, informing the Centre that Bandyopadhyay had retired on May 31 and he did not opt for extension of service for three months which had been approved by the Union government on May 24 on the state's request.
"This letter was sent to make it clear that Bandyopadhyay was not in service any more and no disciplinary action could be taken against him," said a source.
The state had sought Bandyopadhyay's service extension, citing the second wave of Covid-19.
Although nobody in the state government officially confirmed the content of the letter sent by Dwivedi, sources said the letter was a message that the state government stood by its former chief secretary.
"This will boost the morale of the bureaucrats working in Bengal. They will be sure that the state would stand by them in case they face any trouble," said a bureaucrat.