Aishe procession at hometown denied nod
Mamata acts like BJP in suppressing left movements: SFI leader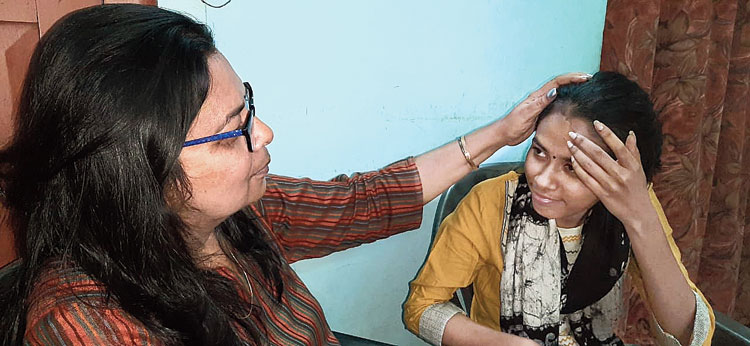 ---
|
Durgapur
|
Published 12.02.20, 07:30 PM
---
Jawaharlal Nehru University Students' Union president and SFI leader Aishe Ghosh was denied permission by police to take out a march here on Wednesday evening to protest the BJP's attempt at saffronisation of education and its politics of communal polarisation.
Police said they had disallowed the 4km-long procession for security reasons as they were busy with chief minister Mamata Banerjee's march against the Citizenship (Amendment) Act in Durgapur on Wednesday afternoon.
Reacting to the permission denial, Aishe said the Trinamul Congress government was acting like the BJP in suppressing the movements of the Left Front.
Aishe arrived in her hometown Durgapur on Tuesday night for the first time since she was attacked by suspected ABVP activists at JNU on January 5.
Although the march announced by the West Burdwan unit of the CPM didn't happen, she addressed a street-corner meeting at the Durgapur Steel Plant township.
"I'm a student and she is a chief minister. I do not require security like her. The police gave a lame excuse to disallow our rally," said Aishe.
She said it was good to see the chief minister leading an anti-CAA rally in Durgapur. "But it is not acceptable that she would not allow the movements of other political parties. It is time for everyone to unite against the BJP-RSS combine as the people want an end to their divisive politics."
The SFI leader said she wouldn't hold her scheduled meeting at Jadavpur University in Calcutta on Thursday as the varsity had denied permission following opposition from the ABVP.
"If the chief minister is against the BJP, why is she not intervening to allow my meeting at Jadavpur University? The BJP is not allowing students to speak. In Bengal,
Trinamul is doing the same with Left organisations," Aishe said.
The SFI leader went on: "She (Mamata Banerjee) opposed the BJP-RSS in front of TV cameras but when the students were protesting against the Prime Minister, she was busy attended meetings with Narendra Modi during his visit to Calcutta. This is sending a wrong message to the people."
She also said the attack on the JNU students on January 5 and the BJP's continuous verbal attack on Saheen Bagh had had its impact on the Delhi elections.
"The anti-BJP mood has got a boost after the JNU incident. I visited Saheen Bagh and met people at the grassroots. I could sense strong anti-BJP mood among them. The BJP and the RSS will have to be wiped out from as many as states as possible before the 2021 Assembly elections in Bengal," she said.
Aishe criticised Bengal BJP president Dilip Ghosh for mocking the injury she had suffered during the January 5 attack. "It proves his bad mentality," she said.