After Siliguri win, Gautam Deb in hill campaign
He became the second leader from north Bengal, who has made it in the national working committee of the party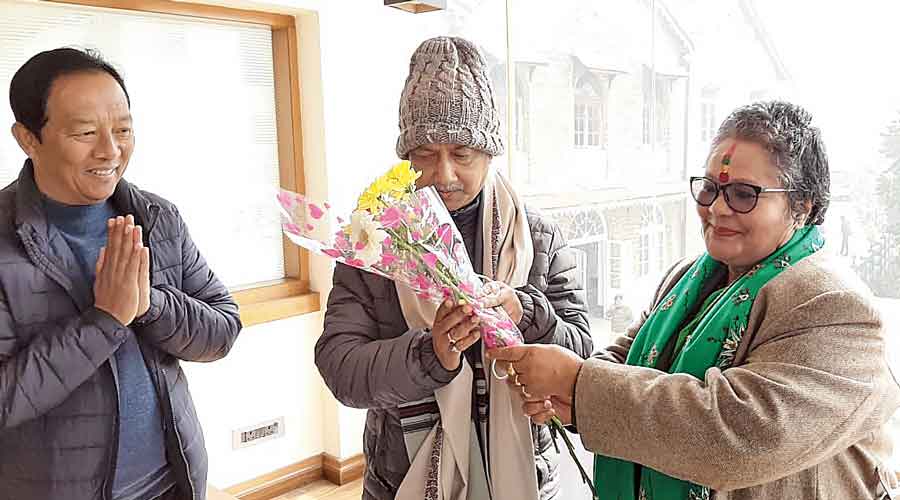 Gautam Deb (centre) being greeted by Trinamul Rajya Sabha member Shanta Chhetri and party leader Binay Tamang.
Telegraph photo.
---
Siliguri
|
Published 18.02.22, 02:59 AM
|
---
Senior Trinamul leader Gautam Deb held a meeting with representatives of the development boards formed by the Mamata Banerjee government for hill communities in Darjeeling on Thursday, urging them to back Trinamul candidates at February 27 polls of Darjeeling municipality.
Trinamul is contesting in 10 of 32 wards and has entered into an informal understanding with the Bimal Gurung led Gorkha Janmukti Morcha that has fielded candidates in the remaining 22.
"We have come up with an elaborate manifesto with initiatives for the improvement of civic services across Darjeeling town. Representatives of most of the development boards were present and we are confident that they will stand in support of our candidates," Deb told newspersons.
According to party insiders, after winning the Siliguri Municipal Corporation elections for the first time, Deb, who has been announced as Siliguri's next mayor by party supremo Mamata Banerjee, has been appreciated by party functionaries.
"Instead of getting into any dispute, he took the strategy to contest the elections in a completely political manner. Even parties in opposition could not come up with any serious allegations after civic polls in Siliguri. This has made Mamata Banerjee instruct him to take care of the civic elections of Darjeeling and campaign in some other districts of north Bengal," said a party insider.
Deb is the second leader from north Bengal — the other being Bulu Chik Baraik, the minister of state for backward classes' development and tribal welfare — who has made it in the national working committee of the party.
On Friday, Deb will reach Calcutta to attend the meeting of the committee. "After the meeting, I will return here and start campaigning for Trinamul candidates for the civic bodies of Jalpaiguri, Alipurduar and Cooch Behar districts," said Deb.
Notification for SMC
The state urban development and municipal affairs department notified on Thursday that the election of the mayor and chairman of Siliguri Municipal Corporation would be held on February 22. It cites that Kamal Agarwal, the Trinamul candidate who won from ward 10 of SMC, will preside and conduct the meeting where the election would be held.