After poll personnel, EVMs feel the heat
In several places, poll personnel complained about lack of drinking water and oral rehydration solutions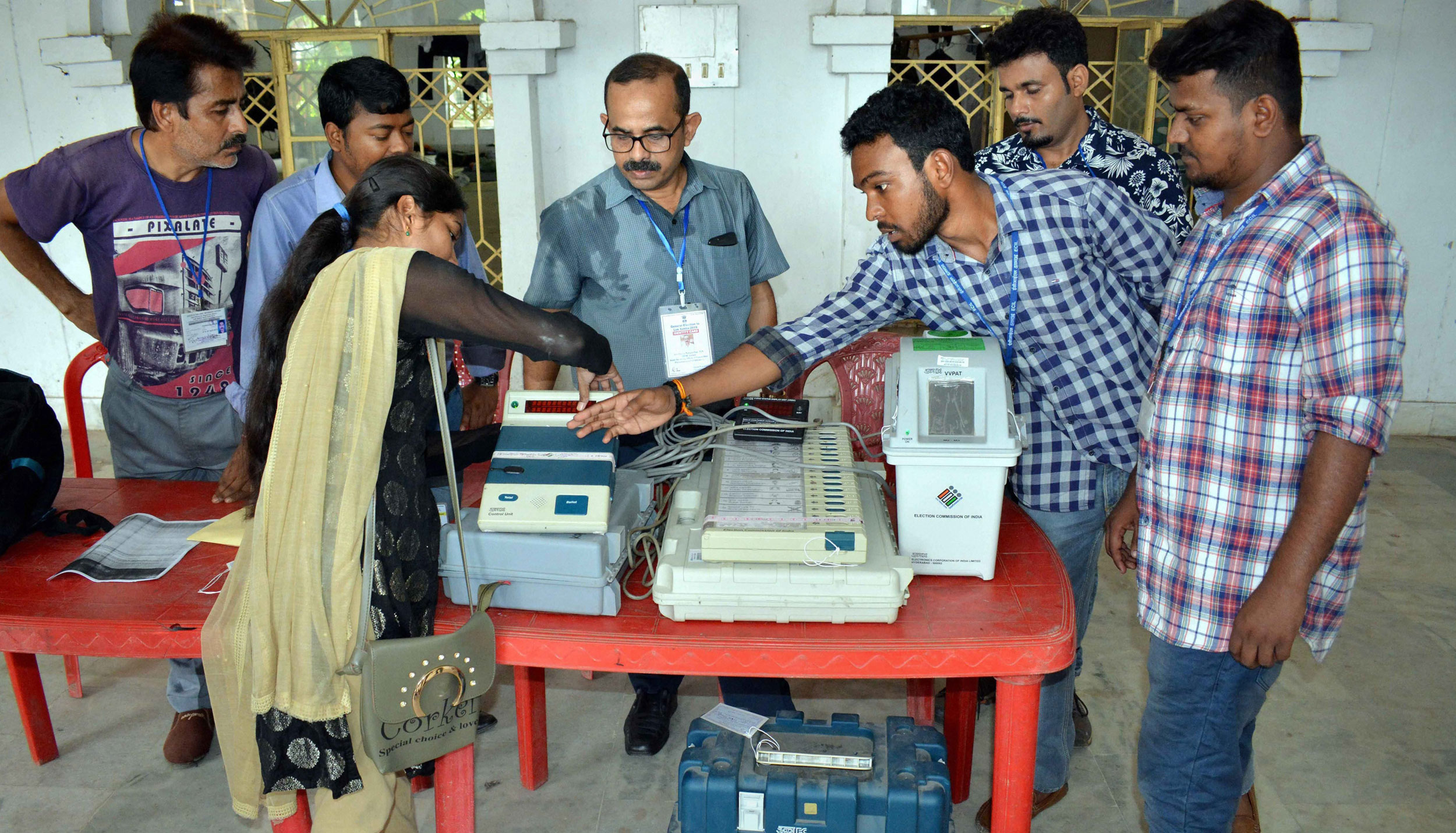 Election officials check VVPAT, EVMs and other polling materials before leaving for polling centres ahead of the sixth phase of Lok Sabha polls, in Agartala, on May 11, 2019.
(PTI)
---
Tamluk(EastMidnapore)
|
Published 11.05.19, 08:23 PM
|
---
The heatwave in south Bengal has hit voters and poll staff. Now, even voting machines are vulnerable.
In addition to protecting voters and poll officials from the scorcher, the Election Commission is having to ensure that electronic voting machines (EVMs) and voter-verifiable paper audit trail (VVPAT) devices are not damaged in the heat.
At a distribution centre for polling material in the Purulia Polytechnic College on Saturday, an official was heard repeatedly telling colleagues: "Please do not keep VVPATs and EVMs under the sun. It is very hot and they may get damaged."
Another official in Purulia — where the mercury hit 42.8 degree Celsius — said if the machines stop working during Sunday's voting, the poll process would be delayed. As a result, 25 per cent more VVPATs and EVMs are being sent.
Eight south Bengal districts, including Purulia, Bankura and Jhargram, are reeling from the heatwave that began on Wednesday. It was 41 degrees in Bankura on Saturday.
In several places, poll personnel complained about lack of drinking water and oral rehydration solutions (ORS). Two poll personnel in Tamluk and Bankura were hospitalised after they queued up at an EVM distribution centre for hours on Saturday afternoon. Doctors said they suffered from dehydration.
Sandip Kumar Patra, a presiding officer in Purulia, said: "We did not get packaged drinking water from the centre. We were also assured that ORS would be provided from the distribution centre but we did not get it." Another official said ORS would be made available at the booths on Sunday.
Bankura district magistrate Uma Sankar S. said: "We have provided a medical kit to each polling team in which a packet of ORS is available. We will provide lassi to polling personnel after they return with EVMs on Sunday evening."