Gen-sets to power water ATMs
After Amphan, gift to quench Sunderbans people's thirst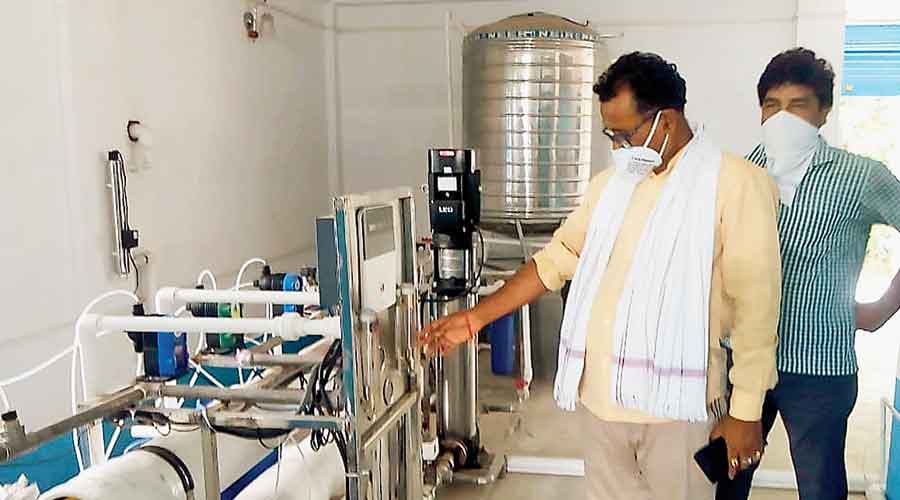 ---
Hingalganj
|
Published 19.07.20, 01:01 AM
|
---
The state government has started installing generator sets at water ATM counters in the Sunderbans to ensure uninterrupted supply of purified drinking water in saline water prone zones even during a natural disaster.
Sources in the state Public Health Engineering department said that generators sets would soon be installed at all the 27 water treatment plants-cum-ATM counters in Hingalganj block that supply purified water.
The PHE has so far launched two generator sets, the latest inaugurated on Saturday in Uttar Govindakati panchayat by local MLA Debesh Mandal. The process to install the rest of the generator sets have been taken up on a priority basis in the block.
Speaking to The Telegraph, Trinamul MLA Debesh Mandal said: "Water ATM-cum-treatment plant is a unique project implemented by the state government for people in the Sunderbans. It helped people to get rid of drinking saline water. But, major damage caused to the region's power supply in the aftermath of Amphan suspended the work of plants in a major way. We tried to restore supply by arranging generators temporarily, which compelled us to find out a permanent solution. That's why the generator sets. They will run the ATM counters unhindered."
Last month, the state government approved a Rs 27-crore proposal of the North 24-Parganas district administration to install the generators and build guard wall around them. The initiative would help around 2 lakh people in the block, an officer said.
To ensure unhindered availability of water, the PHE authorities decided to install generator sets on raised platforms that are 8ft high and protected with guard walls.
"Tidal waves rise over 6ft and inundate adjacent areas. That's why generator sets will be at a height of 8ft to safeguard the water ATMs," an officer of the PHE department said.
The water ATM is an innovative concept envisaged by the state PHE department that includes an automated water treatment plant. The system can be customised according to need, eliminate iron, and its activated carbon system can remove odour or unpleasant taste like salinity from water.
Apart from cyclones hitting the area, high tidal waves from rivers often gush into adjacent plots and damage properties, including water treatment plants. These natural calamities affect power supply in the area which in turn hampers  water supply.
On May 20, Amphan wreaked havoc in several villages of the Sunderbans in Hingalganj block and the coastal belt that are still facing acute drinking water crisis.