Abhishek's sister-in-law questioned in coal case
The visit came within an hour of TMC MP's wife informing CBI that she would be available for questioning between 11am and 3pm on Tuesday at her so­uth Calcutta residence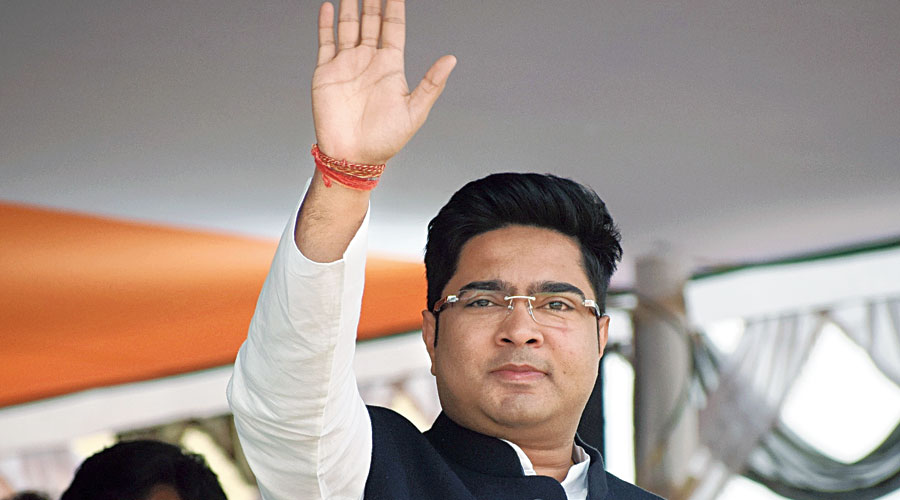 ---
|
Calcutta
|
Published 23.02.21, 03:44 AM
---
A team of CBI officers questioned Menaka Ga­mbhir, sister-in-law of Trinamul MP Abhishek Banerjee, for nearly two-and-a-half hou­rs at her New Garia residence in Calcutta on Monday in connection with a probe into alleged coal pilferage in several states, including Bengal.
The CBI team's visit came within an hour of Abhishek's wife Rujira informing the agency on Monday morning that she would be available for questioning between 11am and 3pm on Tuesday at her so­uth Calcutta residence.
Rujira sent the letter to the officer of the CBI's economic offence wing who had served a notice on her on Sunday asking her to be available for a round of questioning in the coal pilferage case.
A team of CBI officers had turned up at Abhishek's south Calcutta residence on Sunday looking for Rujira but had to return because of her absence.
Around 12.10pm on Monday, seven CBI officers, inclu­ding two women, turned up at Menaka's residence for questioning.
"We have recorded her answers to our questions. Her statements would be a source of vital information for us when we question her sister Rujira on Tuesday," said a senior CBI officer.
While responding to the CBI notice, Rujira has said even as she is prepared to face the officers, she is unaware why the central investigation agency wants to question her and in what connection.
SC scan on CBI role
The Supreme Court on Mond­ay agreed to examine whe­th­er the CBI could be allowed to pr­obe alleged smuggling of coal through railways in Bengal without the state's cons­e­nt. A bench of Justices D.Y. Ch­an­drachud and M.R. Shah issued a notice to the CBI and the Centre for responses.
The court posted the matter for further hearing to next Monday.
The court refused to grant any interim protection from arrest to petitioner Anup Majee, one of the accused in the case and who had sought quashing of the FIR registered in November last year.
Majee contended that the CBI had no authority to register the FIR as the Bengal government had withdrawn the general consent to the agency under the Delhi Special Police Establishment Act on November 16, 2018.
The Mamata Banerjee government withdrew the general consent, saying the Narendra Modi dispensation was misusing the CBI and other central agencies to target political opponents.