Abhijit likes cinema, music, cooking & walking: Mother
'Good student', but 'not top student'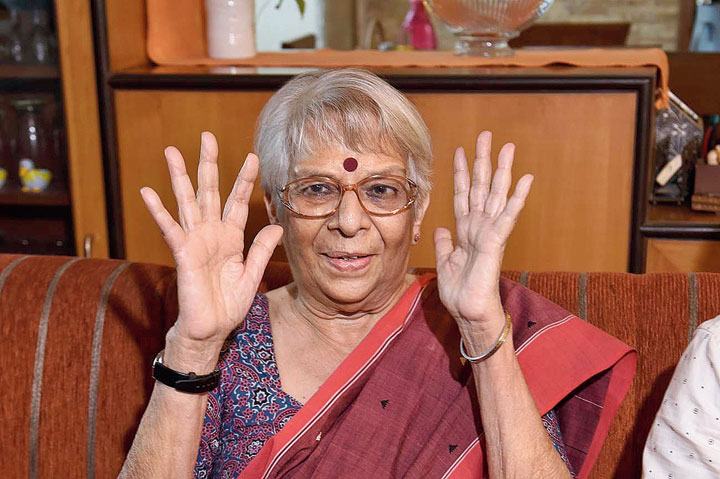 Nirmala Banerjee, mother of Abhijit Vinayak Banerjee, at her apartment on Monday
Pictures by Sanat Kumar Sinha, Bishwarup Dutta and Jhinuk Mazumdar
---
Calcutta
|
Published 14.10.19, 11:08 PM
|
---
"When he is here, his friends and lots of other people come over. He is a very good cook. He likes cooking, eating and feeding people. So he always has guests around and he is cooking for them," Nirmala shared.
The cook at the family home said Abhijit often walks into the kitchen and prepares a dessert.
Abhijit, who has been staying abroad since he went to Harvard in 1983, was in the city in June. "His visits are short, sometimes just for a day. He usually stays home," said his mother.
He is scheduled to come to India next week for the release of his next book in Delhi and then spend a day in Calcutta, Nirmala said.
There were no expectations of him winning the Nobel and there are no dreams either. "I don't dream for my children. I think they are doing fine. I hope they live well."
Nirmala described her son as a "good student" but "not the top student" at South Point High School, from where he passed the Higher Secondary examination. "At least in school he was not the first boy. He was interested in too many things. He likes music, sports and plays table tennis."
After school, Abhijit joined the Indian Statistical Institute on BT Road but quit within a couple of days. "He told me he didn't want to travel all the way and back. He felt it would finish his life. He liked cinema, he liked music, and he liked walking, so he said he would not waste all that time travelling," Nirmala recalled.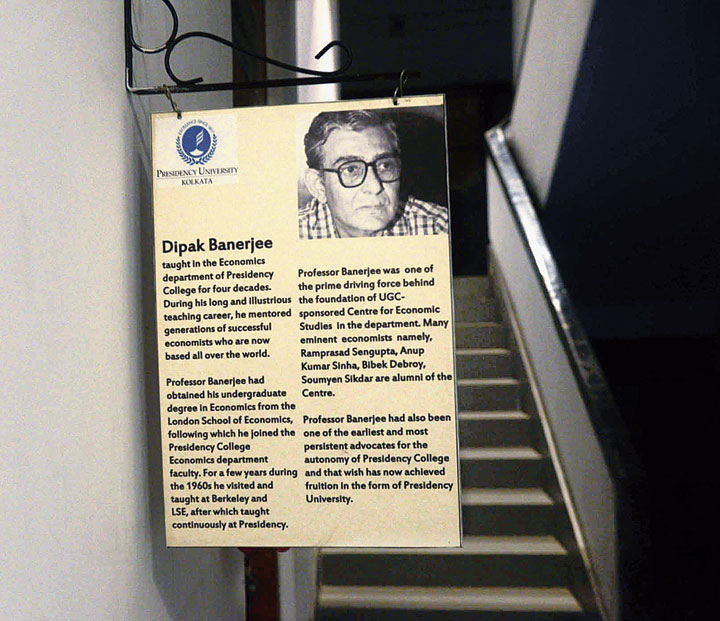 "Why didn't you tell me when we spoke yesterday?" Mother Nirmala Banerjee complained over the phone when Abhijit Vinayak Banerjee called her up on Monday evening.
Nirmala had learnt about her elder son's Nobel win when younger son Aniruddha Bhaskar Banerjee called up from Delhi to say "he is on television" in the afternoon.
Surrounded by reporters in the family's eighth-floor home at Saptaparni on Ballygunge Circular Road, Nirmala said she would ask Abhijit why he hadn't given her notice.
When the Nobel laureate did call her on Monday, she could barely hear him and the line got disconnected.
"He is not only a pride of Bengalis, he is half Marathi (from her side) too," Nirmala quipped, adding that Abhijit was born in Mumbai.
The 83-year-old remembers her son playing with slum children as a schoolboy. "We stayed on Mahanirban Road then and there was a slum behind our house. He would play with them… there was not so much of a class difference then," Nirmala said.
Abhijit also started cooking in his childhood. He began by helping his mother in the kitchen and now when she is not allowed to cook any more, he cooks for her.
Abhijit went on to study economics at Presidency. "I think he is interested in people. And economics is one subject that has something to say for people. So maybe…. He is a logical thinker."
Nirmala also spoke about Abhijit's close association with Nobel laureate Amartya Sen and his wife Emma. "They visit each other often."
The ties go back to when Abhijit was a year and a half old and his parents were in Berkeley. "Abhijit's father (Dipak Banerjee) went as a fellow to Berkeley and at that time Amartya Sen was also there and our families would get together," Nirmala said.
Abhijit has two children now and on Monday evening amid the joy and euphoria, mother Nirmala remembered a grandchild she lost three years ago. "Abhijit had a child from his earlier marriage who is no more… it is something sad for the family."
Abhijit had met his first wife, Arundhati Tuli Banerjee, at South Point. She is the senior director of MIT's Office of Global Initiatives and a lecturer in Studies in International Literatures and Cultures.
Arundhati had co-directed a documentary film titled The Name of the Disease (2006) about health care in India with Abhijit.
Additional reporting by Chandrima S. Bhattacharya