A slice of France on culture canvas - The Calcutta connect
Read more below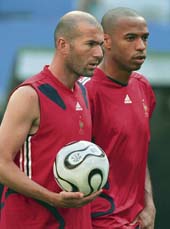 ---
---
BALL GAME: Goodwill ambassadors Zinedine Zidane and Thierry Henry could be in town this winter, or later (AFP)
Giants of contemporary jazz and literary luminaries, a celebration of the multi-cultural colonial legacy, a photo-montage showcase of our city and, maybe, Zinedine Zidane and Thierry Henry as goodwill ambassadors…
Expect a healthy slice of France across a multi-layered cultural canvas in Calcutta this winter and beyond. And, if the ball rolls right, even a date with the magnificent soccer trio of Zizou, Henry and Patrick Vieira.
"Calcutta is a metro of awesome beauty and the vibes emanating from this very organic city are absolutely overpowering. You can easily relate to this wonderful place and its warm people," Bénédicte Alliot, cultural attaché, French embassy in India, tells Metro.
For Bénédicte, on her first trip to town, it was love at first sight, and she is keen to contribute towards furthering the emotional and cultural connect Calcutta has always enjoyed with France — through books and music, fashion and photography, sports and architecture.
India is the guest-of-honour country at the Paris book fair Salon du Livre (March 23-27, 2007), where 40 Indian authors published in French will be invited. "At least four of them will be from Calcutta, which is a wonderful opportunity for them, since this is the most important literary event in France," says Bénédicte.
Before that, famous French novelist Jean Echenoz and young author Marie Darrieussecq — who has been translated into Bengali — will grace the Calcutta Book Fair in January. January will also feature a concert by the Eric Truffaz Quartet — "a huge contemporary jazz act in Europe" — at the Congo Square JazzFest, after the scintillating performance by the J.J. Milteau Quartet in November last year.
The French music medley kicks off this Wednesday with a classical duet involving Julie Arnuflo on violin and Nicolas Paul on cello at Calcutta School of Music, with a workshop the following day.
"The only other city you are reminded of while in Calcutta is, perhaps, Cairo, because of the inherent energy, warmth and the sense of urban decay, which is quite unique as well," feels Bénédicte.
As a recognition of this fervent verve, Calcutta will also get a piece of 'Francophonie' — an annual celebration of the French-speaking world — in March next year. "We try to celebrate our cultural diversity so much manifest also in the erstwhile French colonies. As part of these celebrations, we will bring a Senegalese hip-hop band to Calcutta," the cultural attaché says.
She also recognises how crucial a role soccer can play in cementing the Calcutta-France connect. "We know a Zidane or an Henry, who is very good with kids, or Vieira could be huge draws in this football-crazy city. These stars often travel to various developing countries as goodwill ambassadors for the French government and we can chip in there. However, it's even better if the invite comes from a Calcutta agency and then we can work on it," Bénédicte smiles.
The city is also likely to host a photography exhibition, focusing on contemporary India, a project clicked by 15 Indian and 15 French photographers, to be earlier featured in "Europe's biggest photo fair" in Paris. "We are hopeful of bringing the show to Calcutta," says French photographer and part of the project Alain Willaume, whose wife Anne Testut was the director of the erstwhile Alliance Francaise Calcutta in 2001.