A reel prayer for well-being
Gold rush Digital mode Cause quiz California calling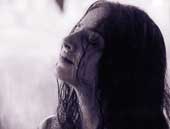 ---
Published 28.06.03, 12:00 AM
|
---
Simple living, high thinking. That is the belief system that Bhalo Theko is based on. An "experiment" against the consumerist fast life is how National Award-winning director Gautam Halder describes his first feature film.
Fresh faces from Mumbai and veterans from Calcutta come together for this film, which is just about ready for post-production. Newcomer Vidya Balan (picture right), seen in Euphoria's video Aana tu meri gali, plays the lead role of Aanandi, whose 32nd birthday is the backdrop for the action. Stage and film actor Joy Sengupta (of Patalghar fame) plays her possessive paramour. Soumitra Chatterjee, Anusua Majumder, Bijoylakshmi Burman and Debshankar Halder all appear in this story of a family crippled by death.
Nature and tradition are Aanandi's only pillars of support after she is thrust to the head of the family following the death of her mother and her elder brother, Raghu. She is shattered when Babua, Raghu's friend, marries another woman and leaves for Europe. Her sister Jhinuk's "out-of-control" ways are also a thorn in her side, as the family seems to be drifting apart.
"I needed someone who combines innocence and experience for the role of Aanandi," explains Halder, who won the National Award for his first cinematic venture, a docu-feature titled A Story of Integration. A film on Ustad Amjad Ali Khan followed for the man who started his career as photographer as well as being "closely associated with stage and music circles". Halder then switched to film, as a "composite medium" that brings together many artistic disciplines.
The 'now' of the film maybe one dramatic day, from dawn to night, but the tale is developed through flashback. The setting, also, fits perfectly. Acharya Jagadish Chandra Bose's home in Falta — masquerading as Uttarpara — with the wide Hooghly flowing by, was the perfect evocative foil for the action.
Vidya Balan's "moving performance" brings Aanandi to life. "She is supposed to be a good human being in the true sense of the word… Bhalo theko is her prayer for the world," explains Halder, who conceived the story, based loosely on Janmadin, a short story by Leena Gangopadhyay.
That Vidya's first feature film (she has been in over 60 ad films in the past five years) was in Bengali was a quirky twist of fate. "It was my dream to be in a Bengali film, as much of my exposure to cinema was through the festival circuit, which is largely driven by Bengali cinema," says the Mumbai girl, stuck at home with a fractured foot. A well-rounded diet of Satyajit Ray, Rituparno Ghosh, Aparna Sen, Mrinal Sen and Gautam Ghose, coupled with a group of Bengali friends, has ensured she understands the language easily. "I am going to start Bengali classes so I can dub for the film in July."
"Pure filmmaking" is how Joy Sengupta describes the Bhalo Theko experience. "It was only about cinema and the love of cinema… Not the business, glamour or recognition that it is often about," says the young actor, slated to play Bhootnath in Sahara's small screen version of Sahib Bibi aur Ghulam. His character Babua "loses part of his roots" — and Aanandi who was part of them — in his ambition for progress through academia.
Striking gold on debut directorial venture. That is what has happened to Bikramjit Gupta, who picked up the best fiction video film award at the Second International Video Film Festival in Thiruvananthapuram. The fest, organised by the government of Kerala, is fast gaining recognition in film circles.
Gupta's Laden is Not My Friend was picked from among 23 entries across the globe. "Every Muslim is not a terrorist. That is the message of my film," says the post-graduate in film studies from Jadavpur University. The story is of Aftab, a Bengali Muslim from Calcutta who wants to work with Disney and writes to the US President seeking his permission to immigrate. A key moment in the 25-minute film is his accidental encounter with Laden himself on a train. "It's an allegorical situation with comic overtones. Laden is clearly a man wearing a mask, but Aftab, in his zeal to prove his anti-terrorist stand, gives him chase."
All members of the cast and the cameraman (Amit Majumder) are Gupta's friends. "Since I was producing the film as well I could not afford to pay the actors much," says the 29-year-old. While Monaj Haque was "great" as Aftab, he insists that another friend Athar 'Laden' Hossain, who had just one scene — that too with his face covered — did not complain.
Gupta's moment of glory was on May 26, when he shared the stage with Anand Patwardhan, a fellow-winner in the best documentary category, and received the prize from Kerala governor Sikander Bakht. The prize was also a pat on the back from the eminent jury comprising National Award-winning director Jahnu Barua, Dutch film critic Rada Sesic, and Sri Lankan director Somaratna Disanayake.
The film had been premiered at the Satyajit Ray Film and Television Institute on September 11, 2002, the first anniversary of the WTC crash. "I am trying to get it screened at Nandan III soon," says the youth, adding that it is now being screened at Madrid at a do organised by local Asians.
The biggest boost that the prize has provided is the Rs 1-lakh booty it carries. "That has provided me the funds to start my next venture," he smiles.
On another filmi note, the Indo-UK Digital Film Festival, to be held in Calcutta from August 6 to 9, threw up nearly 250 entries from all over the country. Some of the 25 entries that came from the East include Sanjeet Chouwdhury's Painter's Equilibrium, Smita Tiwary's Kharsawa Chau, Payal Mohanka's Little France on the Hooghly, Altaf Majid's Inside the Magazine and Subrata Sen's Nil Nirjane.
Twenty-five of these films have been be curated by Madhureeta Negi Anand and the names of the lucky winners are due to be announced in the next few days. These films will make a seven-city tour in July, accompanied by two UK experts, Carl Schoenfeld and Denis Whyte, who will share their knowledge of digital films. In Calcutta, Globsyn Technology will conduct a workshop after the festival, where aspiring filmmakers will learn the basics of digital films and get the opportunity to make two or three short films at the end.
The "oldest corporate quiz in the city" is back. The Royal Bengal Corporate Quiz will be held this Sunday at the Hyatt Regency. Organised by the Calcutta Alipore Round Table No 12, the battle of the brains is designed to help spread the knowledge, with the proceeds going towards the construction of a school at Bagnan.
Conducted by Charan Preet Singh, the annual feature draws corporate teams from the likes of ITC, the Tata group, Wipro, TCS, Ernest & Young, HP, Patton, Emami and reigning champs ABP Ltd. Eight three-member teams will make it past the prelims into the finals, to work their way through a quizzical "connection" round, as well as audio and video rounds.
Chandrabindoo: Music across seven seas
Beyond boundaries is where a Bangla band is going this summer. From Calcutta to California, Chandrabindoo is travelling far — if not light — as part of the Banga Sanskriti Sammelan. The seven-man band that has become a favourite fixture on the city stage, has two shows lined up in LA, on July 4 and 5.
"We will be the first Bangla band from Calcutta to perform in the US. Beside the two shows, it has the prospects of a great get-together, with lots of excited feedback from the young Bengali crowd there," says Anindo Chatterjee, composer and singer, who along with Upal Sengupta (composer, singer), Surajit Mukherjee (composer and lead guitarist), Chandril Bhattacharya (lyricist), Rajshekhar Kundu (percussionist), Drono Acharya (keyboardist) and Arup Poddar (base guitarist) is strumming up a storm for the July jaunt. Both the programmes — one open-air and the other in an auditorium — will feature a set of "around 12 songs" each.
From California, the band will take a weeklong tour of the US of A. For more, log into www.chandrabindoo.com.