A princess at West End
Read more below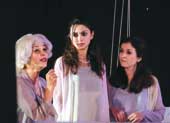 ---
Published 08.04.05, 12:00 AM
|
---
(From left) Lillete and Neha Dubey with Shernaz Patel in Breathe In Breathe Out
The last time she was in town, in mid-July 2004 to stage Breathe In Breathe Out with mother Lillete and Shernaz Patel, Neha Dubey bubbled with excitement. Beating no less than 100 girls, she was on way to playing a Shakespearean heroine in a famed West End production. In the months that followed, Neha was nestled in London, interacting and rehearsing with the all-Asian cast of Shakespeare?s Twelfth Night under the direction of Stephen Beresford.
In his West End directorial debut, Beresford cast the Indian actress as Olivia, alongside Raza Jeffrey (famous as Akaash in Andrew Lloyd Webber?s Bombay Dreams) as Orsino and Sheeren Maryineau as Viola and Paul Bhattacharjee as Malvolio.
?I feel so blessed to have got the chance to work in the Mecca of world theatre, the West End,? Neha gushes over phone from Mumbai.
The chance almost fell into her lap one morning when she got a call from the Twelfth Night team, asking for an audition. ?I was very excited and turned up quite casually. I was asked to read two scenes from the text of Twelfth Night and that?s what clinched the role for me. Around 100 girls in the UK and India had auditioned for the part,? says Neha, adding: ?In the West, they just don?t care who you are or who your parents are. How you perform in the audition is all that matters.?
The play has drawn a lot of attention, popular and critical, for its setting, as Beresford has transposed Shakespeare?s characters from Illyria to the exotic Kerala. The storm that flings Viola?s ship on the rocks blew over the Arabian Sea instead of Italy?s Adriatic coast.
?But Stephen didn?t shift the setting to India just out of a whim. There was logic and reason behind it. If you have read the text, you will see there are lots of aspects which are still relevant to contemporary India,? explains Neha. A website has quoted the production team saying that India was chosen as ?it most closely resembles Shakespeare?s London today?.
?There are several connections. For instance, the traditional beliefs and the veiled women, the royalty and the concept of servants. There is a hierarchy in the master-servant relationship and also among the servants themselves. The comic trio of the maid Maria, Feste and Malvolio reflects on the servant system in India. In fact, many Shakespeare characters are very expressive and played out very much like we Indians are,? asserts Neha, who played Olivia draped in a sari.
?Here, Olivia is an Indian princess and so wears a sari. But otherwise, there wasn?t any difference between Shakespeare?s Olivia and ours because we didn?t meddle with the text at all,? she adds.
Strangely though, getting under the skin of the character was easier for Neha than for her co-actors. ?My Indian English was all right, as the director didn?t want the received pronunciation of the British Indian actors. In terms of body language, I used my hands more than the actors over there. But that was fine in the Indian context. So, I just had to be myself.?
In fact, some of the actors who had a British accent had a dialogue coach to modify their speech. ?But it?s not like you throw in some Hindi words; there was clarity in whatever we spoke,? stressed Neha.
After a month-long rehearsal, Twelfth Night ran to 87 shows at Albery theatre in London over three-and-a-half months from September last year.
?That was quite a good run. Lots of people came up to me to say that they had liked the play. It was a mix of British and Asian audience,? says Neha, busy with films and a few stage projects in Mumbai. ?I have just performed Womanly Voices (directed by mother Lillete) at London?s Watermanns theatre and I am into a new show now.?
But despite the success on foreign soil, Neha prefers to have an agent in London rather than set up home there. ?I am based in Mumbai and I am willing to go anywhere I get good work,? is her unambiguous stand.