A feisty champion of girl power in Calcutta
Child marriage crusader & advocate of Tagore's teaching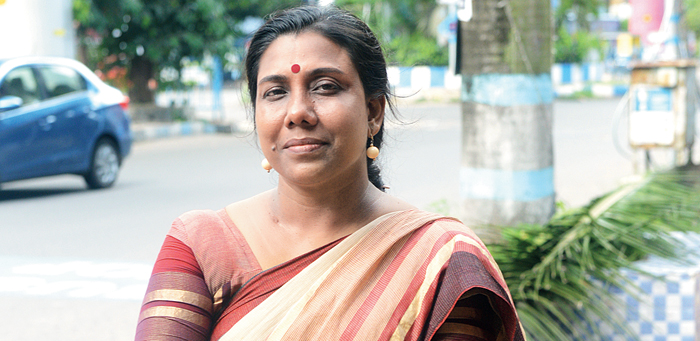 Murshida Khatun in the city
Picture by Bishwarup Dutta
---
Calcutta
|
Published 11.09.19, 08:55 PM
|
---
She fought marriage several times in her teens, would cycle to school as villagers chased her and pelted her with stones every day and started giving tuitions while in school to fund her own education.
Murshida Khatun, 41, now heads a madarsa at a village in Murshidabad's Beldanga block, where her mission is to empower girls from the minority community. During her nine-year stint at the madarsa, she has rejected at least five offers from other schools to be able to carry on with her mission.
The headmistress of Debkunda Sk. Abdur Razzak Memorial Girls High Madarsah has an army of girls who works with her to stop child marriage in the villages.
"When I started off as a teacher I knew my job would not be limited to teaching students. I wanted to make the girls independent. My target was to see them continue their education because I knew that when they dropped out of school they would be married off, often against their will," said Murshida, who received a special honour from The Telegraph Education Foundation at the 24th edition of The
Telegraph School Awards for Excellence 2019, presented by IIHM and powered by Sister Nivedita University.
The MSc in mathematics from Calcutta University said it was easy for her to reach out to girls and relate to their problems, having gone through the same situation herself.
Such has been her impact on the local people that when Murshida finally decided to take up an offer from a secondary school last month, the students of her school and villagers went on a hunger strike to convince her to stay back. They succeeded.
The madarsa that Murshida heads caters to children from villages in the Beldanga block, one of them being Mirzapur — the same village where Murshida had once been ostracised for going to school.
Murshida chose to work in a madarsa because she felt madarsas were often neglected and there was a dearth of people willing to join one. "Also, since I belong to the same community, my acceptance will be greater," she said.
Her journey as a teacher began from Malda in 2001 and three years later she came to Beldanga.
"I knew if I had to do something for the girls I should be able to take decisions and make policies," said Murshida, who as headmistress collaborated with NGOs to stop child marriage.
A group of 30 girls from classes VII to IX in her school have been trained to create awareness against child marriage. The girls visit village homes when they get a tip-off about a minor girl being married off and alert the administration.
Murshida had her mother's support every time she spurned marriage. "My mother had studied up to Class VIII, unlike the other women in the family who did not know how to read or write. She ensured that I went to school despite opposition at home and in the community," she recalled.
Murshida feels the fight continues for many other girls. "Many of my students who excel in sports have to give up after Madhyamik because of family and social pressure," she said.
But hope lives on. "Those going out of their villages are experiencing the world and they do say no one can hold them back for long."