6-yr-old's corneas to light up two kids' lives
Surjyaprabha Chanda, a kindergarten student, was affected by meningoencephalitis and declared brain dead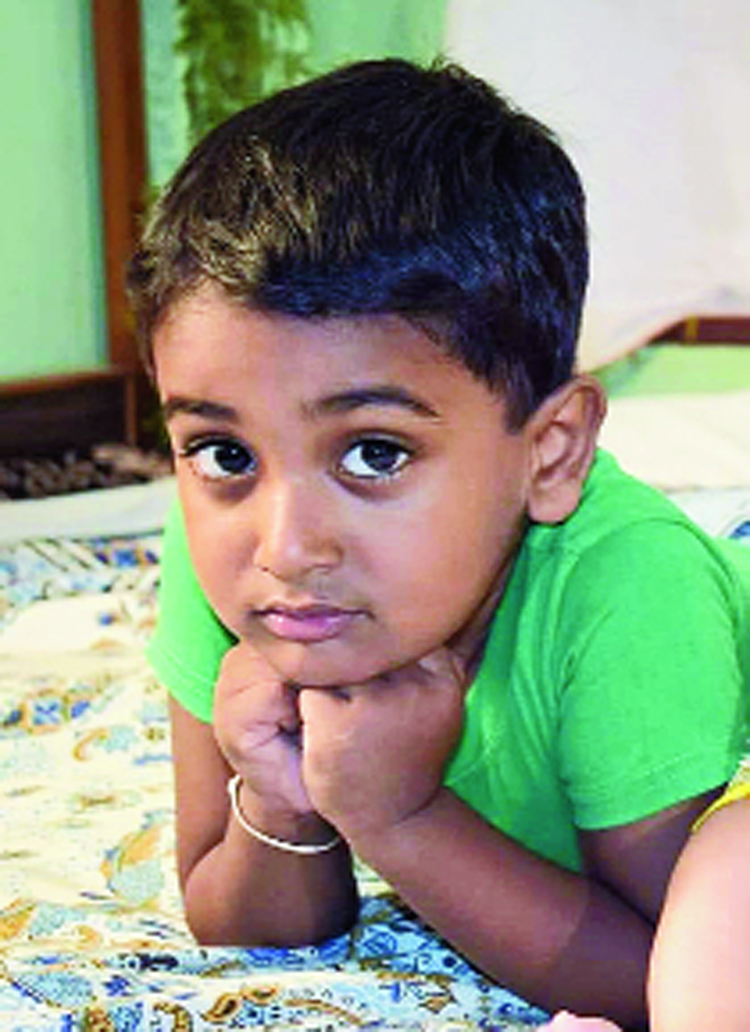 ---
|
Calcutta
|
Published 21.03.19, 07:36 AM
---
The corneas of a six-year-old boy who died on Wednesday will light up the eyes of two children with visual impairment.
Surjyaprabha Chanda, who was running around like any child his age till a few days ago, died of a viral infection on Wednesday.
His brain was affected by meningoencephalitis and he was declared brain dead on Monday. His parents, Supriyo and Pampa Chanda, overcame their grief and expressed the wish to donate their child's kidneys, liver and heart.
Tests at Bhagirathi Neotia Woman and Child Care Centre in New Town, where he was admitted, however, revealed that the organs were not fit for transplant, the hospital authorities said.
The couple from Khardah, on the northern fringe of the city, were disappointed on hearing this. They donated the boy's corneas when he was declared dead on Wednesday morning.
"The two corneas that have been harvested from the boy can restore the eyesight of two children.... The corneas will be transplanted on different children," said a senior official of the Regional Organ and Tissue Transplant Organisation (ROTTO).
The corneas were harvested by doctors of Disha Eye Hospital.
"Me and my wife were shattered when we heard that our son was brain dead but we decided to donate his organs at once…. We just wanted our son to live on in other children who are suffering from diseases and need a transplant," said Supriyo, an astrologer by profession.
Pampa is a homemaker. The couple have a two-month-old daughter named Pratistha.
There were a number of cadaver organ donations in the state last year. Bengal, however, lags behind many states in cadaver organ donation. The states that are ahead of Bengal include Karnataka, Kerala, Tamil Nadu and Gujarat.
Supriyo said they were disappointed when they were told that Surjyaprabha's kidneys, liver and heart were not fit for transplant — "this could be because the child had suffered a cardiac arrest on Monday," a ROTTO official said. Later, after the child was declared dead around 8am on Wednesday, the hospital authorities told them they could donate the corneas.
The child, a kindergarten student at Good Shepherd School in Khardah, was diagnosed with acute meningoencephalitis, in which a viral infection causes an inflammation of the brain, leading to headache, disorientation and other neurological problems. The infection at times turns fatal, doctors said.
The child complained of throat ache and tiredness after returning home from a game of football on Thursday evening. He was running a temperature.
"The boy started vomiting the next day and was taken to a local hospital. But since his condition did not improve, we shifted him to a hospital in Dum Dum. When his condition deteriorated further, we were told to take him to a facility with a paediatric intensive care unit (PICU). We found no bed in the PICU at the first hospital we went to and finally got one at Bhagirathi Neotia around 7pm on Saturday," said Subha Chowdhury, the boy's uncle.
Somnath Ghorai, the paediatrician who treated Surjyaprabha, said the child's condition was critical when he was brought in.