6-hourly checks for cracks and soil subsidence in East-West Metro tunnel work
The tunnel-boring machine will be monitored to plug any leakage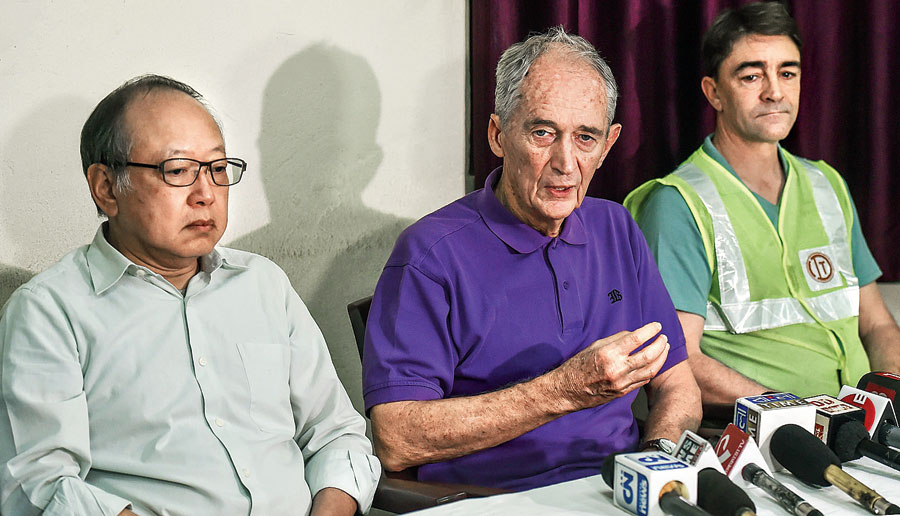 ---
|
Calcutta
|
Published 21.02.20, 09:13 PM
---
Checks for cracks in buildings on the tunnel route of East-West Metro between Bowbazar and Sealdah and soil subsidence will be carried out every six hours, engineers said on Friday.
The tunnel-boring machine will be monitored round the clock to plug any leakage and prevent a repeat of the last August accident.
The boring machine had hit an aquifer on August 31 last year, triggering a subsidence that led to many buildings across parts of Durga Pituri Lane, Syakrapara Lane and adjoining streets in the Bowbazar area collapsing or developing cracks.
East-West Metro will connect Salt Lake's Sector V with Howrah Maidan via a stretch under the Hooghly.
"The records of the Bowbazar accident showed that eight hours after the water mixed with soil sipped into the tunnel, cracks and soil subsidence were at a dangerous level and people had to be evacuated," John Endicott, a British engineer and chairman of a four-member committee formed by KMRC to look into the tunnelling work, said on Friday.
Kolkata Metro Rail Corporation (KMRC) is the project's implementing agency.
"So, we have decided to monitor the condition of buildings and the ground every six hours. The tunnel-boring machine will be monitored continuously and if there is any seepage, it will be stopped."
The boring machine will have a six-point injection system to pump grease and grout and seal leakage, if any. If it doesn't work, readymade steel plates will be placed between the tunnel and the machine and the leak will be sealed with cement, Endicott said.
If these systems don't work, polyurethane will be injected so that it expands 10 times its volume after coming in touch with water and the leak is sealed permanently.
"The general consultant of the project has checked that new set of equipment is functioning properly and the expert committee at the top has realised its overbearing responsibility to both the high court and the people of Calcutta to ensure there is no repeat of last year's debacle," Endicott said.
Once the boring machine picks up speed — around 10-12m a day — it will take around four to five months to reach Sealdah.
"We have had several rounds of talks with residents of Bowbazar... we have asked them to alert us immediately in case of a slightest hint of any abnormality," Guy Christopher Bridges, another member of the committee, said.
Last week, Calcutta High Court had allowed KMRC to start tunnelling work up to 5m in Bowbazar. The company had moved the court, seeking permission to move the machine for maintenance work.