37 students hurt as school bus turns turtle in Malda
Police have initiated a probe to find out cause of the accident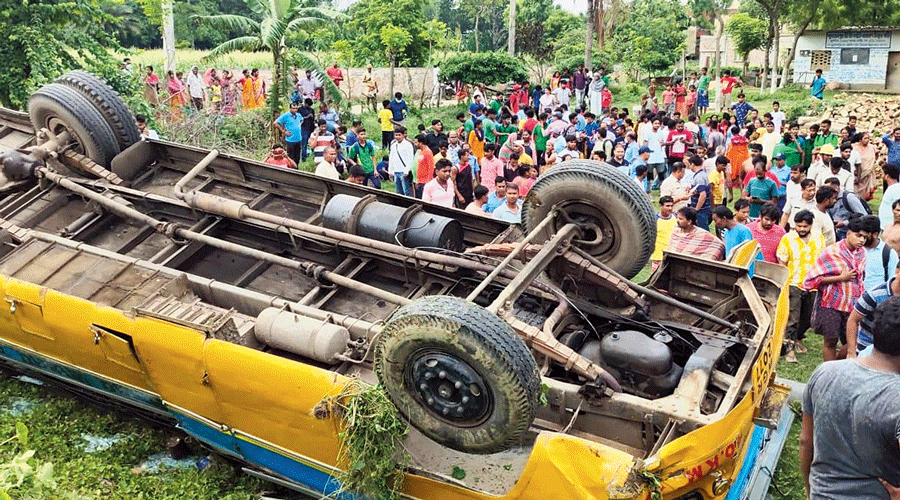 The school bus that overturned in Malda on Saturday.
Soumya De Sarkar
---
Malda
|
Published 03.07.22, 12:50 AM
|
---
A school bus carrying around 70 students veered off a road in Malda on Saturday afternoon, turned turtle and fell into a dry ditch, injuring over half of them.
Locals rushed in to rescue the students. They were sent to Malda Medical College and Hospital and the divisional railway hospital.
Police officers and firemen also visited the spot. The police have initiated a probe to find out the cause of the accident. 
Sources said that around 2.30pm, a bus of Kendriya Vidyalaya was plying along the Malda-Manikchak state highway when at Baghbari it swerved off the road and fell into the ditch.
"The bus was moving at a slow speed. The ditch it fell into was dry. Had it been filled with water, the accident could have been worse," said Dilip Chowdhury, an eyewitness who along with some others rushed in to help the students come out of the bus.
After the last student was pulled out of the vehicle, it was found that 37 of them had suffered injuries.
Police officers who reached there with ambulances made a green corridor to ensure the students' prompt hospitalisation. Fire engines also reached the spot and later, recovery vans were called in to pull the bus out of the ditch. Some teachers from the school reached there and joined the rescue operations.  
Most of the students travelling in the bus are 10 to 15 years old, sources said.  "Among the injured, 18 were admitted to the MMCH while the rest were sent to the railway hospital for treatment. Later, some of them were released," said a police officer.
As policemen initiated a probe, they found that some wheels of the bus had fallen on loose soil beside the road.
"It seems the soil could not bear the load and the vehicle slid down. We are also checking whether there was any technical problem in the bus," said a source.
The school's principal was not available for comment.