Three workers feared dead in Raniganj factory mishap
Plant employees alleged that they had repeatedly told the management that the fly ash container had developed a snag but no heed was paid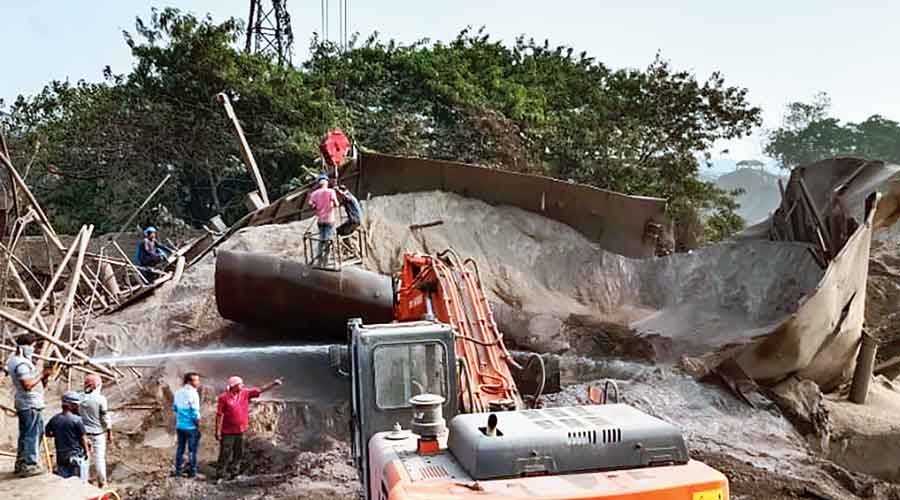 The site of the accident.
Santosh Kumar Mandal
---
Asansol
|
Published 28.11.21, 12:12 AM
|
---
Three workers of a private integrated iron plant in West Burdwan's Raniganj are feared dead after the container with around 300 tonnes of hot fly ash collapsed on them early on Saturday.
The incident occurred at the 3MW captive power plant of Shyam Sel and Power Limited at the Mangalpur industrial estate in Raniganj.
As of Saturday evening, the administration, police and firefighters were engaged in rescue operations. But no one has been traced.
Sources said three workers  are possibly trapped under the hot fly ash produced at the power generating unit since 1am when the mishap occurred.
"Chances of their survival are slim as they have been trapped under huge amounts of fly ash for long. We are facing trouble as the ash is still hot," said a firefighter.
Police said four workers were on duty at the captive power plant of the factory in the night shift when the accident occurred. "Only one of them, Shibnath Ram, could be rescued," said a police officer.
Factory management said those feared dead are Tanmoy Ghosh, 42, of nearby Andal, Shib Shankar Bhattacharya, 36, and Dilip Gope, 43, who hail from Bankura district.
As the news spread, relatives of the victims and plant workers thronged the factory and accused the management of negligence. INTTUC West Burdwan president Abhijit Ghatak and Raniganj Trinamul MLA Tapas Banerjee joined the accusers. "It is clear case of negligence by the factory management. We demand jobs for a family member of each victim and monetary compensations," said Ghatak.
MLA Banerjee said he instructed the police to start a suo motu case against the factory management.
Plant workers alleged that they had repeatedly told the management that the fly ash container had developed a snag but no heed was paid.
A senior plant official said only a proper inquiry could prove charges of negligence.