3-hour hurry for Amphan aid list undid us: Panchayats
Names not verified by administration due to Covid-19 lockdown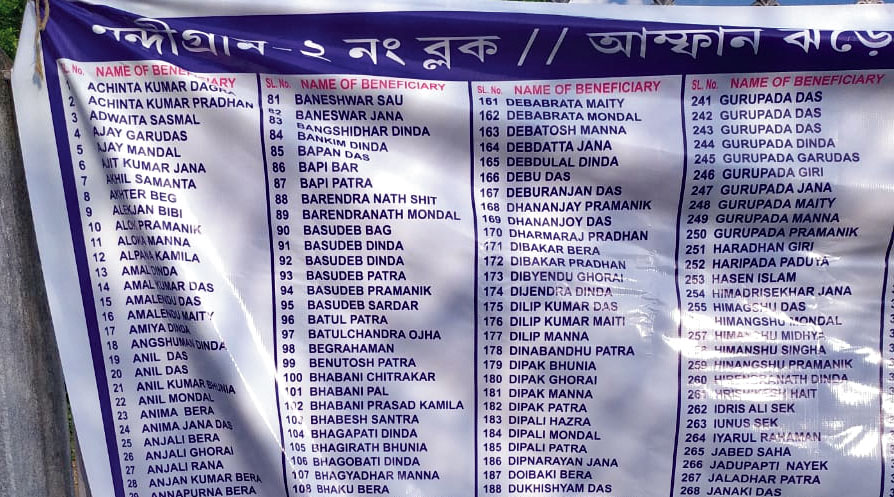 ---
---
Panchayat officials in East Midnapore's Nandigram-I and II held the three hours given to them to draw up the list of beneficiaries and laxity of block officials to verify names responsible for mass irregularities in Amphan aid distribution that has snowballed into a major issue in Bengal a year ahead of the Assembly election.
Several blocks in East Midnapore, particularly Nandigram, are seething at reports that people close to Trinamul and panchayat functionaries made it to beneficiary lists of the Rs 20,000 house-repair dole after the May 20 cyclone.
Panchayat functionaries claimed they were ordered by block offices on May 26 afternoon to list beneficiaries and submit them by 8pm the same day. "We got three hours. It was humanly impossible to draw up the list at such short notice. We acted under pressure and included names of a lot of panchayat functionaries so as not to appear incompetent," said pradhan of Kendamari panchayat, Mansura Begum. "We may have made mistakes in the short time, but if anyone intentionally committed fraud it is unfortunate."
Panchayat functionaries alleged that block officials had neglected their role of "due diligence". "They had about a week's time to verify, but they did not want to go out for physical verification amid Covid-19," Mansura alleged, referring to the four-man verification team of a panchayat pradhan, a local Opposition party leader, a block administration representative and a panchayat samiti representative.
After beneficiary lists on flex banners were put up by panchayat officials earlier this week, protests over ineligible names erupted at many places, including at Bhekutia. Here, pradhan Mamata Das said on Saturday they were being made "scapegoats". "Block administrators gave us three hours to make lists. Did they verify names after that? Now they are throwing us under the bus," she said.
Block-level leaders of the Trinamul agreed that the administration gave an "unreasonably short time" for lists. "Two hundred people from our party have been showcaused in Nandigram over lists, but we are paying for the administration's incompetence," said Trinamul block president Meghnad Pal.
BDO (Nandigram I) Subrata Mullick confirmed the three-hour window for panchayats on May 26 to prepare lists but declined comment. "We were told the secretariat (Nabanna) wanted lists urgently," another official said.
Opposition leaders attributed the mess to the Trinamul's alleged refusal to hold an all-party meeting at the block and district levels shortly after Amphan.
"We did not have such a meeting in Nandigram before June 28, by then the damage was done," said district BJP vice-president Pralay Pal. "Trinamul does not acknowledge the existence of an Opposition," added CPM district secretary Niranjan Sihi.
A leading land agitation leader at Nandigram said both panchayat and administrative functionaries were at fault. "Names were included hastily by panchayat members and not verified by the administration. No one thought this would become such a big issue," he said.