3 Hindu girls ace Madrasa exam in Bengal's Burdwan
Piupiya Saha, Sathi Modak and Arpita Saha — secured 730 (91.25%), 730 and 739 (92.38%) out of 800 respectively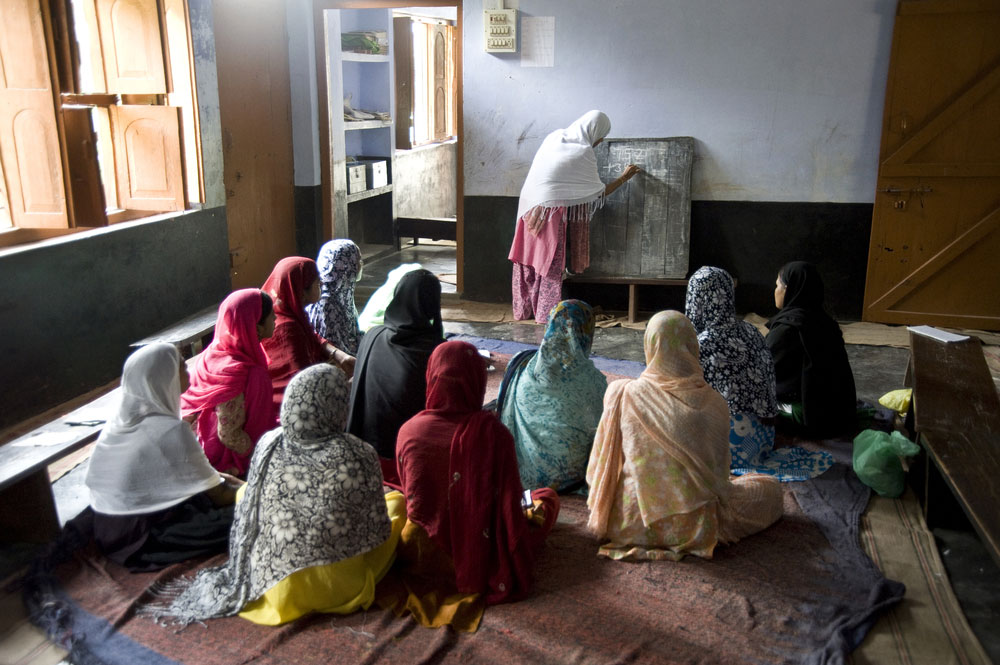 Residents of Ketugram, while rejoicing in the girls' achievements, are not surprised that Hindu students have excelled in an exam on Islam
(Shutterstock)
---
Burdwan
|
Published 21.05.19, 09:54 PM
|
---
Three Hindu girls studying in a madarsa in a Muslim-dominated area of East Burdwan have scored over 90 per cent in the West Bengal High Madrasah Secondary Exam (Madhyamik standard), bolstering the Mamata Banerjee government's efforts to help such institutions shine the light of education in backward areas.
The results were declared last week in the midst of one of the most communally charged campaigns during which BJP chief Amit Shah had questioned the Bengal government's allocation on madarsa education.
Piupiya Saha, Sathi Modak and Arpita Saha — who secured 730 (91.25 per cent), 730 and 739 (92.38 per cent) out of 800, respectively — study in Agordanga High Madrasah at Ketugram, which has a high concentration of Muslims.
Apart from securing cumulative scores that are among the highest in the district, the three students have done exceedingly well in Islam Parichay or the fundamentals of Islamic history, a subject unique to the madarsa board. Piupiya, Sathi and Arpita have scored 95, 92 and 93, respectively, in the subject.
Residents of Ketugram, while rejoicing in the girls' achievements, are not surprised that Hindu students have excelled in an exam on Islam.
"Muslims study in schools that are not madarsas, so why should I have an issue with my daughter studying Islam Parichay?" said Rameswar, Piupiya's father and a ration dealer.
Piupiya said: "The teachers here were very helpful and cooperative."
Arpita, who topped her school with 739 marks, said that studying Islam had helped her broaden her horizons rather than being an academic burden.
"Being a Hindu, I am already quite accustomed to rites and rituals, but studying about another religion in detail helped me see the parallels," the aspiring nursing student said.
Ketugram, situated on the banks of the Ajay river on the Birbhum border, has a 46.77 per cent Muslim population. The far-flung village has a recorded literacy rate of 68 per cent. The literacy rate in Bengal is 76.26 per cent, according to the 2011 census.
Residents said the distance of the nearest higher secondary school — 6km away — deterred them from enrolling their daughters there.
"I would be worried if my daughter had to make that long a commute," added Rajeswar, father of Arpita and a private tutor.
Nearly 60 per cent of Agordanga High Madrasah's 900 students are Hindu.
At a rally in Alipurduar in March, BJP president Shah had indicated that the Trinamul government was engaging in vote-bank politics over its education budget.
"Mamata didi has a budget of Rs 4,000 crore for madarsas. We do not have a problem with that. But the entire budget for higher education is lower than Rs 4,000 crore," he had claimed.
An official in the Bengal minority affairs and madarsa education department said the state government spent Rs 250 crore on madarsa education annually.
"The department has a budget of around Rs 3,000 crore for the 2019-20 fiscal. So, there is no question of spending Rs 4,000 crore on madarsas," the official said.
Many pointed out that the fact that Hindu girls in backward areas were studying in madarsas proved that the state government's spending was helping the spread of education.
"The trend of non-Muslim students studying in madarsas is increasing in Bengal — which is a good indicator of communal harmony in the state. Except for Islam Parichay, the syllabus is the same as the Madhyamik board," said Abu Taher Kamruddin, president of the
West Bengal High Madrasah Board.
State-wide, nearly 12 per cent of those who took the West Bengal High Madrasah Secondary Exam this year were Hindus — a 4 per cent increase over last year.
In Ketugram, 62 students appeared for the madarsa board exam this year. Of them, 45 were girls.
Piupiya and Sathi say they want to become civil servants. Arpita plans to pursue her dream of becoming a nurse.