Majority shows way in Jammu
Hindu majority Hanga village elected Chowdhary Mohammad Hussain, a Muslim man, unopposed as the panchayat head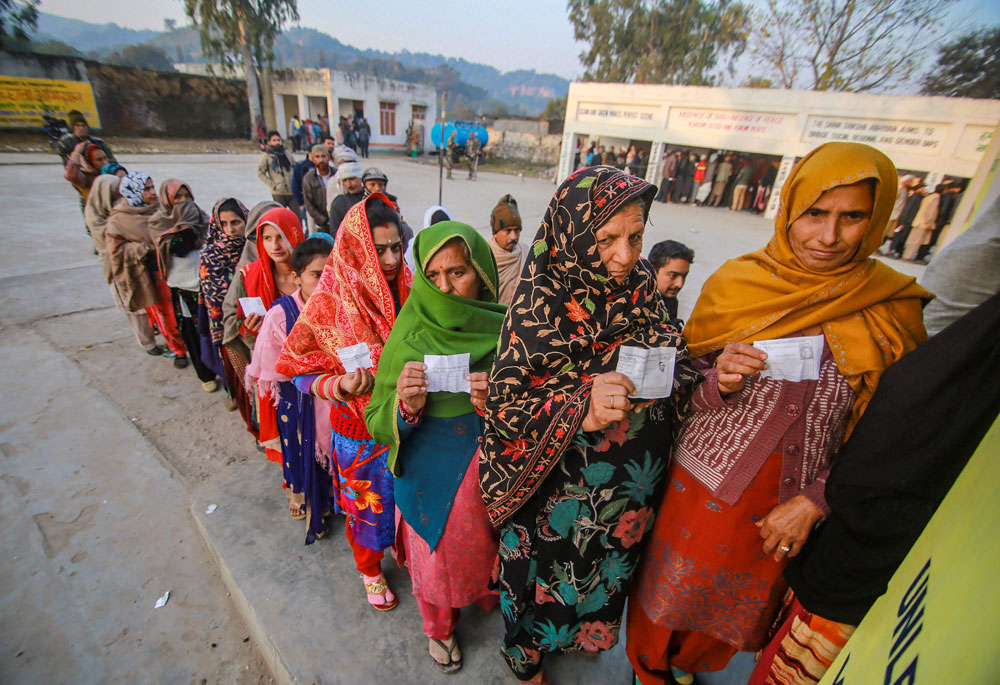 Voters stand in a queue to cast their votes in the 8th phase of panchayat elections in Jammu on Saturday, December 8, 2018.
(PTI)
---
Srinagar
|
Published 08.12.18, 10:43 PM
|
---
Chowdhary Mohammad Hussain's is the only Muslim family in Hanga, a village of 450-odd people in Jammu.
The rest are Hindu. They have elected Hussain unopposed as the panchayat head.
"The villagers asked me to contest the polls, and unanimously decided that no other person would contest so that I'm elected unopposed," Hussain told The Telegraph. "They did it perhaps because they thought I'm honest."
The panchayat election was held on December 4.
Hussain belongs to the Gujjar-Bakerwal community, like the eight-year-old Muslim girl who was raped and murdered in Jammu's Kathua district. The gruesome crime had polarised the region.
The girl's family too was the only Muslim family in their village. But unlike them, Hussain's family has never faced hostility from neighbours.
"I lived in another village, Kunthal, also in Doda, which is mixed, but I moved to this place some 15 years ago because of militancy there. I have lived peacefully here all these years," Hussain said.
Doda is a Muslim-majority district in the Hindu-majority Jammu region. Hussain is the district head of a Gujjar-Bakerwal organisation and has worked for peace between the communities.
A local officer, Duni Chand, said his village was proud to have chosen a Muslim as its panchayat head and hoped this would send out a message of communal harmony across the state and beyond.
Hussain said he would work tirelessly for the village, which is yet to be connected by a paved road. "This is a mountainous area where during winters we get electricity for a few hours. I will work hard so that our village gets all the basic amenities," he said.