2017 agitation 'derail' charges on hill duo
Allegations of former colleagues Binay Tamang and Anit Thapa having derailed the 2017 statehood agitation, are coming from different quarters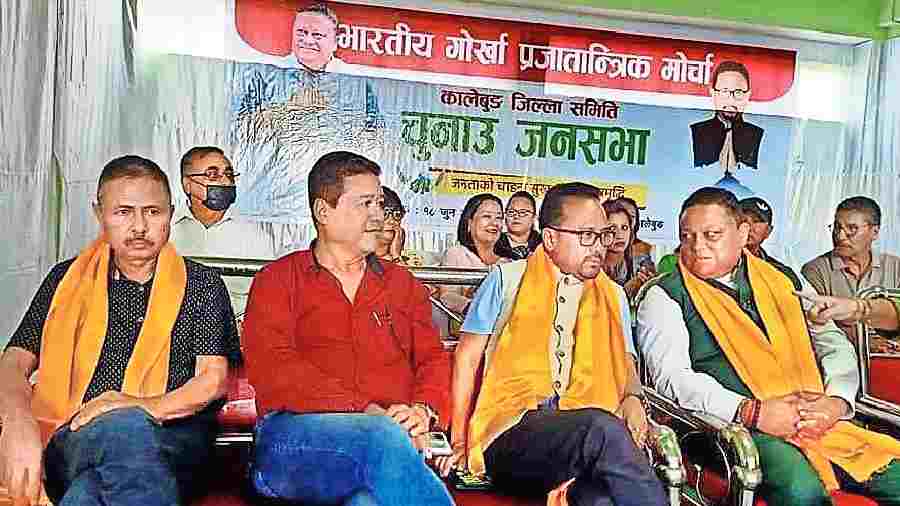 BGPM president Anit Thapa (right, front row) in Kalimpong on Saturday.
---
Darjeeling
|
Published 20.06.22, 01:51 AM
|
---
The 2017 Gorkhaland agitation is back at the centrestage of the Gorkhaland Territorial Administration (GTA) campaign as the June 26 polls draw close.
Allegations of former colleagues Binay Tamang and Anit Thapa having derailed the 2017 statehood agitation, are coming from different quarters.
Hamro Party chief Ajoy Edwards on Saturday said the hills would "not forgive the coalition" that derailed the agitation. He was hinting at the Anit Thapa's Bharatiya Gorkha Prajatantrik Morcha (BGPM) and Trinamul Congress's alleged coalition for the upcoming GTA polls.
Tamang, who in 2017 along with Thapa had tried to call off the 104-day strike with the Trinamul-run state government, is contesting the GTA polls from Bloomfield-Rishehaat constituency this time from Trinamul which he joined some months back. Thapa also formed the BGPM last year.
"This coalition was from 2017. They would send police, seize properties, close down the Internet, stop food supply…. I don't think the people have forgotten them or will forgive them," said Edwards, who alleged that the BGPM and Trinamul were not accepting their present alliance because of perceived backlash.
The BGPM has "officially" fielded candidates in 35 seats and Trinamul in 11.
"I will soon expose details of the coalition and Independent candidates they have fielded to cut our party's votes," said Edwards.
Thapa, too, had to deal with the 2017 Gorkhaland "betrayal" issue at a media meet in Kalimpong on Saturday.
Thapa admitted that such a "perception" had gained ground but added he wasn't misleading hill people with his "lets work with the state government" narrative. "There was a perception that Anit Thapa and Binay Tamang sold the agitation.... created by Opposition leaders," said Thapa.
Thapa said that had they not tried to bring normality in the hills in 2017, there would have been more chaos.
"Also, in 2013 when I was in jail, who was the one to go back to the GTA?" Thapa asked. During the 2013 Gorkhaland agitation, Bimal Gurung resigned as the head of the GTA but went back to the GTA in a few months.
Thapa said that the GNLF in 2017 had also asked the Trinamul-led state government for an all-party meeting when the agitation was on, implying he wasn't the only one to want the agitation to stop.
The BGPM leader added that he was confident that his party would win all the 45 seats.