14 fluttering pairs of wings in your garden
Arjan Basu Roy of Nature Mates, which maintains the butterfly parks in Central Park and Eco Park, shares tips on how to attract butterflies to your terrace or verandah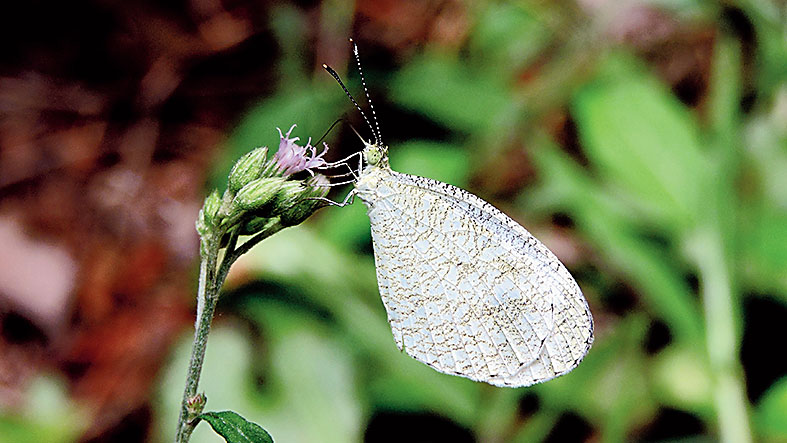 ---
---
Your garden is washed green this monsoon but do you crave the flutter of some colourful wings in its midst? Butterflies — tender and beautiful — are one of the most fascinating creatures even in an urban setting.
Their presence around us is actually a sense of assurance. It assures us that the locality we live in is still liveable, ecologically as well as from the environmental and various climatic aspects. Their presence also ensures the presence of other beautiful creatures like birds, frogs and so on.
Keeping this in mind, this article shall share some easy and smart steps to help you attract butterflies to your garden.

There are about 17,500 species of butterflies known globally, to date. In India, the number is greater than 1,500, spread over its entire biogeography. Surprisingly, Calcutta, which is one of the most congested and geographically isolated from large forest areas, has a diversity of more than 100 species!
Though not seen commonly or in one place, this is the number recorded over a period of time, covering it entirely. In general the most common butterflies seen in urban areas are around 40 to 50 species covering all seasons.
To start with, I shall share the requirement of the 10 most common species of butterflies. These are most well-spread across Calcutta and are mostly found throughout the year.

The right plants
A butterfly garden need not be on the ground; it can be on the terrace or balcony with a set of plants carefully selected. These plants are selected not just because of our liking, but also keeping in mind their association with butterflies.
A butterfly eats plants, sips from plants and sleeps among plants. But they are very specific about the kinds of plants they use and in many cases, allow no flexibility.
Butterflies need three sets of plants in their lives. The first is "larval host plants", in which they lay eggs and their larva feeds on.
The second is "nectar plants". These are plants from the flowers of which they extract nectar. In most cases, this is their only food
The third set of plants butterflies need is called "roosting plants". These are plants on which the insects spend most of their time, sleeping. More than the plant the formation is important here. The formation must be tight for the insect to hide within.
Hence if you want to start a butterfly garden at home, in school or in local parks, keep these three sets of plants in mind. (See chart).

Attention to detail
Butterflies are sun-loving insects and they love the morning sun the most. So select a sunny area at your disposal and depending on the size of the area, select the plants.
Also you have to check for a month or two which of the 10 mentioned butterflies are commonly seen in your neighbourhood. Prepare the garden accordingly.
The idea of creating a butterfly garden is not just a fancy one. It has a deeper intention. The purpose is to strengthen the support system for the butterflies who are already around us, so they remain with us for much longer and grow in numbers.
This is the first target and to achieve this, your monitoring will play an important role.
Some of the plants listed in the chart can be procured from the market but many of them cannot. For these, you have to search at urban parks, roadside wastelands etc. From there you have to collect either seeds or saplings for your garden. Nature Mates will be more than happy to support you in this regard.

There is one more crucial point you have to learn and understand — caterpillars. Even if butterflies appeal to you, what about caterpillars? A butterfly garden will have caterpillars or larva in a regular basis.
All the butterflies listed in the chart, and in fact most butterflies in general, are harmless as caterpillars. You may have heard that touching caterpillars can be itchy, but those are usually moths and not butterflies. If you accidentally touch a butterfly's caterpillar, you will feel no itch or pain.
Once you start seeing caterpillars in your garden, start observing them closely. They are as fascinating as butterflies. Many are strikingly colourful too with various interesting responses against various situations.
Once you start your plantation, keep in mind that though we're calling it a garden, this will not be your regular manicured garden. Since it will be a garden to act as a butterfly habitat, it needs to replicate its counterpart. The beauty of this garden is its wild look, its randomness and chaos.
After plantation, your job will be restricted to maintaining the garden and very minutely watching it take shape. You don't need to spend hours there, but whatever time you spend needs to be intense and focused. Remember, when working with nature there is no magic to start with. You have to be patient and optimistic.
And suddenly one day, you will get to see the first flowers of your garden blooming and then you could see the winged beauties after a couple to several weeks. As the garden you have designed will have catered to overall requirements of a butterfly, once they start coming in, they will slowly but steadily grow.
And just as the notes follow each other in do re me fa so la ti, butterflies will be followed by birds, frogs and other creatures. Your garden will come alive with the music of Nature.